This coming week on Monday Night RAW, Chelsea Green makes her in-ring debut on WWE's flagship show as she takes on 10-time Women's Champion Charlotte Flair. Green has been working on WWE's NXT brand for the past few months, but much like Deonna Purrazzo, she was allowed to step up to the main roster for a one-off match against one of the company's biggest stars.
Even though Green is part of WWE's NXT brand at present, she has a lot of wrestling experience and has already put down roots in WWE.
The 28-year-old star may be unfamiliar to many in the WWE Universe, so ahead of her debut on next week's episode of Monday Night RAW, here are five facts every fan needs to know about the woman formally known as The Hot Mess.
---
#5 Chelsea Green originally didn't want to become a wrestler
Although many female wrestlers dream of joining WWE as children, it appears that Chelsea Green wasn't one of these. Instead, Green was set to pursue a career in Kinesiology, which is the study of body movement.
Green came across an episode of WWE Monday Night RAW online by chance, and she thought that it would be something she would be good at, given her background in fitness and sports.
The WWE Superstar told AfterBuzz TV that she decided on the career and headed home to tell her parents at Christmas, but her family thought it was a joke. That was before she pushed herself into the business, and after just four years of wrestling, Green was signed to WWE, which is great, as she doesn't have any links to the business or a wealth of experience.
#4 She has a measure of wrestling experience
NXT has historically created several Superstars who didn't have any wrestling experience at the time of being signed, as the likes of Alexa Bliss, Charlotte Flair, and Baron Corbin are fantastic examples of this, but that isn't the case with Chelsea Green.
The former Lucha Underground star proved her worth before she was signed to WWE. Green made her wrestling debut back in 2014 and was signed to Impact Wrestling at the beginning of 2016 where she was known under the ring name Chelsea.
She didn't officially sign for the company until the summer of 2016 and was then given the ring name Laurel Van Ness. In Impact Wrestling she is a former Knockout's Champion but she requested her release from the company back in January 2018.
In February, she made her debut for Lucha Underground in a fatal four-way match that also included Jeremiah Crane, XO Lishus, and Marty "The Moth" Martinez. Green was known under the name Reklusa.
She later took part in WWE tryouts in the summer of 2018, before making her debut at NXT Live Events in October 2018 under her familiar psychotic gimmick.
#3 She was part of Tough Enough back in 2015
The company decided to bring back popular show Tough Enough back in 2015 as a WWE Network exclusive. Several familiar faces auditioned to be part of the show, and the likes of Velveteen Dream, Mandy Rose, and Sonya Deville have the competition to thank for kickstarting their wrestling careers, but they aren't the only members of the current roster who were part of the show all those years ago.
After appearing on WWE TV the year before, Green applied to be part of the show and interestingly made it through to the final 14, and was part of the series for some weeks before she was eliminated in episode seven and came in fourth place for the females.
Green missed the final by just three days but left a lasting impression, but unlike the stars named above, she wasn't signed to WWE following her elimination, instead, Green went on to make her debut for Impact Wrestling and was known as Laurel Van Ness for some years before WWE came knocking in 2018.
#2 She has appeared on WWE TV before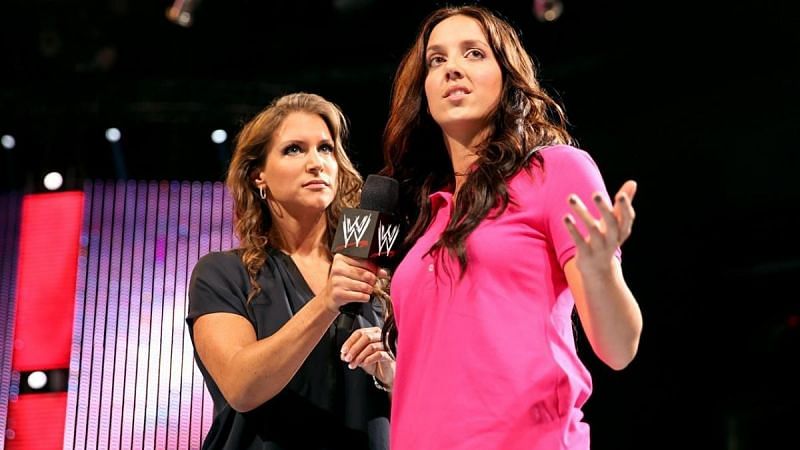 Chelsea Green is currently working hard in NXT, hoping she will be given a chance to prove herself on the main roster one day, but what many fans aren't aware of is the fact that Green has already been on WWE TV.
Back in 2014 as part of the storyline between Daniel Bryan and Stephanie McMahon, the latter introduced Green as Bryan's Physical Therapist called Megan Miller. This was part of a storyline that saw McMahon's attempt to come between Brie Bella and Bryan, as Miller's part in the story was that she had to confess to having an affair with Bryan whilst helping him to physically recover from injury.
This didn't exactly go to plan for McMahon since Bella stormed into the ring after Miller made the confession and not only slapped the taste out of her mouth, but went on to attack her boss as well.
It was later confirmed that this was all a ruse by McMahon ahead of their match at SummerSlam as a way to get in her head, but Miller played her role well.
#1 She is engaged to Zack Ryder
Perhaps one of the biggest pulls for Chelsea Green when she originally headed over to WWE back in 2018 was the fact that she would be working alongside her boyfriend regularly.
Green and Zack Ryder started dating back in January 2017, and often share several cute Instagram updates for their adoring fans, but decided to take the next step in their relationship earlier this year. It was WrestleMania season and Ryder decided to propose to Green under the shadow of the Empire State Building, something that they later shared online.
Ryder chose the best time of year, since WrestleMania season is the perfect time to propose to anyone in the wrestling business, but what many fans are not aware of is that it was also her birthday.
Green is currently on NXT and Ryder is on RAW, but hopefully, 2020 will bring a promotion to the main roster for the female Superstar since she dips her toes in the main roster pool on RAW next week, and according to reports - puts on a fantastic display.
Edited by Anthony Akatugba Jr.