CM Punk's future in wrestling is up in the air after the former WWE Champion was involved in some heavy backstage drama in All Elite Wrestling. He is injured and allegedly suspended following his explosive rant at the post-All Out media scrum and the subsequent brawl with The Young Bucks and Kenny Omega.
The situation is a far cry from Punk's epic AEW debut in August 2021, which was voted the Moment of the Year in the inaugural Sportskeeda Wrestling Awards. You - the fans - propelled The Second City Saint towards multiple accolades, as he also boasts the award for Sportskeeda Wrestling's Comeback of the Year.
CM Punk's rivalry with MJF was the highlight of his time in AEW. It was voted the Feud of the Year in the Sportskeeda Wrestling Awards. However, Punk could be left empty-handed in this year's edition.
He still has his supporters, though, one of whom is Teddy Long. As per the inaugural episode of The Wrestling Time Machine, the WWE Hall of Famer hopes CM Punk will return to the company under Triple H. But could it actually happen?
Anything is possible given the ever-changing landscape of the wrestling industry, but this situation seems quite unlikely. CM Punk might still have bad blood towards WWE over his 2014 departure. However, there may be too much money on the table for both parties to lose out on. Never say never.
A WrestleMania main event against Roman Reigns could entice Punk to return to WWE. But there may be more enticing options out there for The Straight Edge star.
---
If not WWE, will CM Punk be back in AEW?
Speaking of money on the table, AEW has a massive opportunity if The Elite and Punk set their differences aside. Following the animosity of 'Brawl Out,' an on-screen storyline between both sides could be the hottest angle in the business.
Meanwhile, The Best in the World has a pending world title match with MJF, based on what actually happened at the All Out pay-per-view. CM Punk won the AEW World Championship from Jon Moxley, something his former rival did at Full Gear in November 2022.
Expect Punk to be back in the mix for the Sportskeeda Wrestling Awards if he makes another in-ring comeback in 2023, be it for AEW or WWE. But this could be the year where MJF sets himself apart.
---
The power is with you, as you will get a chance to vote for the best alongside legends of the industry. Stay tuned to learn more!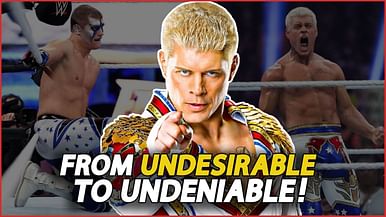 How Cody Rhodes returned to WWE and change pro wrestling forever!
Poll : Where should CM Punk turn up next?
105 votes