The pro-wrestling world is still fantasy booking The Rock versus Roman Reigns at WWE WrestleMania 40. The idea has gained momentum ever since the Great One stated he's open to the idea of facing the Tribal Chief in Philadelphia. It seems the storyline has begun writing itself.
During NXT No Mercy 2023, Ava Raine was told to leave The Schism by Joe Gacy, who said the faction was "dead." For those who aren't aware, Ava is The Rock's daughter. It is possible that she could end up on the main roster in the near future.
Ava's possible arrival on SmackDown, or even RAW, could trigger the return of her father, to set up the rumored feud against Roman Reigns. She can potentially be asked by Paul Heyman to join The Bloodline on the blue brand, or join Jey Uso on the red brand as a babyface.
It is unknown if Ava Raine will return to NXT this Tuesday, or if Joe Gacy will try to get her back into the cult. The Schism have not been the same, ever since the departure of The Dyad (Jagger Reid and Rip Fowler), who exited the company recently.
The Rock's daughter did post "goodbye" and the broken heart emoji on Twitter, following the events of NXT No Mercy 2023. Fans might have wait till next week to find out if she's on her way to the main roster, or still in NXT.
---
Does Roman Reigns have plans for The Rock's daughter? Looking at the possibility
Paul Heyman told the WWE Universe on SmakDown this past Friday that Roman Reigns did order The Bloodline to send AJ Styles to the hospital. It is possible that the Tribal Chief could have huge plans for Ava on the blue brand.
Fans know that if there's one person who might still pose a threat to The Island of Relevancy, it is The Rock. The People's Champion hasn't explicitly acknowledged his cousin as the Tribal Chief. Reigns may see that as a threat to his chiefdom, and bring Ava under his wing to counter Rocky.
As far as his next appearance is concerned, Roman Reigns is set to appear on the October 13th episode of SmackDown, where he's rumored to kick off his feud with this superstar on the road to Crown Jewel 2023.
Do you think Ava Raine should stay back in NXT or move to the main roster? Let us know in the comments section below.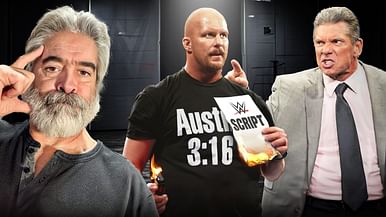 How Stone Cold was born in 2 minutes