While addressing his upcoming WWE WrestleMania match against Roman Reigns, Cody Rhodes did not rule out the possibility of seeing his wife, Brandi Rhodes, getting involved in his feud with The Bloodline.
Cody returned to in-ring action last January after several months of absence to win the 2023 Men's Royal Rumble match. He will now square off against Roman Reigns in an Undisputed WWE Universal Championship match in the main event of WrestleMania 39. Over the past few weeks, Cody had verbal exchanges with Reigns' Wise Man Paul Heyman, in which the latter referenced The American Nightmare's wife, Brandi.
In a recent interview with Out of Character, Cody addressed the possibility of seeing Brandi getting involved in his feud with The Bloodline. He pointed out that he and his wife prefer to do things separately from a professional standpoint.
"We always from a professional standpoint. I don't know if a lot of people know this. We always wanted to do everything separately... She very much can defend herself and can fight her own battles. Very separate in that," he said.
However, he disclosed that he did not rule out her getting involved in the storyline.
"No doubt because I always love your show being Out of Character, the name of the show Out of Character whereas for me, there's no difference between in-character me and out-of-character me. It's just me. And part of that is the people who surround me, you know, the people close to me in my real life are also close to me on-screen. So I wouldn't rule it out, but she absolutely loves watching what I'm doing. She's got some stuff that she's working on secretly unrelated and I ain't gonna spoil it... But definitely never say never," Cody added.
Cody Rhodes was embarrassed ahead of a WWE event following his return. Check out the story here.
---
Brandi Rhodes is a former WWE Superstar
In March 2011, Brandi Rhodes signed a developmental contract with WWE. She briefly worked as a ring announcer and competed just once before requesting her release and leaving in December of that same year.
About two years later, Brandi (fka Eden) returned to the Stamford-based company. She continued working as a ring announcer for three years before requesting her release again and leaving alongside her husband in May 2016.
A wrestling veteran wants Brandi Rhodes to return after a 7-year hiatus to face The Bloodline. Check out his comments here.
---
Please credit Out of Character and give a H/T to Sportskeeda if you use the above transcription.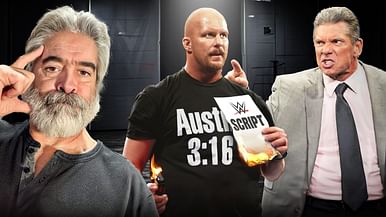 How Stone Cold was born in 2 minutes
Edited by Gurjyot Singh Dadial