WWE Hall of Famer Goldberg has been known for his ultimate strength and vicious finishing maneuvers on his opponents.
The former two-time Universal Champion has crushed the likes of Brock Lesnar, The Rock, Bobby Lashley, and others when he was a part of the Stamford-based company. However, the former WWE Superstar Ryback claimed the 56-year-old is scared of him.
Ryback is on a long hiatus from wrestling due to an injury, but fans are excited to see him back in the ring. With the Hall of Famer being a free agent after his exit from World Wrestling Entertainment, the 41-year-old star seemingly wants to lock horns with the former WCW star for a match.
Regardless of whether the two men would ever face each other, the former WWE Intercontinental Champion took a massive shot at Da Man, trying to get his attention.
While speaking on The Ryback Show, the star stated that he has tried to set up a match with Goldberg several times. But as per the 41-year-old, there's a possibility that the former Universal Champion is afraid of him, which is why the bout never happened.
"There is a good possibility that Goldberg is scared of me and does not want to face an opponent of my size or stature for his last match. That is a very realistic possibility," Ryback said. [H/T - Ringside News]
Check out the video below:
EC3 wants to defend his title against WWE Hall of Famer Goldberg
Former WWE star EC3 recently expressed his desire to meet the 56-year-old legend and defend the NWA World Heavyweight Championship against him.
Since the 40-year-old performer ended Tyrus' 10-month-long title reign, it has opened doors to new rivalries. EC3, while speaking on Sportskeeda's UnSKripted, shared that he would love to meet Goldberg for a title match since he is a free agent.
"I would love to see Big Bill challenge me. I would love to see him come to the ring wearing the black and white gear he had with the WWF run. I love like to see him throw some air punches and one giant crescent kick... I would like to move out of the way of a Spear and then hit him with my finisher and defeat him," said EC3.
Check out the video below:
Only time will tell if the former two-time Universal Champion will return to the ring to face either Ryback or EC3.
Do you want to see Ryback vs. Goldberg? Sound off in the comments section below.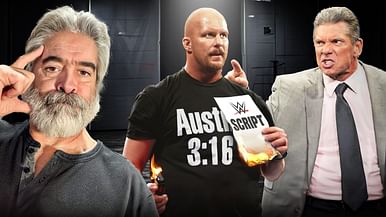 How Stone Cold was born in 2 minutes
Edited by Gurjyot Singh Dadial