WWE Hall of Famer Jake "The Snake" Roberts recently opened up about his real-life heat with former Intercontinental Champion Ahmed Johnson.
Roberts spent about six years as an active competitor in WWE before leaving in 1992. However, he returned to the company nearly four years later. During his second run, the Hall of Famer shared the locker room with several younger superstars, including Ahmed Johnson.
In a recent interview with Cafe de Rene, a fan asked Roberts if he had "any good Ahmed Johnson stories."
"There are no good Ahmed Johnson stories. Are you f**king kidding me? [So, you two didn't get along?] No. I tried to help him and he just, he blew me off man. You know, Vince asked me to help him. I said, 'all right, I'll help him.' So, I talked to him one night and I said, 'we're going to indianapolis tomorrow. I'll be at the building at 5:30. See you there.' Never showed up," he said.
The Hall of Famer disclosed that Johnson did not even give him an excuse when he arrived later.
"So, when he finally did get there, I said, 'what happened?' He goes, 'hey man, don't talk to me like that.' I said, 'what do you mean don't talk to me like that? I just asked you what happened.' He goes, 'nothing f**king happened. I get here when I f**king want to.' Excuse me. [He didn't try to give you an excuse?] No, he didn't give a sh*t," Roberts added. [18:09 - 19:06]
WWE Hall of Famer Jake Roberts' ex-wife, Cheryl Hagood, revealed why the couple is back together after 24 years of separation. Check out her comments here.
---
Ahmed Johnson had a backstage confrontation with WWE legend The Rock
Jake "The Snake" Roberts was not the only WWE legend to have heat with Ahmed Johnson. The former Intercontinental Champion also had a troubled relationship with other wrestlers, including The Rock.
In an interview with the Pouding The Meat Podcast, Johnson addressed his heat with The Rock, recalling getting into a heated argument with The Brahma Bull backstage.
"One time in the locker room, me and Rock got into an argument. (...) [What was the fight over between you and The Rock?] Well, we were arguing over basically our finish and, you know, who was gonna do what in the ring. Back then, he wasn't The Rock, you know, he was Rocky Maivia becoming The Rock. But it was basically, you know, him not wanting to take my finish, me not wanting to take his finish. It was kinda back and forth argument from there," Johnson explained.
Ahmed Johnson explained why he had heat with AEW star. Check out his comments here.
---
Please credit Cafe de Rene and give a H/T to Sportskeeda if you use the above transcription.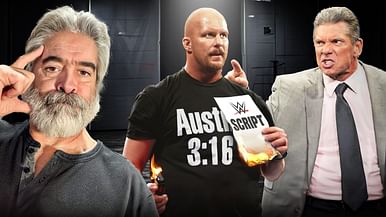 How Stone Cold was born in 2 minutes