Wrestling veteran Jim Cornette recently addressed whether The Rock was behind Nia Jax's return to WWE.
Jax was initially released from her contract in November 2021. However, The Irresistible Force returned to the Stamford-based company on the September 11 episode of Monday Night RAW. Four days later, Jax's cousin, The Rock, returned to SmackDown for the first time in four years.
In a recent episode of his Drive Thru podcast, Cornette commented on whether The Rock had a hand in his cousin's return to WWE.
"[Any coincidence that the fact The Rock shows up right around the same time that she shows up again?] I don't know would he [The Rock] go that far for one particular family member. Or is it just that they thought they got an idea. [See, that's the thing, would The Rock help someone if there wasn't a camera there to film him doing it?] Well, you say tomato and I say tomato," he said. [3:09 - 3:40]
A 39-year-old former world champion is the most dangerous person to WWE co-workers, says Jim Cornette. Check out the details here.
---
Will The Rock compete at WWE WrestleMania 40?
Ahead of his surprise appearance on SmackDown, The Rock was a guest on The Pat McAfee Show. He disclosed that he was scheduled to square off against his cousin Roman Reigns at WrestleMania 39. However, the plan was scrapped.
The Brahma Bull also teased facing The Tribal Chief next year at WrestleMania 40. Speaking on Story Time with Dutch Mantell, the eponymous wrestling veteran disclosed that he believes The Rock will go head-to-head against Reigns at the upcoming Show of Shows.
"Well, it's solidified my belief that it's gonna be The Rock versus Roman Reigns at WrestleMania 40. (...) I watched College Game Day and I watched the Pat McAfee Show, The Rock was on them all. He was basically on network TV all day Saturday. (...) So, I'm thinking, what are the odds that they go through all this, I mean lining him up for all these shows, for what? Just to give him publicity? No. One reason that I think he is committed to WrestleMania 40 is because they have a writer's strike. So, he has some time on his hands. And this was the first show that WWE and Endeavor have together."
Roman Reigns facing eight-time WWE Champion would be "insane"; RAW star might "pass out." Check out the details here.
---
Please credit Jim Cornette's Drive Thru and give a H/T to Sportskeeda if you use the above transcription.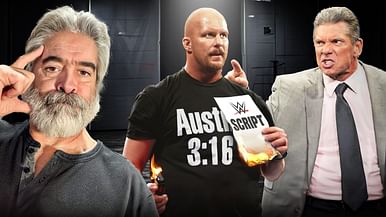 How Stone Cold was born in 2 minutes