Former WWE Champion Alberto Del Rio recently gave his opinion on several Latin American stars in the wrestling business, including Penta El Zero Miedo.
Del Rio, aka Alberto El Patron, teamed with the AEW star to defeat Sam Adonis and Psycho Clown at AAA's Triplemania XXXI on April 16. The two men have shared the ring multiple times in recent years, both as tag team partners and opponents.
In an interview with Sportskeeda Wrestling's Riju Dasgupta, Del Rio showered Penta with praise. He also had positive things to say about AEW's Rush and WWE's Santos Escobar:
"He [Penta El Zero Miedo] is amazing, I have always said it," Del Rio stated. "I think him and Escobar is [sic] doing great things. I mean, those are the ones doing great things, and I know Rush is doing great things as well. They are the ones with the opportunity, the chance of becoming the man for Latinos in the major companies." [5:31 – 6:00]
Watch the video above to find out Del Rio's thoughts on his WWE return match against John Cena in 2015.
---
Why Alberto Del Rio's latest tag team partnership worked
Although he usually performs as a singles competitor, Alberto Del Rio enjoyed his recent match alongside Penta El Zero Miedo.
Del Rio thinks fans enjoyed the contrast of styles between himself and Penta, who is still known by the name Pentagon Jr. in AAA:
"It was a fantastic match with Penta. Different styles, he makes people go crazy with his style and I can make people go crazy with my style. That's the way it is." [6:42 – 6:55]
In the same interview, Del Rio also named the Latin American star who could become the next Rey Mysterio if WWE hires him.
What is your favorite Alberto Del Rio moment in wrestling? Let us know in the comments section below.
---
Please credit Sportskeeda WrestleBinge and embed the video if you use quotes from this article.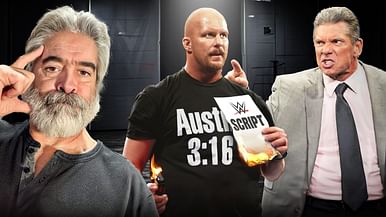 How Stone Cold was born in 2 minutes