The Hurt Business is arguably one of the most novel acts that WWE presented on television in recent memory. According to The All Mighty Bobby Lashley, the faction was a solid representation of African-American wrestlers.
The WWE Universe was sent into a frenzy when MVP once again teased the foursome's reunion. After many months of "will they won't they," it seems more plausible now than before that The Hurt Business is on its way to a grand reunion.
While Omos will likely be a new member of the faction, considering The Nigerian Giant's close association with MVP this past year, fans believe three other SmackDown stars are worthy additions.
Elsewhere, we have one of WWE's longest-reigning women's world champions, Bianca Belair, who desperately needs a character change. She dropped the belt to Asuka at Night of Champions, where the Jeddah crowd audibly favored The Empress over The EST.
Incidentally, fan-favorite Montez Ford, who is rarely jeered by fans, was clearly the heel against LA Knight this past Friday night.
While this probably had more to do with the latter's incredible popularity and the desire of the people to see Knight win the Money in the Bank contract this year, it's a start for the "most charismatic" superstar's impending heel turn.
Here's what fans had to say regarding a heel turn for Bianca Belair and her husband, Montez Ford:
The Street Profits and Bianca Belair would be a fresh new heel stable on the blue brand. The trio could use the potential disruptive ripple across the WWE Universe.
Some fans, interestingly, think they should join forces with The Hurt Business. This could lead to the potential eight-member clan being the single most unstoppable force on the roster. MVP had previously shown interest in The EST as well.
Nevertheless, the idea of a heel trio pitting Street Profits and Bianca Belair has evoked massive curiosity among the viewers. Perhaps this could ultimately help catapult them, especially Montez Ford, into superstardom.
---
Bobby Lashley needs The Hurt Business to take down another dominant WWE faction
The All Mighty has taken a back seat ever since his feud with Brock Lesnar fizzled out earlier this year. After sitting on the bench for WrestleMania 39 and losing a number-one contender's match to AJ Styles, Bobby Lashley needs a new direction.
The former WWE Champion made it clear in the past that there needs to be a conversation about him being the one to end Roman Reigns' undefeated streak. Lashley even revealed that he hopes to have the backing of The Hurt Business to go up against The Bloodline.
Do you think the potential reunion of The Hurt Business and Bianca Belair's heel turn alongside the Street Profits could change the landscape of Friday Night SmackDown? Sound off in the comments section below.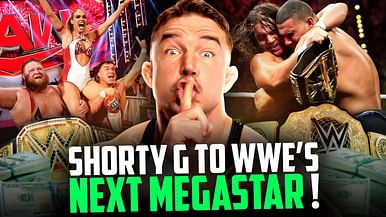 Why Chad Gable could be the next WWE mega star