Intercontinental Champion Gunther recently addressed Ricochet's botched chair shot that busted him open a few weeks ago on WWE SmackDown.
On the last episode of SmackDown in 2022, Imperium launched an attack on Braun Strowman after The Monster of All Monsters issued a challenge for Gunther to put his Intercontinental Championship on the line. As the three members of Imperium ambushed Strowman, Ricochet rushed to the ring with a chair to help him.
However, the high-flyer unintentionally hit Gunther with the chair on the head during the segment, which busted the Intercontinental Champion open. Several fans have wondered if Gunther would give Ricochet a "receipt."
Speaking with Tim Battle & Eli on the Battleground Podcast, Gunther noted that he didn't receive any stitches due to the chair shot. The Ring General added that he was willing to forgive the former champion.
"Yeah, it's doing fine actually. It's like I was lucky that I didn't need stitches for that so it was just glued together so it was fine again after a week or so. But that stuff happens like obviously. My timeline was actually full of people like, 'oh, there's going to be a receipt.' I like how all those wrestling like, the wrestling lingo always like go around on Twitter when people imagine what happens. I think I can forgive him. He [Ricochet] took enough of a beating from me recently that I can look over that to be honest," he said. [7:30 - 8:05]
A wrestling veteran praised WWE Intercontinental Champion Gunther following his historic win against Braun Strowman. Check out his comments here.
If you're interested in sports betting, the divisional round of the NFL Playoffs is next weekend! Don't miss out. Claim the offer and place your bets below!
Get up to $1,000 in free bets if your first bet loses at Fanduel.
---
Gunther also broke character to praise his former WWE rival Sheamus
Sheamus and Gunther had a heated feud in 2022. The two superstars contested a few matches for the Intercontinental Championship, including their historic bout at WWE Clash at the Castle.
Speaking on the Battleground Podcast, The Ring General broke character to praise The Irish Warrior.
"He's kind of desperate for it [the Intercontinental Championship], isn't he? (...) Personally, I think Sheamus is a fantastic opponent because I always like matches when it's a little bit more scrappy. A litte bit almost clumsy, I would call it, if that makes sense. It makes it a little bit more authentic as well. And I think Sheamus brings a fantastic energy and the physicality that I bring as well and I think that we do really well together in the ring. The matches I had with him last year were one of the favorite ones in my career and I hope we get to do it again," he said. [3:09 - 3:57]
The Ring General opened up about his transition from NXT to the WWE main roster. Check out his comments here.
---
Please credit the Battleground Podcast and give a H/T to Sportskeeda if you use the above transcription.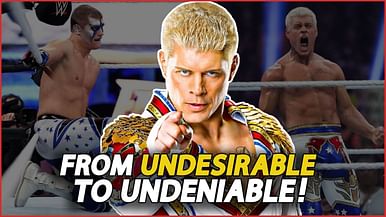 How Cody Rhodes returned to WWE and change pro wrestling forever!