Main Event Jey Uso opened tonight's show as the newest member of Monday Night RAW. Just like at Payback 2023, he had the crowd in the palm of his hand, and he was confronted by not one, not two, but three superstars.
Jey Uso acknowledged that there are probably a lot of superstars on the RAW roster who don't want him there and revealed that it was, in fact, former AEW EVP Cody Rhodes who pulled the strings to get him back after a three-week absence.
He was then confronted by the man he betrayed earlier this year - Sami Zayn. Zayn, who wasn't with Kevin Owens, was surprisingly welcoming to Jey, telling him that he was proud of him for breaking away from The Bloodline. Jey acknowledged the betrayal by asking, "It wasn't very Ucey of me, was it?" The two men then embraced.
Sami Zayn is coming off a loss to The Judgment Day, where he and Kevin Owens lost the Undisputed Tag Team titles. However, with Owens absent, he decided to be the first one to welcome Jey to the brand.
Just as Jey Uso was walking off, Drew McIntyre, an old enemy of The Bloodline, came out at the same time and went face-to-face with Jey, who he has an issue with from the past.
Even his partner Matt Riddle walked out and confronted Jey, but Sami Zayn intervened and told the King of Bros to give him a chance:
An explosive start to RAW. What did you think of the segment? Let us know in the comments below!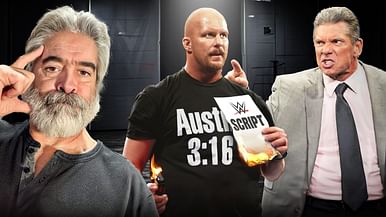 How Stone Cold was born in 2 minutes