WWE SmackDown Women's Champion Rhea Ripley explained why she had become a top star since joining The Judgment Day.
After spending about four years in developmental, The Eradicator officially joined the main roster in 2021. Although she won the RAW Women's Championship after moving to the Red Brand, she later became a tag team competitor. The 26-year-old held the Women's Tag Team Championship with Nikki Cross. After they split, she teamed up with Liv Morgan.
Ripley's stardom, however, hit the roof after she joined The Judgment Day about a year ago and started a romantic storyline with Dominik Mysterio. She is currently one of the most popular superstars in the company. Speaking to Wrestling with Rosenberg, Ripley explained why she had become that successful recently.
"The reason that the Mami thing and Rhea Ripley the name is blowing up right now is because I get to go out there and I do get to just have fun and I'm doing my own thing. I'm sort of just reacting on the fly and just doing things I would do being a menace. Like, if I was a child again, I would be doing these things," she said. [5:56 - 6:16]
Rhea Ripley revealed how her relationship with Dominik Mysterio started in WWE. Check out her comments here.
---
Rhea Ripley successfully defended her title at WWE Backlash
Earlier this year, Rhea Ripley entered the Women's Royal Rumble match at number one and outlasted 29 other women to win the bout. A few months later, she beat Charlotte Flair to capture the SmackDown Women's Championship.
About a week ago, The Judgment Day member defended her title against LWO's Zelina Vega at Backlash in Puerto Rico. Despite Vega's impressive performance against Ripley, she lost the bout.
WWE was planning to fire Rhea Ripely before a current RAW star saved her career. Check out the story here.
---
Please credit Wrestling with Rosenberg and give a H/T to Sportskeeda if you use the above transcription.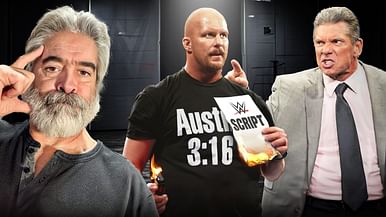 How Stone Cold was born in 2 minutes