Dwayne "The Rock" Johnson sent a heartfelt message to the WWE Universe following his surprising return on SmackDown.
Pat McAfee kicked off the September 15th edition of WWE SmackDown in Denver and received a huge pop from the crowd. McAfee served as a commentator on SmackDown alongside Michael Cole for a bit but has become a huge star in the sports media world, and his daily talk show is now broadcast on ESPN.
McAfee was quickly interrupted by former United States Champion Austin Theory, who the former Indianapolis Colts punter defeated in an impromptu match at WrestleMania 38. Theory mocked the Denver crowd, and The Rock's music hit to a thunderous ovation. The Brahma Bull got the entire crowd to poke fun at Austin Theory before hitting the former champion with The People's Elbow at the end of the segment.
The 51-year-old took to social media today to send a message to fans following his surprising return to the company last month on SmackDown. The Rock included a hilarious moment from his return, and you can check it out in his post below.
"I'm known to be a straight shooter and speak directly from the heart 🖤🤣 Rock mic in hand 🎤 LIVE on TV 📺 On the show that was named in my honor 🙏🏾 #SMACKDOWN 💪🏾 Having way too much fun!! Luv U back @wweuniverse ~ people's champ ✊🏾 @_Theory1 🥃 @PatMcAfeeShow 🥃," he posted.
The Rock reveals he almost battled Roman Reigns at WWE WrestleMania 39
The Rock recently revealed on The Pat McAfee Show that the dream match between himself and Roman Reigns almost went down at WrestleMania 39 in Los Angeles.
Earlier this month, The Rock shared that the match was discussed for WrestleMania 39, but plans never came to fruition. He noted that WrestleMania 40 is next year in Philadelphia, and the match could still happen if they can come up with something exciting for the fans.
"We can have the match, but what can we do for the fans in the business? ...WrestleMania isn't the end but the beginning of something bigger. We got close, but we couldn't nail what that thing was. So we put our pencils down. There's a Merger coming up, eventually, that will happen. There's a WrestleMania in Philadelphia," he said.
While The Rock versus Roman Reigns is a dream match for many fans, some would rather see Cody Rhodes finish his story against The Tribal Chief at WWE WrestleMania 40. It will be interesting to see which superstar gets the opportunity to challenge for the Undisputed WWE Universal Championship next year in Philadelphia.
Who do you want to face Roman Reigns at WWE WrestleMania 40? Sound off in the comments section below.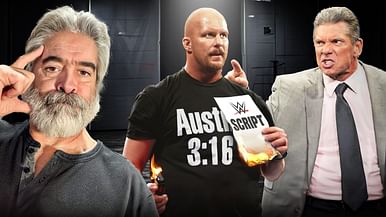 How Stone Cold was born in 2 minutes