Predicting suitable storylines for Ziggler after he cashes in his MITB briefcase
4.10K //
29 Dec 2012, 10:49 IST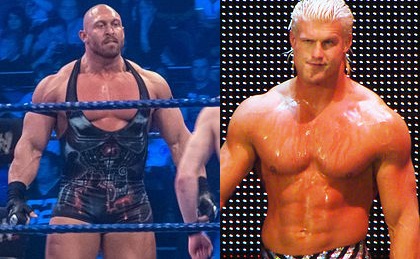 After Dolph Ziggler won the Smackdown MITB briefcase, the biggest question ever since has been when he would go on to cash it. Fans have waited a long time anticipating it to have happened earlier but still the moment looks far too elusive. John Cena became the first person to unsuccessfully cash in his MITB briefcase and hopefully things don't turn out to be the same for Ziggler.
Ziggler has had several moments to cash in the briefcase and even came close two times only to be interrupted by John Cena. The fact that fans have waited this long for the right moment will make it extremely disappointing if Ziggler fails to become a champion by using the briefcase.
With the Royal Rumble getting closer, it is high time that the WWE thought about Ziggler and his briefcase. Making him the World Heavyweight Champion in the Royal Rumble will set the right platform for a Ziggler vs Sheamus feud providing the necessary push for Ziggler as a heel. While I don't see any progress in the Ziggler and Cena storyline, this will be by far the best way to end their storyline and put Ziggler where he belongs.
However, in the long run, the Wrestlemania matches that are rumoured to happen do not involve Ziggler's name anywhere. It is rumoured that Ryback will face Big Show and Sheamus will go on to face a heel Randy Orton for the World Heavyweight Championship. This shows no signs of Ziggler in Wrestlemania creating questions as to whether Ziggler will really participate in Wrestlemania.
Does that mean Ziggler has nothing to do at Wrestlemania? Not necessarily. If Ziggler does not cash in his briefcase at Royal Rumble, we can expect him to do so at Wrestlemania. This can improve his star status even more as he will gain the spotlight in the biggest event of WWE.
But who will he cash his briefcase on is also a question now. It is important that we know who the Royal Rumble winner will be this year to make some important predictions regarding the briefcase's future. In case John Cena wins the Rumble this time then he will most probably challenge Rock for the WWE Championship in a match in Wrestlemania where The Rock could lose his title to Cena. Ziggler can then cash in his briefcase to become the WWE Champion which sounds like a very good scenario.
If Sheamus wins the Royal Rumble then we can expect a Sheamus vs Orton match in Wrestlemania where Sheamus will become the Champion and Ziggler could cash in to become the World Heavyweight Champion. But this scenario looks somewhat improbable considering Orton's suspension and absence from WWE in recent times.
If we see Ryback winning the Rumble then there is a possibility of a Ryback vs Big Show feud carrying all the way upto Wrestlemania where Ryback might emerge the Champion. But will Ziggler's cash in be successful on Ryback is again a question mark. This can then solidify a storyline between Ryback and Ziggler in 2013 which means the WWE can slowly start shifting the spotlight from Punk and Cena to these two future prospects. With Ryback emerging as the next big babyface and Ziggler as the second best heel after Punk, the situation looks all set to bring these two wrestlers in a feud over the World Heavyweight Championship. Ziggler can gain control over Ryback with the help of AJ and Langston on his side making the feud all the more interesting.
While there are several such scenarios, it is important that WWE do not let Ziggler go stale. Ziggler's been an exceptional talent in WWE and has waited long enough in the mid-card for a push. Ziggler's been in the WWE for six years now and only now are we seeing him in useful feuds. It is important for the WWE to promote these future stars to gain the ratings that they have lost in recent times.