The biggest star that never was – Owen Hart
2.32K //
18 Mar 2013, 21:01 IST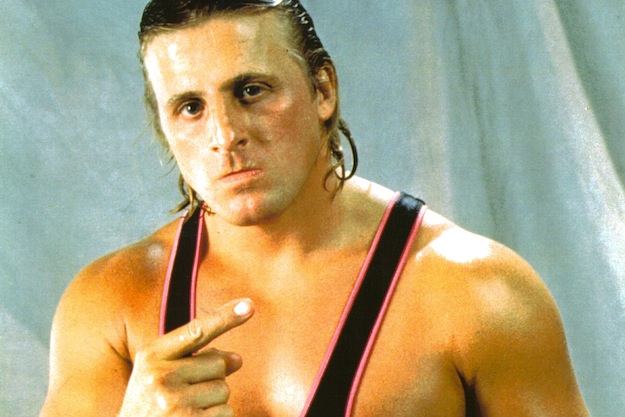 When you talk about 'fans' in professional wrestling, you divide them into two categories – those who're fans of individuals, and those who're fans of the sport (Can't call it any other way). There are those who're intrigued by the mystique in professional wrestling, and there are those who're intrigued by the larger than life characters. Putting it in simple terms, either you're a fan of Mike Tyson, and hence a fan of boxing, or you're a fan of boxing, and hence, a fan of one of the greatest boxers in the sport. More than anything, it is the beauty of pro-wrestling that attracts die-hard fans. A Bryan Danielson is more respected (Might not have more fans) than a John Cena, because of his love, his dedication, and his contribution to professional wrestling. That is what separates ardent pro-wrestling fans from the normal fan base.
When you're young, you don't love the sport as much as your favourite wrestlers. When I was little, I was an absolute mark (A big fan) of guys like the Undertaker and Bret Hart. I used to watch all their matches, cheering them on even though I had no idea about the industry they were in. The reason I categorized the fans in the very beginning is because I want to make it clear, that I take the second route. Even though I was unaware of the business and its work ethic (Considering I was only 6-7), but for some reason, I liked one guy more than anyone else. There was something about him that set him apart. He wasn't a good guy either; but he had that 'charm' that cannot be defined. His name was Owen Hart.
I had the pleasure of watching Owen Hart on TV when I was a kid, and I remember him teaming up with Davey and later with Jeff Jarrett along with Debra. I remember all his little antics, the way he used to generate heat from the crowd. Yet, there was a thing about it. In this business, people talk about having 'it'. You don't quite know what 'it' is, yet it is very important to make it big. You talk about the Austins and the Rocks, and they had 'it'. Owen Hart had 'it' in abundance, but was unlucky to have been left behind. Owen Hart was arguably the better of the two Hart brothers, and what made Bret have more success and Owen considerably less? He was the youngest of the Harts.
Owen was always loved and adulated by everyone, not just from the Hart family, but the pro-wrestling family as well. After his unfortunate death, the more I read about Owen, the more I saw his matches, the more I realized how great he was. 'Rocket' as he was fondly called, was always in the shadows, ready to take off. But unfortunately, that never happened. Owen was never able to truly get out of Bret's shadow; the big brother, the more successful one. That was what made their feud so interesting. And that was a point when all the younger brothers in the world who were watching the WWF echoed their voices in support of Owen Hart. They wanted Owen to win, they wanted him to succeed. The more I watch Bret vs Owen at WrestleMania and Summerslam, the more I confirm my belief that WWF had dropped the ball with Owen Hart.
There even was an instance when Owen had won the WWF title! But that decision was overturned by Gorilla Monsoon, and Bret won the title back. Owen was charismatic; he had better mic skills than most of the guys in the back. But most of all, Owen had that radiant presence, something that makes all the difference in the locker room. It's a lesser known truth that the WWF/E guys are the hardest working professionals, who work for 300 days in a year, away from their families and their friends. Their only next family is their co-workers, and that makes everything tough. And that is when Owen Hart made all the difference. Owen was known to be a master prankster, and with his antics, he'd make all the others laugh.
Owen honed his skills, like most of the old school technical wrestlers, in Japan. He worked there as the Blue Blazer, and had earned a name and reputation for himself. For me, Owen was a better worker than Bret Hart, which says a lot, considering Bret was one of the very best workers in the business. Whether it was the in-ring presence, or storytelling in a match, or match psychology, Owen was a master of the trade. Not only was he a pleasure to watch, but he was one of the most entertaining guys on and off the camera. I can still remember the 'I am not a nugget!' line. Owen was one of the very few guys in the business who had no enemies, but was loved by everyone.
But in '99, at Over the Edge PPV at Kemper Arena in Kansas City, his life came to an abrupt halt. Due to a technical malfunction, Owen, who was now the Blue Blazer once again, fell over 80 feet while being lowered down to the ring. The situation soon turned grim, and during the PPV, Owen Hart passed away. Although I didn't see the PPV, the next night when I tuned in to RAW, I had understood what had happened. The sad thing about all of this is, Owen was the most underrated superstar in the WWF/E history. It's scary to think about where Owen Hart would have been, had he been given the right opportunities. There was a rumour that Triple H's 'Game' gimmick was supposed to be Owen Hart's. Whether he was the 'Black Hart', or 'The Nugget', Owen Hart was one of those special performers who always wanted to have fun.
It's a tough business to be in. Everyone gets on someone else's nerves. It's a business where people try to hold the others down to preserve their spot. But what made Owen Hart completely different was his charisma, and his presence. A huge void was left in the WWF after Owen Hart passed away, which was evident from the superstars' reaction during the tribute show to Owen on RAW. Everyone had tears in their eyes, and everyone was upset. They knew that the WWF locker room would never be the same again, and so did the fans. Owen was a 'Man's man', as quoted by Jim Ross. And the fact that people still remember him to this day shows how much he had impacted during his time in the WWF. Although he was supposed to be inducted into the WWE Hall of Fame, his wife turned it down numerous times. But it'd be great for Owen Hart's fans to see their 'King of Harts' go into the Hall of Fame someday soon.