Edge is considered WWE's Rated R Superstar for a reason. The Hall of Famer is not scared of making things personal and taking business outside the sport. This act was witnessed by John Cena and felt by the latter's father.
For those wondering, Edge did indeed slap John Cena's father. However, it should be noted that the disrespectful act was done as part of a 2006 storyline. Both WWE legends are close friends in real life up to this day.
As of this writing, The Rated R Superstar is still a WWE Superstar. On the other hand, Cena has since transitioned into acting and has only appeared for sporadic matches.
What exactly happened between Edge and John Cena in 2006?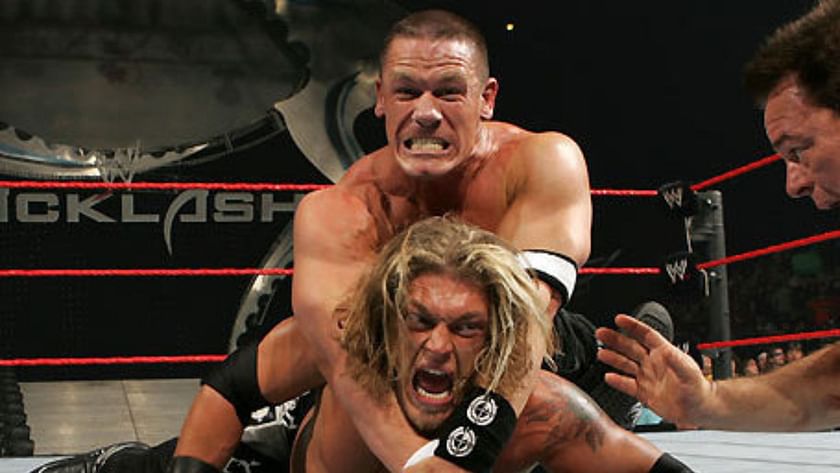 On January 2006, John Cena defended his WWE Championship in an Elimination Chamber match. Although The Leader of the Cenation came out as the victor, The Ultimate Opportunist quickly cashed in his Money in the Bank contract and snatched the gold.
He dropped the title again to Cena later that month but won it back in July of that same year. This set up a match at SummerSlam, and the Hall of Famer paid his opponent's home a visit before the event.
Days before their Summerslam bout, Edge showed a video where he trashed and disrespected the items of Cena. Later on, he came face to face with John Cena Sr. The latter told them to leave their house and threatened to call his son, causing the Canadian star to slap him before leaving the house.
How is John Cena and Edge's relationship now?
Despite what transpired in 2006, both stars remained close to each other. They still have a strong relationship to this day.
In a recent video posted by the Stamford-based promotion, the Peacemaker actor became emotional while talking about the Hall of Famer. John Cena shed light on who his former rival was both inside and outside the ring.
"I really hope everyone watching knows just how gifted, and caring, and amazing Adam is. He's just a... he's a good human being, he's a great human being, he loves sports entertainment. He's given so much to you guys, and I also think he's aware of what you've given him."
It is good to see that despite the personal feud in 2006, and some that followed in later years, both superstars were able to form a close friendship.
Edited by Gurjyot Singh Dadial