Love and tributes have been pouring in for Stephanie McMahon ever since she announced her resignation from WWE. Hall of Famer Ric Flair also took to Twitter to send a message to The Billion Dollar Princess.
Stephanie's decision to step down from her position as the company's co-CEO came days after Vince McMahon announced his return from retirement. The 77-year-old was soon reinstated as the Executive Chairman, with Nick Khan remaining the sole CEO.
The wrestling world came together to show its appreciation for Stephanie McMahon. Ric Flair also joined in, calling the anchor of women's wrestling "a great heel that drew real money" on Twitter:
"Dedicated To A GREAT HEEL That DREW REAL MONEY!! WOOOOO! @StephMcMahon," Flair tweeted.
---
Former WWE personality believes Stephanie McMahon and Triple H were working for Vince McMahon from the "inside"
A lot has changed in WWE since Vince McMahon announced his retirement in July last year. The 77-year-old, however, decided to make a comeback, with his return causing a massive uproar in the wrestling world.
Vince Russo reflected on the turn of events on Sportskeeda Wrestling's The Wrestling Outlaws. The former WWE head writer suggested that several emails were seemingly exchanged between Vince McMahon and the company's board of directors in which the former made it clear that he wouldn't approve of any sale of the company if he weren't the chairman.
Russo highlighted that one of the unanimous emails from the board of directors requested Vince not to come back, but he still did, which could mean Stephanie McMahon or Triple H were working for him from the inside:
"There was one email. The board writes him back. It basically says. Vince, it is unanimous that while you're being looked at by the SEC and the Attorney General's office, we do not think it's a good idea that you come back to this company, especially as far as the shareholders are concerned. They said the vote was unanimous! Triple H, Nick Khan, and Stephanie are on the board! They had to be part of that unanimous board. So either this was a Stephanie, Khan and Triple H powerplay, or they were on the inside working for Vince," Russo added.
Stephanie McMahon recently shared an update with fans, revealing that she is currently recovering from an ankle injury. Although she is no longer associated with WWE, fans will hope to see The Billion Dollar Princess in the company at some point down the line.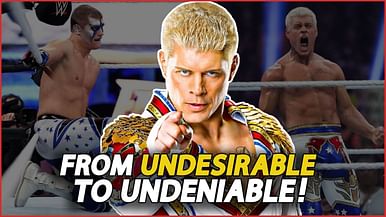 How Cody Rhodes returned to WWE and change pro wrestling forever!