WWE MITB 2013: Pre-Show and what happened after the PPV went off air
8.19K //
15 Jul 2013, 11:44 IST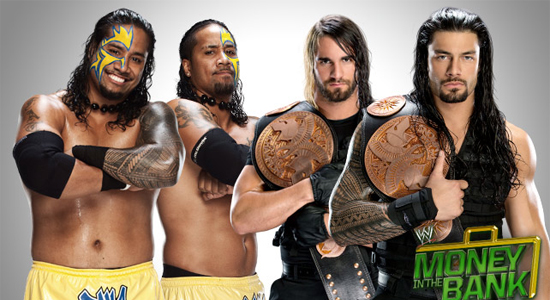 The MITB pre-show saw The Shield members Roman Reigns and Seth Rollins successfully defend their WWE Tag Team Titles against The Usos. The match was well-scripted and frankly, the Shield deserved something better than the pre-show.
The fans were filling in and The Usos made their way into the ring first followed by the Champions Seth Rollins and Roman Reigns. Jey Uso and Rollins start the proceedings and Uso gains the upper hand after a few roll-up pin attempts. Reigns, after the tag, goes after Uso and misses an elbow to give the Usos the momentum again. The Usos looked dominant as we went into a commercial.
The Usos remained in control as they managed to show us some unique offense and things changed after a Rollins dropkick which gave Shield the required momentum. They put in some hard-hitting offense that took some air out of the Usos. The Shield were smart enough to not allow the Usos tag each other and thereby trapped Jey inside the ring as Reigns and Rollins exchanged attack.
After a commercial, the Usos made a comeback and the match picked up real speed after this. There was extreme back-and-forth action as the Usos showed us some real good wrestling moves. They countered every Rollins move and finally Rollins was taken down with a superkick.
The match seemed almost over as Reigns came in to save the match just before the 3-count. Jimmy and Rollins were inside as Jimmy went top rope for a super Samoan drop. Rollins countered and connected a powerbomb and Reigns tagged in and laid the spear for the victory.
On the whole, this was an extremely good start and breached all standards of a pre-show match.
Here's the video of the pre-show that was shown live.
Also, after MITB went off air, RVD came into the ring as the crowd went berserk. RVD had a referee raise his hand as the crowd chanted RVD.