What's the story?
Earlier today, Seth Rollins took to Twitter to apologize for his remarks earlier in the week. The Universal Champion had gotten heated when trying to defend the WWE from fans and critics last week, and took out some of his anger on the Aerial Assassin. Will Ospreay has since accepted the apology.
In case you didn't know...
In the latest WWE NEWS, On June 23rd, Seth Rollins made a big claim on social media, stating that WWE has the best wrestling on the planet. Following an impressive event, WWE Stomping Grounds, featuring an action-packed triple threat match for the Cruiserweight Championship, he doubled down on his original claim.
Rollins even went so far as to say that there wasn't a single person alive who was able to compete at his level on a consistent basis, drawing the ire of Will Ospreay. Rollins took a hard shot at him, saying that they had a better version of him in United States Champion Ricochet.
It got even worse, with Rollins bringing money into the discussion. At that point, many fans and wrestling personalities felt that he had crossed a line.
The heart of the matter
After a week to think on his actions, Seth Rollins apologized to Will Ospreay and the WWE Universe for his comments and said that he knew the second he tweeted them that he would regret them. The IWGP Junior Heavyweight Champion would accept.
Ospreay said that he'd followed Rollins career since he was performing under the name Tyler Black, and in the end, knows that all they care about is their love for the business.
What's next?
With the hatchet buried and both men having the opportunity to grow, it looks like Rollins and Ospreay are ready to get back to doing what they do best; entertaining the fans.
With all of this behind him, the Architect now moves onto WWE Extreme Rules, where he and Becky Lynch will defend their titles in a Winner Take All mixed tag team match against Baron Corbin and Lacey Evans.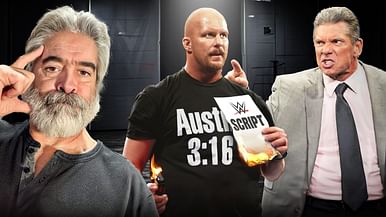 How Stone Cold was born in 2 minutes