WWE Raw - How Rollins owned Cena, Lesnar and Heyman
2.07K //
15 Jan 2015, 19:52 IST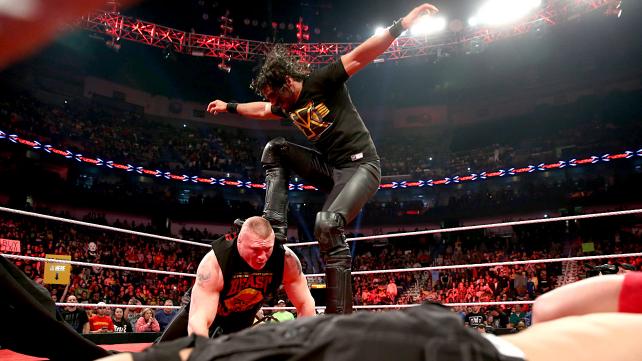 Macho Man Randy Savage is in the Hall of Fame. Daniel Bryan is back and will be wrestling on Smackdown in his first match since May last year. Dean Ambrose was the latest superstar added to the Royal Rumble. And Brock Lesnar was back.
This line up seemed like raw would be quite eventful and they will lead to many memorable moments. And surely all of them created a buzz but the biggest moment of all this night was the performance of Seth Rollins. When you're standing in the ring with the perennial virtuous hero of the WWE John Cena and the Beast who conquered the Streak and John Cena, odds are that the odds are very much against you. Add to this the fact that this is a promo-dependent segment and then you realize the MVP of the promo department-Paul Heyman has graced you with his presence. Yet, none of that derailed Rollins from standing in the ring and looking like he deserves to be standing there.
Making the storyline matter
He went on to re-establish the fact that his inclusion in the WWE World heavyweight Championship match has made things more interesting and instead of looking at this match just as Cena Vs Lesnar 4 or Cena trying toredeem himself after the beating he took from Lesnar at Summerslam to something more interesting and new- the rising tension between Rollins and Heyman. Just when you thought that Rollins and Heyman are going to be on the same page, Rollins gets added to the match making it a triple threat, but for Heyman, Rollins has become the only threat.
This is why it was terrific to see the exchange they had backstage on Raw where Heyman threatened Rollins and the exchange they had during the contract signing make things much more meaningful. Heyman began speaking where he built up Rollins so well that led Rollins to chime in to thank him and respond when Heyman stopped him convincingly with, "I wasn't done yet". That just changed the whole landscape of the situation and things got more serious.
And in all of this Cena is not even in the spotlight, which is firmly on Rollins. Every reaction of his represented the trajectory the situation took pretty well.
The Turning Point
And just when Heyman was done talking, Rollins began his response. It was bold. Yes, bold. That's the word one would use to describe a young, promising superstar who stands toe to toe with the best and doesn't back down. And the moment he interrupted Heyman saying, "I wasn't finished yet" was the icing on the cake. The audience was stunned and so was Heyman. Soon, there was a little Rollins chant going and that too for a heel who has heard unanimous 'You Sold Out' chants.
Of course, like clockwork, history repeated itself and the contract signing turned to mayhem. There were german suplexes, AA through a table but what settled everything was a Curb Stomp.
Both Cena and Lesnar sold the move really well, with the latter actually taking and selling it convincingly.
Rollins stood in the ring with two behemoths. Two guys, who look like the protocol WWE guy- they are quite huge in stature. But all of the people involved made this attack look so believable that Rollins looks like a deserving contender to beat Lesnar. Though, that is not what is going to happen so soon, Rollins has been built up convincingly to look like a Champion.
It won't be shocking to hear that there could have been many people who thought Rollins will fade away after splitting from The Shield. That he'll just be a mid-card superstar.
But look at him now.
It was Rollins' night on Raw.
Last night, Raw was Rollins