Becky Lynch kicked off RAW and Shayna Baszler appeared on the Titantron to say that the former MMA star was going to take Becky's title at WrestleMania. Becky said regular people like her weren't mean to fight trained killers like Shayna but she would beat her anyway because Shayna had been underestimating her, and she was gonna smash her face in for it.
---
Angel Garza vs. Rey Mysterio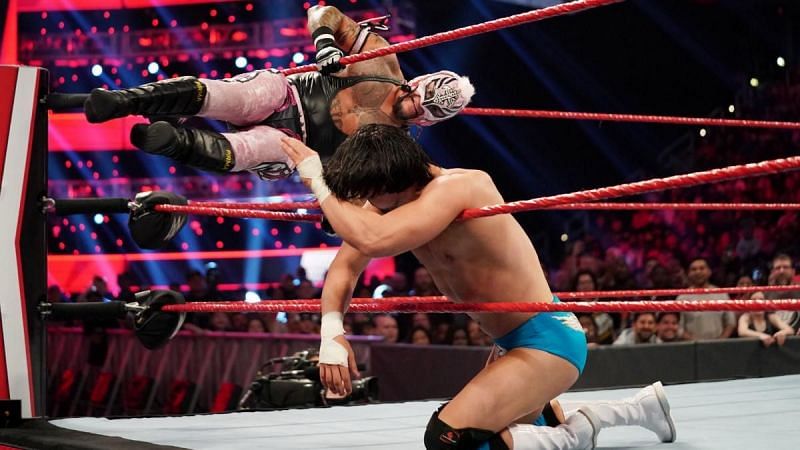 Garza was dominating early on and Rey took a big kick to the face while setting up for a high flying move and was sent outside with a dropkick. Mysterio managed to make a counter and hit a splash to the outside.
Mysterio went for another 619 after the first one was blocked and managed to get it in. He finished Garza off with a springboard move and got the pin.
Result: Rey Mysterio def. Angel Garza
Match rating: B-
Rate this match here.
---
Backstage, Kevin Owens was seen walking into the arena and Seth and the AOP were in his way. Seth was eating popcorn and said it was nice to see him. Owens took the hint and attacked them before he could get attacked but Owens went down either way before being buried under stage equipment.
---
We got a video package of Rea Ripley about how "to be the best, you must beat the best" before Charlotte walked out to the ring to say that Ripley was nothing like her.
Ripley interrupted her and Charlotte said that this was not NXT but Charlotte's Kingdom. She told Rhea to run along before getting punched in the face by the NXT champ.
---
Bobby Lashley vs. Zack Ryder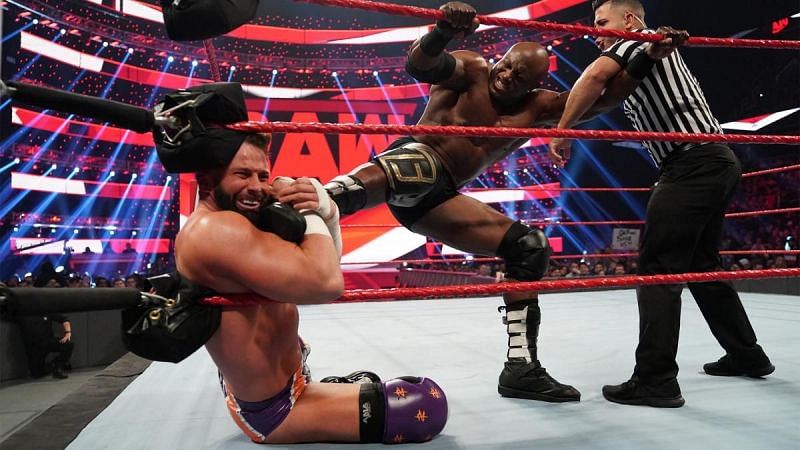 Lashley came out of the gates swinging and Ryder was in trouble right away. Lashley hit a Spinebuster and then the Dominator for the quick win.
Result: Bobby Lashley def. Zack Ryder
Match rating: C
Rate this match here.
---
Backstage, Rollins was trying to recruit Aleister Black but he was not having it. Rollins gave him the 'either you're with me, or you're against me' shtick and Black took that as a challenge.
---
Rowan vs. Drew McIntyre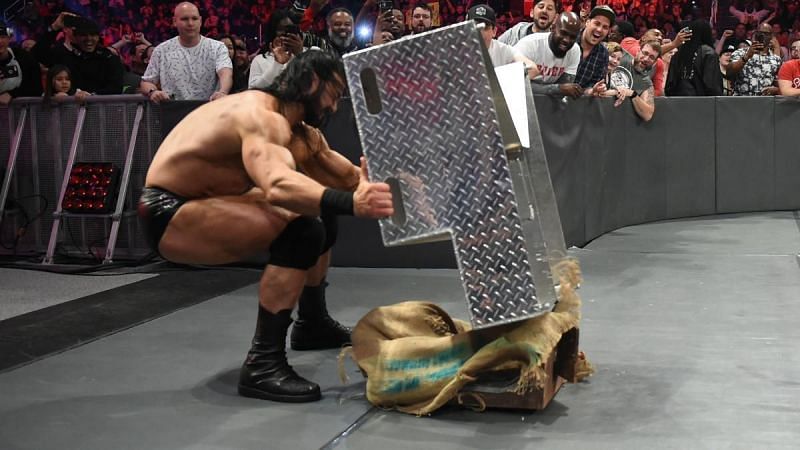 Rowan went for the Iron Claw right away but Drew was too quick. He took Rowan outside and sent him into the ring post and tossed him around outside.
He then took Rowan's cage and smashed it with the steel steps, crushing it. Drew hit the Glasgow Kiss and then the Futureshock DDT. He finished off the monster with a Claymore.
Result: Drew McIntyre def. Rowan
Match rating: B
Rate this match here.
---
The Kabuki Warriors were out next and Asuka was pissed about losing to Shayna last night. She wanted to face anyone and Kairi suggested Alexa Bliss but instead, Natalya and Liv Morgan came out.
---
The Kabuki Warriors vs. Natalya & Liv Morgan
Morgan and Kairi kicked us off and Liv hit a dropkick to the back of Sane. Natalya was tagged in and Ruby Riott came out to watch the match from ringside.
The Kabuki Warriors vs. Natalya & Liv Morgan (contd...)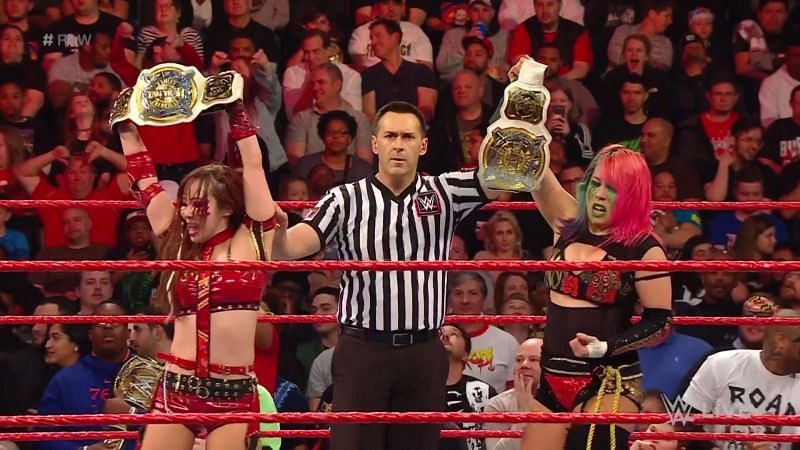 We returned from commercials to see Morgan hit a dropkick on Asuka before tagging in Nattie. Asuka had Natalya in a hold before Sarah Logan came out as well.
Logan and Riott started brawling at ringside before Morgan leaped off the top rope and onto them. Natalya was alone in the match now and locked in the sharpshooter but ook a kick from Asuka before being pinned.
Result: The Kabuki Warriors def. Natalya & Liv Morgan
Match rating: B+
Rate this match here.
---
AJ Styles was out next and ranted about the Undertaker costing him two big matches. He said 'Taker should have retired when Brock beat him but even when he did retire later, he came back.
He said 'Taker wasn't a mythical being to him, he was just an old man. He said 'Taker's wife was the one who made him return every time. AJ called Michelle conniving and said she was going to run Taker into the ground and Styles would help her.
AJ even said he will make sure 'Taker 'dies' at WrestleMania before challenging him to a one-on-one match.
---
Backstage, Randy Orton was asked what was on his mind but he said nothing.
---
Riddick Moss (c) vs Cedric Alexander - 24-7 Title match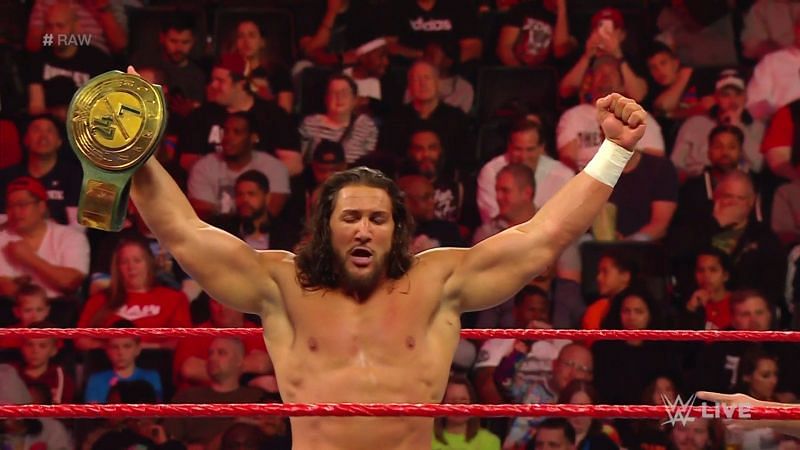 Cedric fought back and got some big shots in. He hit a springboard cutter and went after Moss in the corner. Cedric tried another springboard move but Moss took away his legs before hitting the neck breaker and driving Alexander to the canvas, retaining his title.
Results: Riddick Moss def. Cedric Alexander
Match rating: C
Rate this match here.
---
MVP was out and was looking to manage a stable, starting with Edge. He said Edge needed his guidance and lacked focus, before mentioning his wife Beth Phoenix.
Edge showed up backstage and came out to the ring before hitting the spear on MVP. Randy Orton was sneaking up behind him but Edge saw it coming and hit an RKO.
He then got some chairs in the ring but Randy fled and MVP caught Edge's wrath as Randy looked on from the stage. He yelled, 'this is you Randy' and smashed MVP's head with the chair, twice. After the proceeding, Edge ran after Orton as the Viper made his escape to backstage.
---
Backstage, Edge was still looking for Randy and Charly said he left the arena.
---
Seth Rollins vs. Aleister Black
Both men started off strong and ducked each other's finishers early on. Black took a huge chop to the throat before Murphy ran a distraction. Rollins was in trouble and was rolled up with a suplex but Murphy broke the pin, resulting in a DQ finish.
Result: Aleister Black def. Seth Rollins via DQ.
The AOP came out and so did The Viking Raiders as a huge brawl broke out. The Street Profits were out too and they fought the heels off before proposing an 8-Man tag match.
Match rating: B-
Rate this match here.
---
Seth Rollins, Murphy & the AOP vs. The Street Profits & The Viking Raiders
The babyfaces had the early advantage as the Vikings dismantled the AOP and Rollins was tagged in. Rollins and Murphy hit a double team move but the Raiders hit one of their own. Erik went for a Suicide Dive on Rezar but he was stopped before Murphy wiped out Erik with a running dive from the apron.
Seth Rollins, Murphy & the AOP vs. The Street Profits & The Viking Raiders (contd...)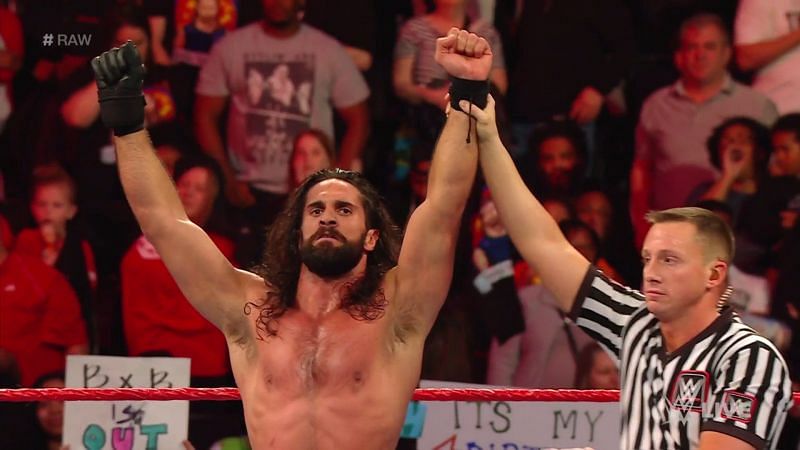 The referee had to get involved to stop Seth from continuing to beat down Erik in the corner as he was trapped by the heels in their corner. Erik exchanges strikes with Rollins as he battles to get to his corner, and fails time and time again.
Erik finally managed to tag Ford in and he decimated Murphy as he came in. Rollins tagged in and was taunting Ford while keeping him down on the mat. Murphy tagged back in and Ford was hyping himself up before eating a Suplex.
Ford hit the Splash and almost got the win but Murphy broke it up. The Vikings took out AOP and Murphy while Rollins hit the stomp on Ford for the win.
Result: Seth Rollins, Murphy & the AOP def. The Street Profits & The Viking Raiders
Kevin Owens rushed the ring after the match and hit Stunners on Murphy and the AOP before Rollins hit him with three stomps and took him out.
Match rating: A
Rate this match here.
---
Episode rating: A
We're on the home stretch to the road to WrestleMania and although the matches were not the best, the in-ring promos more than made up for it. Edge and Styles' promos stole the show while a great tag match closed the show.