WWE SmackDown Results, January 15th 2019, Latest SmackDown Live winners and video highlights
50.39K //
16 Jan 2019, 08:51 IST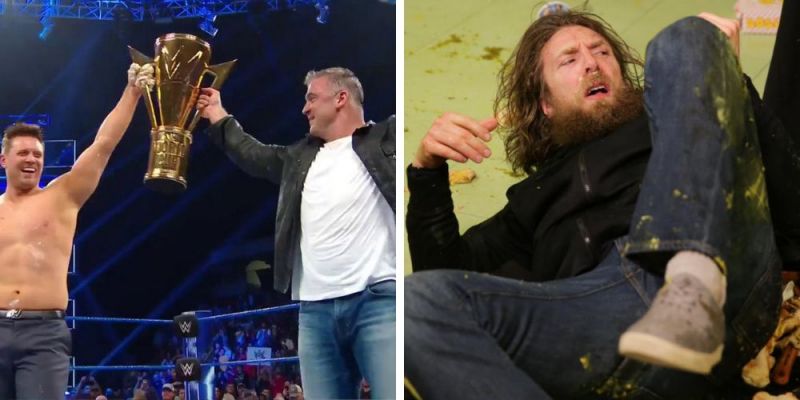 SmackDown Live kicked off with Becky Lynch arriving in her car backstage. The crowd chanted for Becky and she was stopped by Kayla Braxton. She said she's going to answer the question of whether she's ready for Asuka in the ring.
Becky ran into Heavy Machinery and The New Day backstage. Heavy Machinery put pancakes, whole eggs and ground it in a mixer. They drank it while The New Day were disgusted.
Becky took a sip of it too. She went to the ring and the crowd erupted. Becky started talking about the hype and how everyone's been trying to be a bad**s. She talked about how Asuka's hype died down at WrestleMania. 
Asuka came out and mentioned something about stinging like a bee. The Iiconics came out and interrupted them, trashing both of them before claiming they're going to win the Rumble and the women's tag titles. Becky challenged them to a match.
---
Becky Lynch vs. Peyton Royce
Becky punched Peyton in the throat right off the bat and Royce slid out of the ring. Becky went for a disarmher early but Royce managed to get away. Royce took control and caught Becky with some kicks in the corner before going for a headlock. Becky hit a dive from up top and Royce kicked out after a pin attempt. After a break, Royce went for a cover but Becky kicked out. Becky locked in the disarmher and got the easy win.
Result: Becky Lynch def. Peyton Royce
---
Asuka came in mic in hand, screaming in Japanese after the match and ran after Billie Kay who was ringside. Turned out, she challenged Kay and the bell rang right after to start the match.
Asuka vs. Billie Kay
Asuka went for her own version of the disarmher on Kay after dragging her into the ring. Kay reversed it but The Empress locked in the Asuka Lock for the win in under two minutes, from what it seemed.
Result: Asuka def. Billie Kay