Roman Reigns kicked off the SmackDown after Hell in a Cell and after a recap of Sunday's cage match with Jey Uso, we saw Heyman and Reigns join Jey in the ring. Jey snatched the mic from Heyman and said that Reigns did not beat him, asking him how he could stoop so low.
Reigns answered that he has to do things like that to protect his title before threatening Jey, asking him what he was going to do. Jey broke down and Reigns said, by the end of the night, Uso would fall in line before leaving.
---
Kevin Owens vs. Dolph Ziggler - Qualifying match for Survivor Series on SmackDown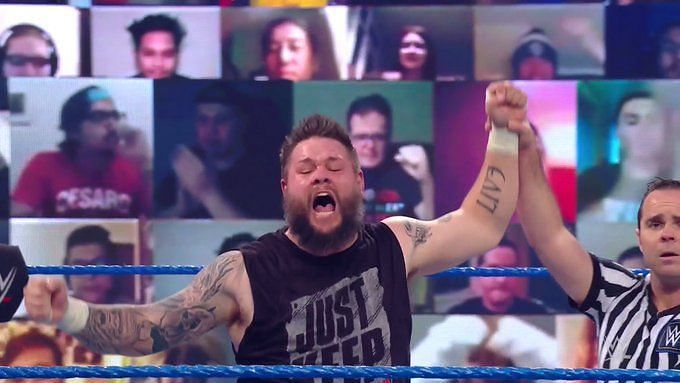 Owens started off strong and tossed Ziggler out of the ring early on and Roode was trying to run interference. Later in the match, KO went outside and Roode attacked him behind the referee's back. The official managed to catch it and sent Roode backstage for the rest of the match
Back after a break, Ziggler hit a superkick and took control of the match. Owens went for a powerbomb but Ziggler countered with a Famouser. Kevin Owens managed to reverse a superkick and hit the Stunner for the win.
Result: Kevin Owens won the Qualifying match and will be on the SmackDown Survivor Series team
Match rating: B
---
Natalya was backstage on SmackDown and wanted to be the leader of the Survivor Series team and Billie Kay and Bianca Belair joined her. Adam Pearce proposed a triple threat match to decide who will be on the team.
---
Lars Sullivan was backstage with Corey Graves and recalled the time he got bullied as a kid. He said he will cause pain to anyone who gets in his way.
---
Backstage, Aalyah Mysterio was talking to Murphy and said that her dad and brother didn't approve of their relationship. Murphy said that he would publicly apologize to Rey and Dominik tonight on SmackDown.
---
Bianca Belair vs. Natalya vs. Billie Kay - Qualifying match for Survivor Series on SmackDown
Kay ducked out early on, leaving Natalya and Belair to fight it out before coming in when Natalya went down. Natalya hit a big clothesline on Belair and a suplex on Kay. Bianca hit a standing moonsault for a near fall on Kay.
Natalya locked in the Sharpshooter and Kay too joined in with a headlock on Belair. The holds were broken and Kay got a few near falls before Natalya locked in the Sharpshooter on the former The IIconics member.
Belair broke the hold and wiped out Natalya on the ring post before hitting the KOD on Kay for the win.
Result: Bianca Belair won the Qualifying match and will be on the SmackDown Survivor Series team
Match rating: B
---
Carmella was in a promo about being 'untouchable' and said that she would return next week.
---
Murphy and Aalyah were out together on SmackDown and Murphy said that he has done terrible things and that's why he needed to apologize to Dominik and Rey Mysterio face-to-face.
Dom and Rey did not show up but instead, it was Seth Rollins. Rollins said that the Mysterios will not accept his apology but Seth was willing to forgive him. Rollins went on a monologue about the greater good and said that both of them could join him in his one-man cult.
Dominik attacked Seth Rollins from behind and Murphy tossed Dom aside to beat Rollins himself. Rollins took a beating and sneaked out while Murphy was caught in a brawl with Dominik in the ring.
Rey came out and Aalyah kept him and Dom from hurting Murphy before Aalyah confessed her love for Murphy. Rey and Dom tried to make her leave but she chose to stay with Murphy in the ring on SmackDown.
As Rey and Dom were leaving, they turned back to see Aalyah and Murphy kissed while Rollins was watching from afar and laughing on SmackDown.
---
The Street Profits vs. Cesaro & Nakamura on SmackDown
Cesaro and Dawkins kicked off the match on SmackDown and the Profits were in control early on before Ford was hit with a big press on the outside, tossing him over the barricades. Back after commercials, Nakamura took a kick from Ford before Dawkins tagged in to clear house.
Cesaro nearly took off Dawkins's head with a discus clothesline but as they set up for the Doomsday Device, Dawkins escaped Cesaro's shoulders and planted him with The Anointment. A Superplex to Nakamura set up for a frog splash from Montez for the win on SmackDown.
Result: The Street Profits def. Cesaro & Nakamura
Match rating: C
---
Sasha Banks was out next to celebrate her SmackDown Women's title win. Sasha had Bayley's special chair and tossed it away before talking about her title win. Bayley came out and after a bit of trash-talking about how Banks made her sign the match contract under questionable circumstances. The Role Model challenged Banks to a title match next week. Banks accepted the rematch before the segment ended.
---
Daniel Bryan vs. Jey Uso - Qualifying match for Survivor Series on SmackDown
Uso was distracted but still dominating the match early on. Bryan hit an uppercut and a knee strike before Uso hit a Samoan Drop. Bryan dropped Uso for the Yes kicks and Uso left the ring for a breather when Roman Reigns made his entrance, mid-match on SmackDown.
After a break on SmackDown, Uso reversed a top rope move before they traded kicks and Uso ended up outside. Uso went for the splash but Bryan got his knees up and locked in the Labelle lock.
Jey found the ropes and took down Bryan with some kicks before hitting a splash for the win on SmackDown.
Result: Jey Uso won the Qualifying match and will be on the SmackDown Survivor Series team
Roman Reigns joined Jey in the ring after the match and Jey accepted Reigns as the head of the table. Reigns looked at Bryan and Uso went after the defeated Superstar and hit a splash to prove his allegiance.
Roman told him to 'make Bryan understand' and Uso sent Daniel into the steel steps and then through the announce table. Uso kept hitting him until Reigns walked out and the show ended.
Match rating: A
---
Episode rating: B
The SmackDown after Hell in a Cell saw a huge twist in the Mysterio-Rollins storyline while we got three Survivor Series Qualifier matches. Roman and Jey had a showdown while Banks got a title challenge on her first night as champ.
Braun Strowman reveals the greatest talker in history here