WWE Smackdown spoilers & analysis for February 19th 2015
2.71K //
18 Feb 2015, 16:58 IST
This week's episode of WWE Smackdown appears to have taken some of the focus off of Bryan v Reigns and allowed some other feuds to flourish. Below are the complete spoilers for the February 19th 2015 taping of Smackdown.
-The show is opened by Daniel Bryan. Miz and Mizdow interrupt setting up a match. Miz becomes angry at the fans reaction towards Mizdow so he sends him to the back.
-Daniel Bryan defeats The Miz
-Ryback defeated Kane in a lacklustre bout
-R Truth defeated Barrett via a roll up in a non-title match. Dean Ambrose was on commentary and provided a distraction that allowed Truth to score the victory.
-Bray Wyatt cut another mysterious cryptic promo like previous weeks which many assume are likely directed at The Undertaker. He ended with "Find me… or I'll find you".
-The Ascension defeat Big E and Xavier Woods
-Roman Reigns defeated Luke Harper
-Big Show defeated Rowan in what was essentially a squash match with Rowan getting in no offense.
-Paige defeated Cameron while The Bella Twins were on commentary.
-Stardust v Goldust was officially announced for the WWE Fastlane PPV
-Tyson Kidd v Jimmy Uso ended in a no contest when Rusev interfered. Rusev went on a rampage destroying everyone including Cesaro and Jey. John Cena didn't appear and Rusev screamed in Russian to end the segment
-Seth Rollins defeated Dolph Ziggler via the curb stomp. J&J Security were banned from ringside so instead Rollins was accompanied by Big Show and Luke Harper. Ryback and Eric Rowan came down as backup for Ziggler and a brawl broke out. J&J entered after the match and helped The Authority beat down the babyfaces to close the show.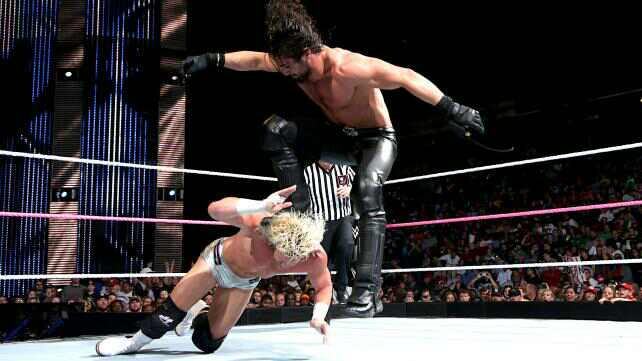 Analysis:
This week's Smackdown saw the focus taken away from the Bryan v Reigns feud which helped put some spotlight on the undercard bouts at Fastlane.
Barrett v Ambrose and Paige v Nikki were able to further their feuds by having the latter's appear on commentary which should prove quite intriguing, especially hearing Ambrose on commentary which should be golden.
Bray Wyatt once again cut a mysterious promo that seems to be pointing towards a rumoured Wrestlemania bout between himself and The Undertaker.
Stardust v Goldust was officially announced for the WWE Fastlane event which many (like myself) may find surprising, considering this brother v brother dream match had the potential to be a Wrestlemania calibre match up. It's possible this feud will carry over into mania but with what may become a stacked card that seems unlikely now.
Rusev was also able to make himself look like a complete beast, destroying Cesaro, Kidd and The Usos. This gives him a lot of momentum heading into his colossal match with Cena for the US Championship at Fastlane.
Another very interesting development comes in the main event. Seth Rollins and Dolph Ziggler are two big stars who find themselves without matches at Fastlane. And once again WWE have hinted at possible 6 man tag match between Rollins, Kane, Big Show and Ziggler, Ryback, Rowan. This match seems very likely to happen but surprisingly enough though it still hasn't been made official yet. It's possible now that the match will be made official either via WWE.com/social media or at the Fastlane event itself.
This week's Smackdown allows some of Fastlane's other feuds to get some of the spotlight. Ambrose on commentary and Ziggler v Rollins are both sure to be entertaining and some must-see television.