WWE, when all is said and done, is a business. The wrestlers are in it for the money, especially after going through the trials and tribulations, of making it to the biggest professional wrestling/sports entertainment organisation in the world. Top-tier talents, in particular, are aware of the value of their brand and are savvy enough to maximise their income.
WWE Superstars Salary vary from low six-figures to millions upon millions annually. WWE registered their highest ever annual revenue for the fiscal year of 2015, which was more than $650m.
Also read: Vince McMahon's net worth revealed
WWE wrestlers salary are generally split into two categories – basic pay and bonuses.
Superstars also receive income for making non-wrestling, public appearances such as Comic Cons and various other events. Some collect a percentage from the sale of merchandise, while some take home an additional amount from the gate receipts of the house shows. A select few also pull in the green from pay-per-view revenue.
Combinations of these deals are then supplemented to the basic salary.
Superstars in the upper echelon are also entitled to certain perks such as first class air travel, hotel accommodation, personal tour bus and private jet usage. Salaries of WWE Superstars, to an extent, are also dependent on their longevity. Some of the longest-tenured wrestlers fetch a hefty sum.
A report revealed that an average WWE Superstar rakes in, about half a million dollars in basic pay. The number of the years on the contract also differs from Superstar to Superstar and it can be anywhere from a year to up to a decade.
Also read: Stephanie McMahon's net worth revealed
Everything discussed until now doesn't factor in the outside projects and business ventures, these Superstars might be involved in.
A lot of figures about the earnings of the WWE Superstars are thrown around, but nobody knows for sure how much they make since the WWE does not divulge that information. However, there are more than a few credible sources that try to approximate the same and paint a picture.
For the sake of convenience, the list is divided into three categories:
1. Full-timers (Male)
2. Full timers (female)
3. Part-timers
WWE Salaries (annual):
Full timers (male):
SuperstarSalaryBonusAiden English$175,000-AJ Styles$500,000MerchandiseBaron Corbin$285,000-Big E$450,000MerchandiseBo Dallas$290,000-Braun Strowman$350,000-Bray Wyatt$470,000Travel and AccommodationChris Jericho$975,000PPVCurtis Axel$300,000-Darren Young$200,000-Dean Ambrose$900,000MerchandiseDolph Ziggler$900,000Merchandise, Travel and accommodationErick Rowan$400,000-Epico$300,000-Fandango$300,000-Goldust$550,000-Jack Swagger$450,000-Jey Uso$300,000MerchandiseJimmy Uso$300,000MerchandiseJohn Cena$5,000,000Merchandise, PPV, Travel, Accommodation and Private Jet Usage which make his overall income above $9,000,000Kalisto$250,000-Kane$1,500,000Travel and AccommodationKevin Owens$950,000Travel and AccomodationKofi Kingston$475,000MerchandiseKonnor$300,000-Luke Harper$300,000-Mark Henry$877,000TravelNeville$300,000-Primo$300,000-Randy Orton$1,600,000Merchandise, PPV, Travel and AccommodationR-Truth$350,000-Roman Regns$550,000Merchandise, Travel and AccommodationRusev$500,000-Seth Rollins$950,000Merchandise, Travel and AccommodationSimon Gotch$175,000-Sheamus$1,100,000Travel and AccommodationThe Miz$1,200,000Merchandise, Travel and AccommodationTitus O'Neill$400,000-Tyler Breeze$150,000-Viktor$300,000-Xavier Woods$375,000MerchandiseZack Ryder$350,000Merchandise
Full timers (female)
SuperstarSalaryBonusAlicia Fox$85,000-Becky Lynch$225,000-Charlotte$290,000-Eva Marie$250,000-Lana$205,000-Naomi$225,000-Natalya$320,000-Nikki Bella$400,000Travel and AccomodationPaige$290,000-Sasha Banks$225,000-Stephanie McMahon$1,725,000Private Jet Usage, Travel and Accommodation
Part-timers
SuperstarSalaryBonusBig Show$1,300,000Travel, Accommodation and Personal Tour BusBrock Lesnar$6,000,000Merchandise, PPV, Private Jet Usage and AccommodationThe Rock$3,500,000Merchandise and PPVTriple H$2,800,000Private Jet Usage, Merchandise, PPV and AccommodationThe Undertaker$2,200,000Merchandise, PPV, Travel and Accommodation
Even though these are ballpark figures, they are helpful to surmise the value of these Superstars to the company. John Cena sits on the top of the ladder as the highest-grossing WWE Superstar. He is also the highest earner amongst the full-timers.
Brock Lesnar pockets the most amongst the part-timers. According to a Forbes report, WWE spends nearly 2/3rd of its total Superstars' salaries, just to pay John Cena and Brock Lesnar. Long-tenured Superstars such as Mark Henry, Kane and Big Show, have sizeable downside guarantees.
Seth Rollins, Dean Ambrose and Kevin Owens are on the cusp of the seven-figure territory. Mid-carders' and lower-carders' salaries, easily reflect their position within the company.
Sources: Forbes, Heavy.com
*The figures mentioned here depict the annual salaries of WWE Superstars
---
For latest WWE News, live coverage and rumours visit our Sportskeeda WWE section. Also if you are attending a WWE Live event or have a news tip for us drop us an email at fightclub (at) sportskeeda (dot) com.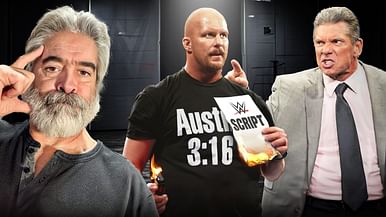 How Stone Cold was born in 2 minutes