| | |
| --- | --- |
| Full Name | Stephanie McMahon Levesque |
| Age (2022) | 46 years |
| Residence | Weston, Connecticut, US |
| Salary | $1.7 million |
| Stephanie McMahon'sNet worth (2022) | $150 million |
| Source of wealth | WWE, USO Metropolitan Washington, Children's Hospital of Pittsburgh Foundation, other business ventures |
| Endorsements | Unspecified |
| Charity | Connor's Cure, Make-A-Wish, Susan G. Komen for the Cure |
| Marital Status | Married to Paul "Triple H" Levesque |
Check out all the details of Stephanie McMahon's Net Worth below.
Stephanie McMahon Levesque, born Stephanie Marie McMahon, known professionally as Stephanie McMahon, is an American businesswoman and a professional wrestling personality. Stephanie McMahon is the daughter of former WWE Chairman and CEO Vince McMahon and Administrator of Small Business Administration Linda McMahon, the younger sister of WWE part-owner/wrestler Shane McMahon and the wife of Paul "Triple H" Levesque who is the founder and senior producer of NXT.
McMahon's Family
McMahon is the Chief Brand Officer (CBO) of WWE and occasionally appears as an on-screen authority figure for both Monday Night Raw and SmackDown Live. She is also the Commissioner of the RAW brand. Throughout the years, Stephanie McMahon has made numerous appearances in several WWE storylines and is also a former one-time WWF Women's Champion.
Stephanie McMahon is a fourth-generation wrestling promoter of the McMahon family and has worked for the company since she was a young girl. McMahon worked her way up to the receptionist position of the company, then in various front office jobs up to and including her current CBO position.
In 1999, Stephanie McMahon began appearing on WWE (then WWF) TV as part of a storyline with The Undertaker. After a brief on-screen relationship with Test, Stephanie McMahon was engaged to Triple H, whom she eventually married in real life. After winning the WWF Women's Championship, Stephanie McMahon became the on-screen owner of Extreme Championship Wrestling (ECW) as part of The Invasion storyline. The following year, Stephanie McMahon became the General Manager of SmackDown Live.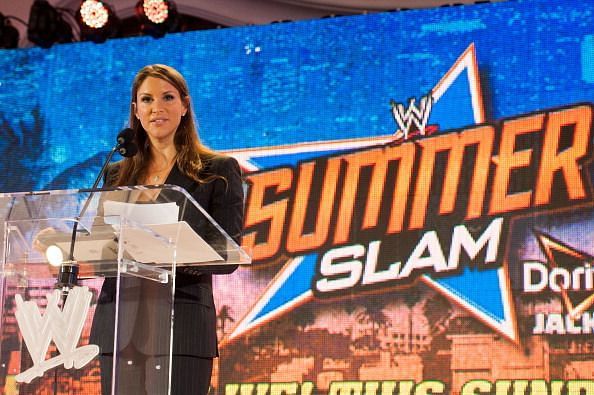 What is Stephanie McMahon's Net Worth in 2023?
According to Celebritynetworth, the calculated Stephanie McMahon's Net Worth in 2023 stands at $150 million. Stephanie currently owns 2.5% of the total shares of WWE, while also having a voting power of 4.5%. Despite the decrease in the estimated Stephanie McMahon Net Worth by $200,886, she remains one of the richest women in the United States.
Her net worth can change in the near future owing to WWE's sale to the Endeavour group. The Endeavour group also owns UFC and is working upon building a multi-national combat sports promotion where the two promotion will work independently but under the same banner. Once the deal goes through, the ownership pattern of Stephanie McMahon will change.
Stephanie McMahon's Earnings
In 2018, Stephanie made a total of $2.81 million, which included her non-executive pay. She receives a payment of $2.2 million just for her role as the chief brand officer (CBO) of the company and she holds a dual contract with the WWE as a performer, acting as the on-screen commissioner of the Raw brand.
In 2022, when her father Vince McMahon stepped down as the CEO and Chairman of WWE, she would go on to take the role of Chairwoman and co-CEO of the promotion. However, she would resign from both the roles in January 2023.
Stephanie McMahon's Investments
Stephanie lives with her husband at a 10-acre property called Conyers Farm which houses the McMahon family mansion. The property was bought after Vince McMahon and Triple H sold 800,000 shares of the WWE company.
Net Worth of other Popular WWE Superstars
FAQs
Are Stephanie and Triple H still married?
Yes, Triple H and Stephanie McMahon-Levesque are married since 2003.
Where do Triple H and Stephanie McMahon live?
The power couple of WWE lives nearby the WWE Headquarters in Stanford, Connecticut.
Does Stephanie McMahon have a son?
No, Stephanie McMahon and Triple H have three daughters together, Aurora Rose, Murphy Claire, and Vaughn Evelyn Levesque.
Is Stephanie McMahon the CEO of WWE?
No. Stephanie McMahon stepped down as the co-CEO of WWE in 2023.