Test Cricket Articles
Nathan Astle bat is in the air when bails are removed. But neither the keeper or any fielder appeals and Astle luckily ...
Ryan Harris Injuries are part and parcel of a cricketer's life. One cannot avoid injuries. One can only learn to deal with them. 34-year-old ...
This can happen only in India. In a Test match against Australia, the Hyderabad crowd cheered for the fall of Murali Vijay, an Indian wicket, so that ...
Indian bowlers aren't renowned for their accurate bowling, but over the years, there have been some memorable deliveries bowled by spinners and ...
London, April 18 (IANS/CMC) Sussex captain Ed Joyce says Barbadian seamer Chris Jordan is ready for Test cricket and is pushing for him to be ...
Fazal Mahmood in action against England, fourth Test, Oval, 1954 The English summer of 1954 was dull and wet, but from a cricketing perspective, it ...
Mitchell Johnson is considering retiring from limited overs cricket to prolong his Test career After having spearheaded his side to an Ashes ...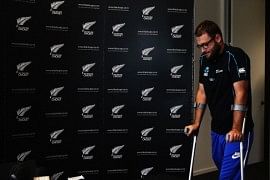 Daniel Vettori opts out of West Indies Test series  Wicket-keeper Luke Ronchi, who has so far been New Zealand's first choice glovesman in ...
South Africa cricketers AB de Villiers (L) and Dale Steyn Cricket South Africa (CSA) today received a cheque of US$475,000 in recognition for its ...
Peter Siddle: hard, hostile and hot to handle A toned and carefully nurtured fast bowling unit resembles a well-oiled machine, presenting a ...
Dubai, April 10 (IANS) The International Cricket Council (ICC) Thursday paved way for Associate members to gain Test status with the introduction of ...