The highly anticipated WWE Money in the Bank event just a month away. With the recent developments a potential matchup between Seth Rollins and the former IWGP Champion, Will Ospreay could happen.
Ospreay and Rollins have long been regarded as two of the finest wrestlers in the world today. Fans have been eagerly awaiting the clash between these two top-tier performers, who have each achieved great success in their respective promotions. Previously engaged in a heated online feud, the wrestlers have since buried the hatchet and expressed their mutual desire to step into the ring together.
The recent interview with Ospreay, conducted by Chris Van Vliet, only served to fuel the speculation. The former IWGP Heavyweight Champion openly stated his wish to face Rollins in the squared circle. In a surprising twist, Rollins himself has responded to the interview, teasing the possibility of a match against Ospreay.
However, Will Ospreay has made occasional appearances in AEW, including the historic Forbidden Door event in June 2022. During this event, he defended the IWGP United States Heavyweight Championship against Orange Cassidy.
Ospreay also participated in the AEW Trios Championship tournament alongside Kyle Fletcher and Mark Davis as part of the United Empire faction. Unfortunately, they were defeated by The Elite.
This year, The Aerial Assassin is scheduled to have a highly anticipated rematch against former AEW World Champion Kenny Omega for the IWGP United States Heavyweight Championship at Forbidden Door 2.
Considering Will Ospreay's past involvement with different promotions could lead him to a potential move to WWE that could open up exciting new opportunities in his career.
As anticipation continues to build, the upcoming Money in the Bank event presents a perfect opportunity for Ospreay where he could make his grand entrance into WWE and confront Rollins directly.
Seth Rollins' recent string of victories has elevated him to become the new World Heavyweight Champion, establishing him as a formidable competitor. Will's enthusiastic desire to go head-to-head with Seth could lead him to disregard AEW and instead make his debut at Money in the Bank.
If this scenario were to unfold, it would undoubtedly captivate audiences and deliver a truly epic match that transcends boundaries.
---
Seth Rollins apologized to Will Ospreay after their Twitter feud
WWE Superstar Seth Rollins and Will Opsreay were invoved in the Twitter feud in 2019.
During the Stomping Grounds event in 2019, Seth Rollins praised WWE and called himself the best wrestler. The NJPW star pointed out he had more matches that year. Rollins responded by comparing their bank accounts, claiming to be wealthier and mentioning Ospreay's injury.
A few days later, Rollins apologized sincerely to Ospreay, regretting his earlier tweet. He acknowledged it was foolish and against his values, realizing his mistake immediately.
Check out his tweet below:
Ospreay responded with a heartfelt tweet, expressing his admiration for Rollins and revealing he had been following his career since his independent wrestling days.
Would you like to Will Ospreay makes his WWE debut? Sound off in the comment section below.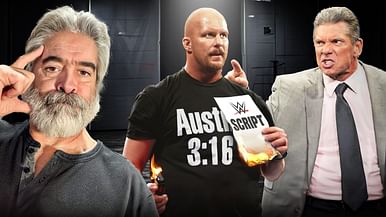 How Stone Cold was born in 2 minutes
Edited by Ashvinkumar Patil