Jujutsu Kaisen chapter 215, titled Fearsome Womb Part 7, was an absolute tour de force, delivering some of the most intense and thrilling battles fans have seen yet. The chapter was released on Sunday, March 5, on Shueisha's official website and app. It marked its eminence through a detailed illustration of the fight between Maki Zen'in and Itadori Yuji against Sukuna.
Jujutsu Kaisen chapter 215 provides some crucial scenarios and hints that will lead to some important factors in the upcoming chapter. Since Sukuna took over Megumi's body, the battle has been fierce. Itadori seems to have lost every bit of patience and is ready to do anything to kill Sukuna.
Disclaimer: This article contains major spoilers from Jujutsu Kaisen chapter 215.
---
Jujutsu Kaisen: Yuji is ready to sacrifice his best friend to stop Sukuna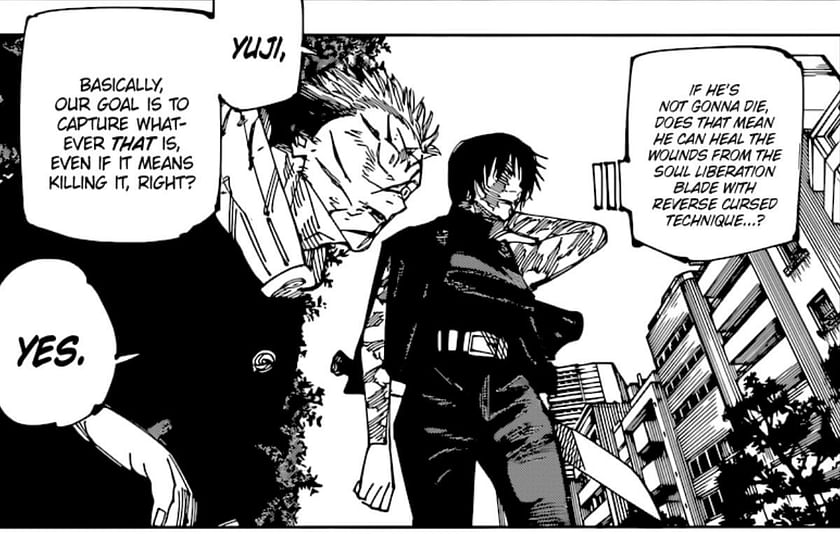 Jujutsu Kaisen chapter 215 picked up where it left off in the previous chapter. Maki Zen'in entered the scene where Sukuna and Yuji were fighting. Sukuna was surprised by Maki not being hurt by Nue. Thus, the fierce battle began. Sukuna was quite surprised by Maki's strength. She was seen beating up Sukuna. He even called Itadori boring in front of Maki's strength.
In the next scene of the chapter, it was seen that Maki was wondering whether Sukuna could heal the wounds from Split Soul Blade. She then asked Itadori if their goal was to stop "that," even if it was meant to kill "him." Here, that referred to Sukuna, and him referred to Megumi, whose body was possessed by Sukuna. However, Yuji shocked fans of the series by responding with a positive affirmation.
This scene left fans of Jujutsu Kaisen demoralized, as they had hoped that Itadori would be able to find a way to save Megumi and stop Sukuna. Some fans speculated that Itadori's response may have been due to his fury against Sukuna and losing his mind in the heat of the battle. Fans were surprised by Yuji's response because he and Megumi share a strong bond.
Regardless of the reason, this development has set the stage for a dramatic and emotional climax in the ongoing battle against Sukuna. However, it is not yet confirmed whether Itadori was referring to killing Megumi or Sukuna.
---
Final thoughts
Jujutsu Kaisen chapter 215 has left fans with a lot to ponder over. The chapter hints at the possibility of Yuji sacrificing his best friend to stop Sukuna. This shocking news has caused a lot of speculation among the series' fans about what will happen in the future. However, fans also know that Itadori Yuji will do everything to save his best friend from the possession of Sukuna.
Chapter 215 was undoubtedly one of the great chapters of the series. Gege Akutami illustrated how much the main protagonist, Itadori Yuji, developed. Also, the character development of Maki Zen'in is huge. She now holds physical strength identical to Toji Zen'in. However, Jujutsu Kaisen also seemed to troll Yuji at the end of the chapter. This made the fanbase create a buzz on the internet.
As the story continues to unfold, fans can only wait and watch how the event unfolds. With the series heading toward its conclusion, it remains to be seen how the story will conclude and what sacrifices will be made along the way.
Sportskeeda Anime is now on Twitter! Follow us here for latest news & updates.