Until the official release of chapter 1075, which is scheduled for February 19, 2023, One Piece fans will have to settle for unofficial translations of raw scans. Despite being more of a transition chapter, One Piece chapter 1075 features some interesting cues.
To better handle their situation, the Straw Hat Pirates have divided themselves into several teams of two crewmembers. There seems to be a recurring pattern of pairings among these subgroups.
Disclaimer: This article contains major spoilers from the One Piece manga up to chapter 1075 and reflects the writer's personal views.
---
The pairings for the Straw Hat Pirates in One Piece 1075 reflect recurring duos within the crew throughout the series
The Straw Hat Pirates split into several pairs
To look for Dr Vegapunk's main body, the "Stella," and repair the damage created by the Seraphims while keeping watch over the arrested CP0 agents, the Straw Hat Pirates decided to divide themselves into teams.
As such, they formed several subgroups consisting of a pair of crewmembers and one Vegapunk satellite body. Interestingly enough, it seems that these internal pairings among the Straw Hats weren't casual.
Upon closer examination, it's evident that One Piece author Eiichiro Oda paired them based on their most prominent crew connection throughout the series.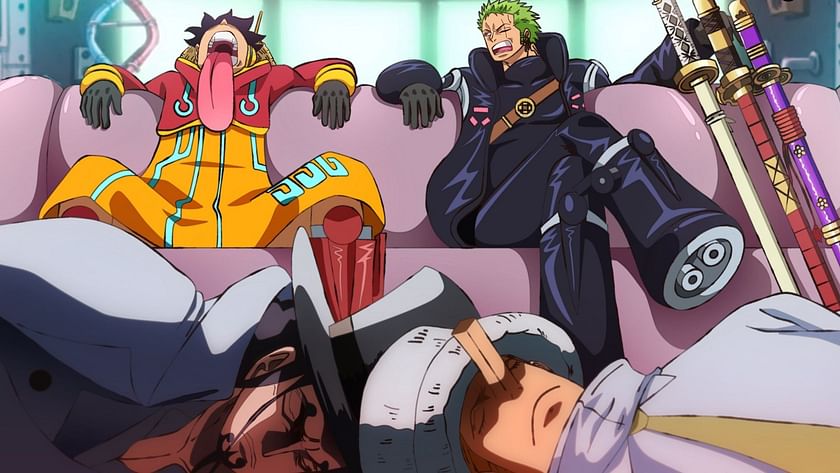 Group 1: Luffy and Zoro (with Vegapunk Shaka)
Group 2: Sanji and Jinbe (with Stussy)
Group 3: Franky and Usopp (with Vegapunk Lilith and Vegapunk York)
Group 4: Nico Robin and Chopper (with Vegapunk Atlas)
Group 5: Brook and Nami (with Vegapunk Edison)
Luffy and Zoro remained behind to protect Shaka and guard the unconscious Lucci and Kaku. The rest of the Straw Hat Pirates and the Vegapunk satellite bodies started inspecting Egghead's Labophase.
---
Luffy and Zoro, the Pirate King and the World's Strongest Swordsman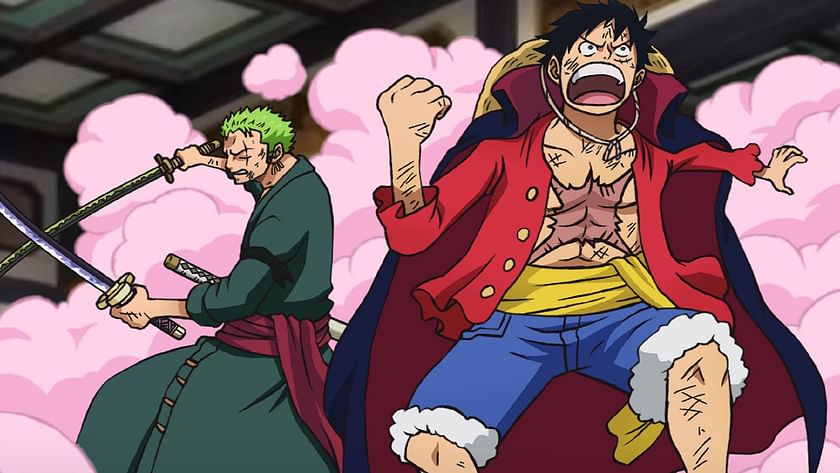 Luffy is the founder and captain of the Straw Hat Pirates, while Zoro is his right-hand man. Being the second-strongest member of the group after Luffy, Zoro acts as the crew's second-in-command.
Luffy and Zoro make a formidable pair, with a similar connection to that between Roger and Rayleigh. Their relationship has been special since the beginning, and they have a spontaneous and natural bond as brother-in-arms.
Luffy and Zoro have a significant dynamic with two of the strongest One Piece characters, Shanks and Mihawk, who are their primary benchmarks to reach and surpass. Luffy aims to prove his might to Shanks, while Zoro's goal is to beat Mihawk.
Luffy and Zoro are determined to realize their dreams of becoming the Pirate King and the World's Strongest Swordsman, respectively. When he joined Luffy, Zoro made it clear that he would kill him if he ever hindered his dream.
However, Zoro soon became sincerely loyal to his captain. In Thriller Bark, Zoro was ready to sacrifice his life to protect Luffy, even giving up on his dream. He declared that he can't fulfill his ambition if he doesn't help Luffy achieve his.
Within the Straw Hat Pirates, Luffy and Zoro are the only two members to be Worst Generation Supernovas, the strongest pirate rookies. They are also the only two members to possess the rare Conqueror's Haki, even at its advanced stage.
Due to his threatening aura and crazy feats of strength, Zoro is often compared to his captain. However, he deeply respects Luffy and doesn't step out of his position unless necessary.
To Zoro's selfless devotion, Luffy retaliates with complete trust in his abilities. Countless scenes, as well as concurring information from databooks and SBS, depict Zoro as the closest person to Luffy in both strength and attitude.
This bond is emphasized by several unforgettable moments that show Luffy and Zoro's mutual respect and admiration. They have been a team since the very beginning of the series.
With Luffy and Zoro together, funny moments as well as epic battle scenes and showcases of power are guaranteed. Undoubtedly, they are the best duo within the crew, and one of the greatest in the entire series.
---
Sanji and Jinbe, fire and water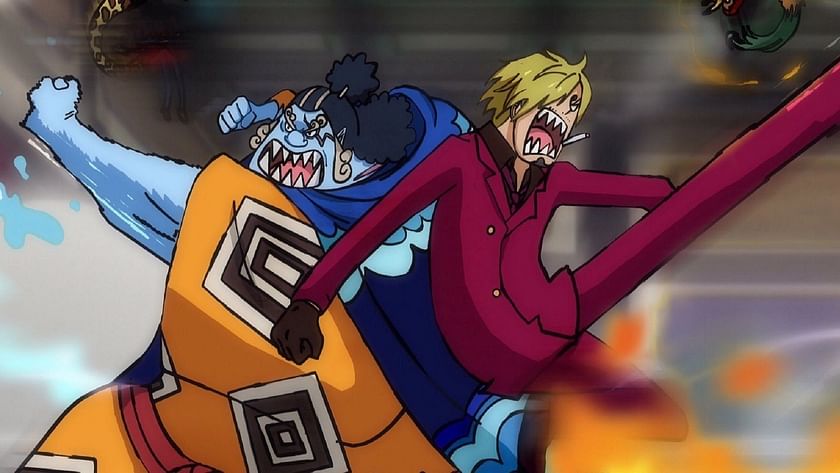 Sanji is a veteran member of the Straw Hat Pirates. He is the cook of the crew. Conversely, Jinbe recently joined the crew, assuming the role of helmsman. Being the third and fourth strongest member of the crew, respectively, Sanji and Jinbe make a notable duo.
Throughout most of the series, Sanji ranked only below Luffy and Zoro within the crew hierarchy of strength. After Jinbe joined the crew and was awarded a greater bounty than Sanji, fans started debating who was the third-strongest member of the crew among the two.
There's evidence supporting both sides. Jinbe has consistently good portrayal, but it's hard to see Oda kicking Sanji out of the Monster Trio. He and Jinbe may be comparable now, but while the latter has already peaked, the former has much more potential to develop.
As such, Sanji will certainly surpass Jinbe. He is most likely already stronger than him. Interestingly enough, despite Jinbe having only recently joined the crew, a dynamic between him and Sanji has already been depicted.
Since the beginning of the series, Sanji has developed a grudge against Jinbe for having allowed Arlong to boss around East Blue, indirectly causing misery and suffering to Nami.
Even when Luffy revealed that Jinbe protected him during the Paramount War, and after the latter's backstory was explained, Sanji was still angry at him. However, he backed off when Nami declared her forgiveness to Jinbe.
During the Fishmen Island Arc, Jinbe and Sanji joined their efforts to defeat Wadatsumi (although they likely would have been able to beat him even single-handedly). On Whole Cake Island, Jinbe helped Sanji rescue his family from the Big Mom Pirates.
In Wano, Jinbe and Sanji were temporarily paired together. They were involved in funny gags, hinting at a sort of water-fire dynamic between them. This comical rivalry was further emphasized when Jinbe was awarded a higher bounty than Sanji.
This caused Sanji to show animosity towards Jinbe, who, funnily enough, retaliated with his usual calm composure. Moreover, Nico Robin referred to Jinbe as a handsome man, while Sanji, despite all his attention, never managed to charm the archeologist. This will certainly give rise to further gags.
---
Franky and Usopp, the crafters
Franky is the shipwright of the Straw Hat Pirates, while Usopp is the crew's sniper. They are now comrades, but they were initially enemies.
In Water Seven, Usopp was robbed by Franky's underlings. Attempting to take back his stolen money, Usopp attacked Franky's base, but the latter brutally beat him up. However, after witnessing Usopp's dedication to the damaged Going Merry, Franky developed respect for him.
With Franky having joined the crew at the end of the Enies Lobby Arc, his bond with Usopp gradually grew. During the Thriller Bark Arc, the two worked together to bind Oars and built a memorial grave for the Rumbar Pirates.
Before Franky joined the Straw Hats, Usopp occasionally fulfilled the role of shipwright. Usopp is one of the crewmembers that appreciates Franky's robotic traits and bizarre inventions the most.
---
Nico Robin and Chopper, the newcomers to the East Blue Five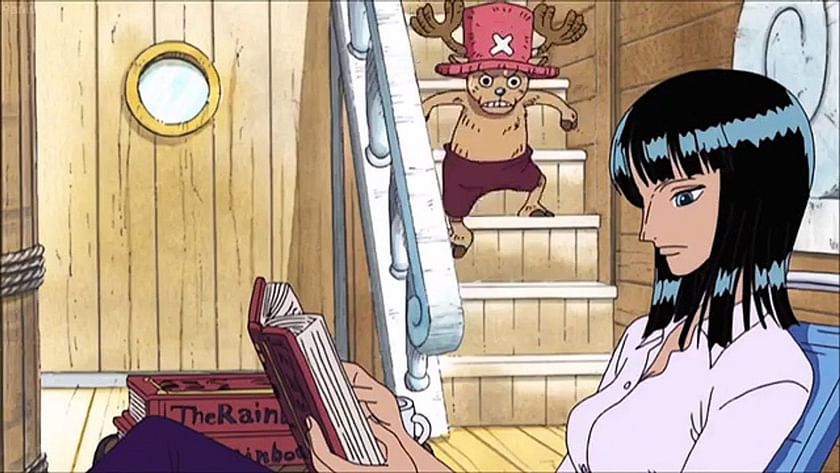 Chopper and Nico Robin are, respectively, the doctor and the archeologist of the Straw Hat Pirates. They joined the crew right after the "East Blue Five" i.e. Luffy, Zoro, Nami, Usopp and Sanji, who were a part of it before entering the Grand Line.
They became Straw Hats one after another. Chopper joined the crew before the Arabasta Arc. Robin, after briefly acting as an antagonist, entered the group at the end of the same arc.
The connection between Robin and Chopper is very spontaneous. While Chopper shares Robin's passion for reading, she called him "Doctor-san" from their first meeting, which left him dancing in joy.
Initially, Chopper felt a bit intimidated by Robin, knowing that she specialized in assassinations. However, he opened up to her when she used her Devil Fruit powers to amuse him.
Chopper's sincere friendship with Robin caused him to muster enough resolve to use his most dangerous transformation, the Monster Point, during the battle with CP9 member Kumadori.
Robin not only appreciates Chopper's intellect and culture but also acts quite motherly towards him. Finding him a cute little creature that is somehow akin to a child, she is protective and caring.
---
Brook and Nami, the awkward duo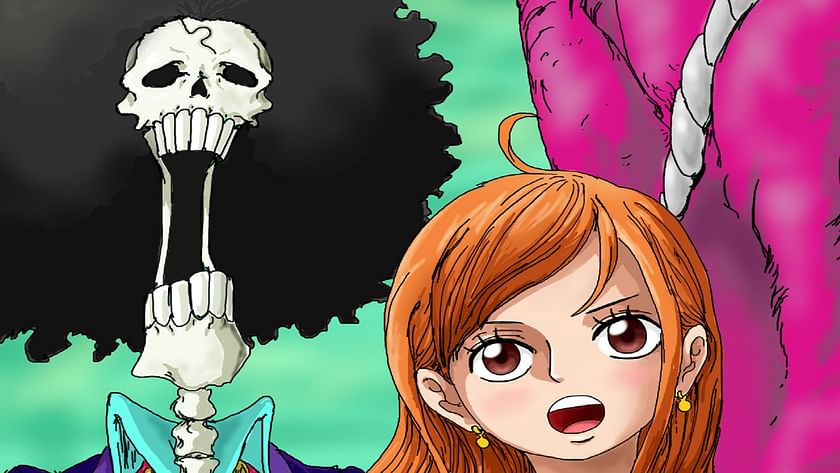 Nami is the navigator of the Straw Hat Pirates, while Brook is the crew's musician. When she first saw Brook's skeleton-like appearance, Nami was terrified of him. However, when she got to know him better, they soon became a comical duo.
Despite being a decently strong fighter, Brook can often be seen with the Straw Hat Pirates' Weakling Trio, i.e. Chopper, Usopp and Nami. Together, they cry over scary situations, such as when powerful foes close in or are about to attack.
Overcoming her initial sense of fear, Nami started holding onto Brook if scared, as she would do with any other crewmate. However, she can be very rude and short-tempered with Brook when he comically causes her to be angry.
Admittedly, the interactions between Brook and Nami have always been sort of bizarre. Their recurring gag involves Nami kicking Brook in anger when he asks her or any other female to show him their panties.
---
Final Thoughts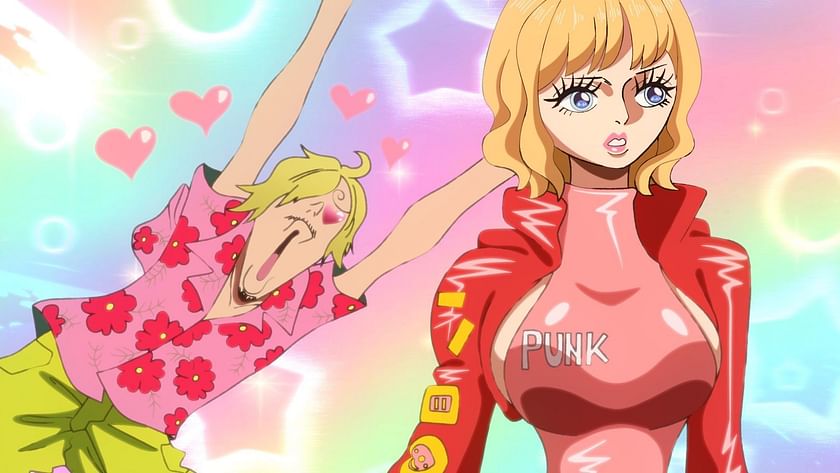 While confronted with two Seraphims, Luffy and Zoro received an unexpected proposal of alliance from Lucci and Kaku. The two old enemies, now agents of CP0, asked the two Straw Hats for a temporary partnership.
Meanwhile, Vegapunk Shaka, who is with them, just witnessed a suspicious shadow cutting the communications on Egghead. However, given that Shaka is with Luffy and Zoro, he is the safest of all the six satellites.
Jinbe, Sanji, and Stussy were walking in a weapon-making area. Considering that Sanji begged Stussy to call him her dog, it seems that at least one of the three members of the group is focused on something different than the task they were given.
Nami, Brook, and Vegapunk Edison momentarily stopped their exploration when they bumped into man-made diamonds that Vegapunk created for industrial purposes. With her usual lust for gold and preciousness, Nami couldn't believe her eyes.
Meanwhile, Chopper, Robin, and Vegapunk Atlas examined Building A on the second floor, finding man-made organoids. They were amazed by Vegapunk's advanced technology, but Chopper was also scared.
Franky, Usopp, Vegapunk Lilith, and Vegapunk York were examining the area where Vegapunk Pythagoras was attacked. However, they were approached by S-Snake, who petrified York and destroyed the surrounding area, causing the others to fall below.
One Piece author Eiichiro Oda has organized all the pieces on board, meaning that the Egghead Arc is ready to enter its climax. Further developments are likely to come in the next chapters.
Sportskeeda Anime is now on Twitter! Follow us here for latest news & updates.
Poll : Do you like the way Eiichiro Oda decided to divide the Straw Hat Pirates?
27 votes
Edited by Rachel Syiemlieh