Jujutsu Kaisen chapter 217, set to be released on Sunday, March 19, 2023, at 12 am JST, has generated excitement among fans as raw scans from last week revealed the chapter's title to be Bath-2.
The highly anticipated battle between Sukuna and Yorozu is depicted in this chapter, with intense action and important information being provided throughout. With a cliffhanger leaving fans eager for more, Sukuna is about to face off against Yorozu using a powerful technique from his arsenal, suggesting that the latter may be one of the most formidable sorcerers in the series.
The battle between Sukuna and Yorozu commences in Jujutsu Kaisen chapter 217, picking up where the last installment left off. As the two characters engage in fierce combat, it becomes clear that Sukuna may need to draw upon his vessel's strongest abilities to defeat Yorozu, further emphasizing her potential as one of Jujutsu Kaisen's most powerful sorcerers.
Disclaimer: This article contains spoilers for Jujutsu Kaisen chapter 217
---
Sukuna used the most powerful technique in his arsenal in Jujutsu Kaisen chapter 217
According to raw scans of chapter 217, it started with Yorozu making the first move in an intense battle against Sukuna, who currently possesses Megumi's body. The King of Curses initiated the fight, employing Megumi's divine dog curse technique. However, Yorozu noticed that Sukuna wasn't using his own Malevolent Shrine technique and questioned him about it. Sukuna replied that he would not use his own curse technique but instead rely on his vessel's abilities.
This triggered Yorozu to take a stance with her strongest curse technique, with the King of Curses responding in kind by summoning his most powerful ability. The illustration of the eight-handled wheel above Sukuna's head indicated that he was calling upon Megumi's strongest curse technique Mahoraga, the most formidable shikigami of the Ten Shadows Technique.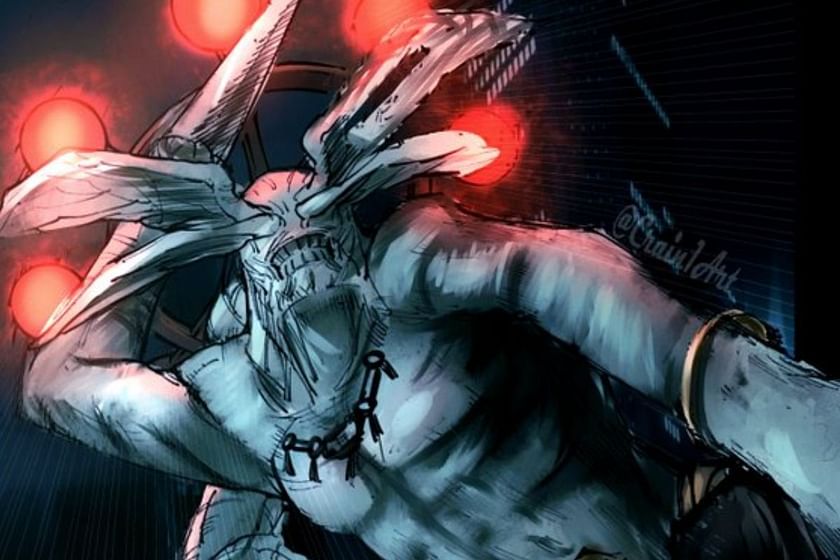 However, the fact that Sukuna must resort to using Mahoraga suggests that Yorozu is a powerful opponent. This is largely because no user of the Ten Shadows Technique has ever been able to control it.
Mahoraga's strength was previously witnessed in the Shibuya Incident arc when Megumi summoned it as a last resort to stop Haruta Shigemo, who had severely injured him. The cursed technique is capable of killing anyone it encounters, including its summoner. Sukuna initially struggled to battle Mahoraga. However, using his Domain Expansion and customizing Malevolent Shrine with a binding vow allowed for an effective range, which is how Sukuna was able to defeat Mahoraga.
However, the reason Sukuna chose not to use his own technique in this battle was because he wants to kill Yorozu with Megumi's technique. Yorozu currently possesses Tsumiki Fushiguro's body, Megumi's older sister. By killing Tsumiki with Megumi's own curse technique, Sukuna aims to plunge Megumi's soul deeper into darkness, allowing him to completely take over the vessel.
---
Final thoughts
Jujutsu Kaisen chapter 217 steers the story towards another intense battle, with Sukuna summoning his strongest shikigami to face Yorozu. This action shows Yorozu's strength and makes it more likely that she could be one of Jujutsu Kaisen's most powerful sorcerers. As the battle progresses, she is about to fight using an armored form, adding to the anticipation among fans.
The chapter not only leaves readers eager for the next installment but also raises important questions about the characters' motivations, alliances, and the consequences of their actions. As Sukuna and Yorozu continue to push each other to their limits, the outcome of their battle may have significant implications for the future of Jujutsu Kaisen.
Sportskeeda Anime is now on Twitter! Follow us here for latest news & updates.