Aakash Chopra has lauded Shardul Thakur for putting his critics to bed with his all-round performance in the World Test Championship (WTC) final.
Shardul picked up two wickets in Australia's first innings and followed it up with a 51-run knock in India's first essay at The Oval in London. However, despite his fighting efforts, Pat Cummins and Co. finished Day 3 (Friday, June 9) with a lead of 296 runs and six second-innings wickets in hand.
While reviewing the third day's play in a video shared on his YouTube channel, Chopra recalled Shardul's selection being questioned at the start of the game. He said:
"Let me talk about Shardul first because when India won the toss and decided to bowl on the first day, and dropped Ravichandran Ashwin and played Shardul Thakur, the world abused this player a lot. Everyone asked why Shardul was played."
The former Indian opener pointed out that everyone wanted Ravichandran Ashwin to be played ahead of the seam-bowling all-rounder.
"They said that if an all-rounder type of player was required, you should have played Ashwin, that Shardul is neither going to bowl nor bat, and Ashwin would have done very well," he said.
Chopra observed that the same naysayers are now saying that the spin-bowling all-rounder should have been played ahead of Umesh Yadav. He added:
"Whether he would have done well or not is a separate issue but all those critics are saying on the third day that Shardul had to be played but why did they play Umesh, and that Ashwin should have been played instead of Umesh."
Chopra further stated that India couldn't have gone into the match with Shardul as their third seamer behind Mohammed Siraj and Mohammad Shami, especially if they wanted to bowl first after winning the toss on a green top.
---
"Shardul Thakur came and brought with him a lot of luck" - Aakash Chopra on all-rounder's gritty knock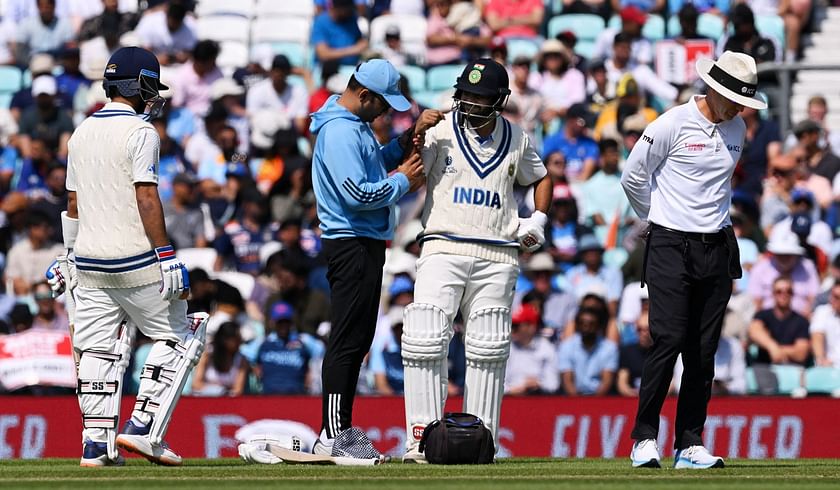 Aakash Chopra praised Shardul Thakur for playing a gritty, albeit slightly fortunate, knock.
"The day did not start well. Shardul Thakur came and brought with him a lot of luck. He was dropped once, then he was dropped again, then he was hit all over the body, but Shardul stood there. Then when he stayed for some time, he played some good shots as well," he said.
The cricketer-turned-commentator concluded by observing that the Mumbai all-rounder delivers the required results despite not looking great.
"You will see this story of Lord Thakur always, when he comes to bowl, you feel he is bowling ordinarily but picks up wickets, and when he comes to bat, at the start you feel he is about to get out, but he doesn't get out and scores runs. He is that kind of a player," he added.
Pat Cummins struck a couple of nasty blows on Shardul's forearm at the start of his innings. However, the right-handed batter stayed determined and added 109 runs for the seventh wicket with Ajinkya Rahane to help India go past the follow-on target.
Poll : Has Shardul Thakur done enough to justify his selection?
26 votes