Arsene Wenger's transfer dealings (Part-2)
While Part 1 of this three part series dealt with goalkeepers and defenders, Part 2 will analyze the midfielders that have been bought by Wenger since the 2006-07 season. Does Arsene have the same knack of spotting midfielders as he has had for picking out goalkeepers and defenders?
1. Tomas Rosicky – 7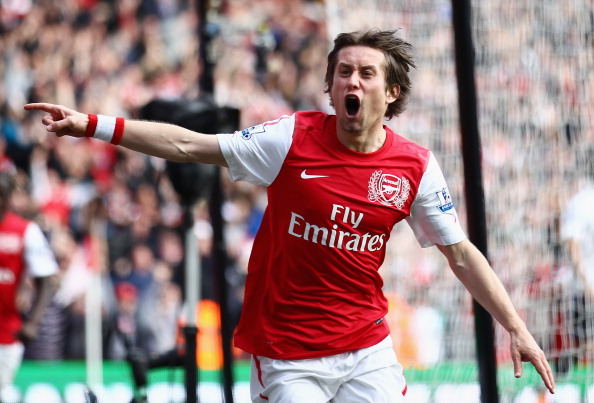 The Little Mozart, Tomas Rosicky, was signed from Borussia Dortmund in 2006 as a replacement for Robert Pires. And he had some big boots to fill. Possessing a brilliant long range shot and boasting a fantastic vision, Rosicky looked set to develop into one of the world's top midfielders. However, after an impressive season and a half, a mystery hamstring injury, which was initially supposed to keep him out for only a month, kept him out for eighteen long months. On his return, he looked short of fitness and a yard short of his usual pace and further injuries kept hampering his return to full fitness. It was only towards the end of last season that Rosicky finally showed what he was truly capable of, as he marshalled the Arsenal midfield with Mikel Arteta and Alex Song and delivered a strong finish to Arsenal's season. In a season dominated by Robin van Persie, Rosicky finished third in Arsenal's Player of the Season polls. With a new contract in the bag, one hopes Rosicky can continue to dominate in the Arsenal midfield for a few more years to come.
2. Fran Merida – 5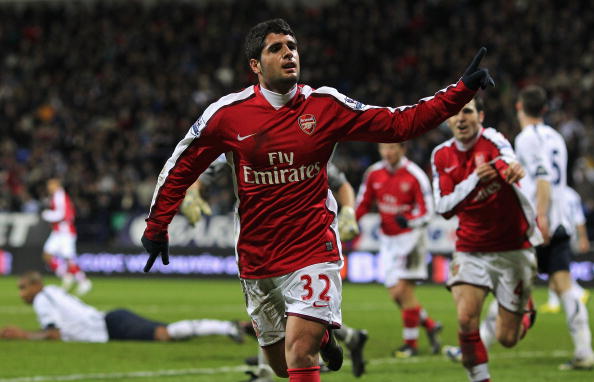 One that slipped through Wenger's fingers. Fran Merida announced himself to Arsenal fans in 2009 with a stunning goal against Liverpool in the Carling Cup. Repeatedly praised by Arsene Wenger, Merida was heralded as a major talent and looked set to play a part in the first team after Wenger refused a loan deal for him. However, even after verbally agreeing to a new deal, Merida ran down the last year of his contract and left on a free to Atletico Madrid, with a furious Wenger accusing Atletico of having tapped up the player beforehand.
3. Alex Song – 10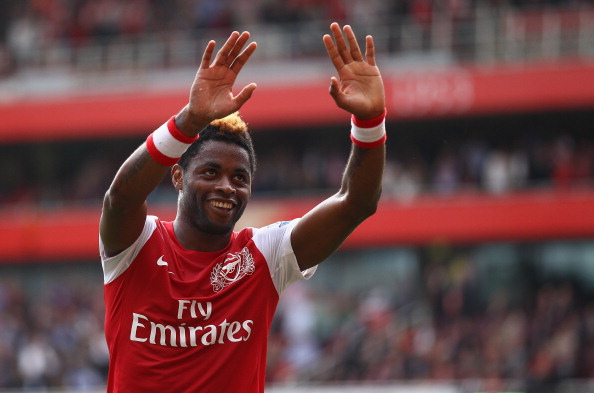 Probably one of Arsene Wenger's best ever buys, though, for quite some time, Alex Song was criticized as being one of Wenger's worst every buys. Technically, Song was an Arsenal player since the 2005-06 season when he joined on loan. But he was officially signed from Bastia in 2006. Song was initially loaned out to Charlton to gain some experience. On his return, Song still found it difficult to deliver on a consistent basis and was taken off at half time in a game against Fulham. However, instead of crumbling, Alex has blossomed into one of the finest anchormen of the Premier League. Over time, Alex has developed from being just a holding midfielder, into a player capable of picking out some glorious assists. The lobs to Van Persie against Everton and Liverpool and the slide rule pass to Henry against Leeds are some instances which every Arsenal fan would like to re-live again and again. Being in second place last season in Arsenal's Player of the Season polls, 'Songinho' has well and truly arrived.
4. Denilson – 6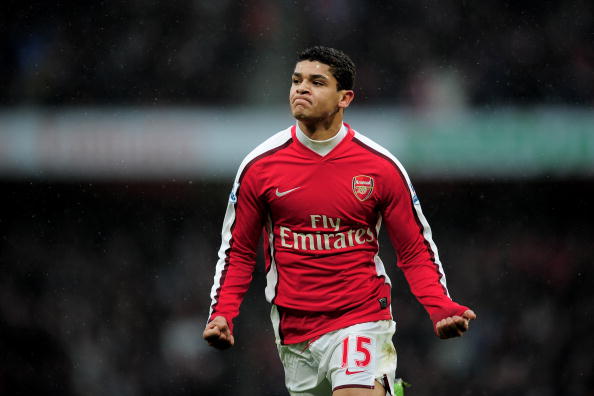 He was supposed to be the next Gilberto Silva. Signed as a youngster from Sao Paulo, Denilson impressed in the Carling Cup games at the start of his career. A reliable passer possessing a ferocious long range shot, Denilson had his breakthrough at Arsenal after the departure of Mathieu Flamini. Starting alongside Cesc Fabregas, Denilson started in 36 of the 38 games in the Premier League. However he failed to kick on from there and a crucial injury in the following season with the emergence of Jack Wilshere in the season following that, seriously curtailed his playing time. In the few appearances that he was afforded, his lack of pace and small range of passing were heavily criticized. Arsene tried to offload him last year, but found no takers due to his high wages at the club. A loan deal to Sao Paulo materialized with an option to buy which wasn't exercised. His loan deal has been extended for another year after Sao Paulo refused to buy him again at the start of the season.
5. Lassana Diarra – 3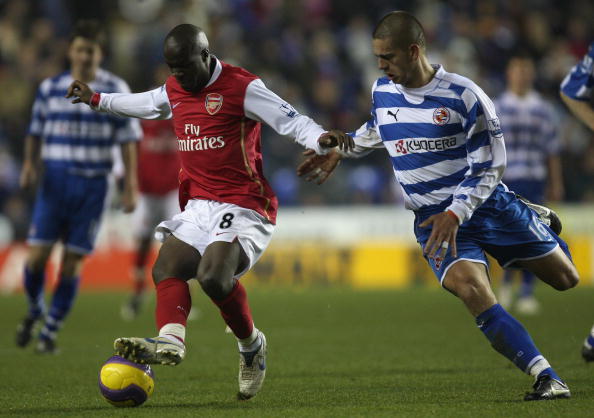 Signed on a free transfer from Chelsea in 2007, Diarra was probably unlucky to have been signed at a time when Wenger tried out Fabregas and Flamini in the engine room for Arsenal. After sporadic appearances throughout the season, the midfielder grew frustrated at his lack of opportunities and after complaining about his lack of playing time, was transferred to Portsmouth. He remains probably the only player to have criticized Wenger after leaving.
6. Amaury Bischoff – 0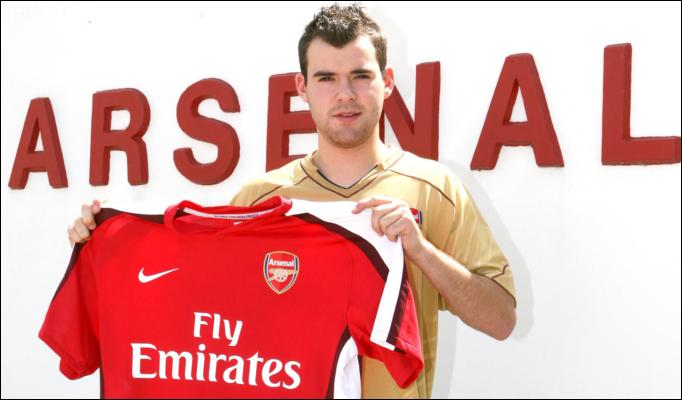 With his injury record with Werder Bremen, nobody was quite sure why he was signed. Even Wenger called it a gamble on his talent. The gamble, however, did not pay off and after being unable to break into the first team, Bischoff was released after just one season.
7. Andrei Arshavin – 7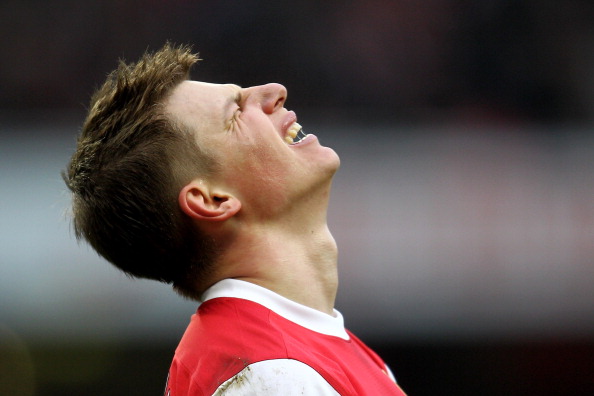 With Arsenal fans hankering for a signing of significance in the 2008-09 season, Andrei Arshavin was signed from Zenit in the winter transfer window. Arshavin announced himself with a bang in the premier scoring a superb solo goal against Blackburn despite having had several stitches on his foot at halftime. His most memorable performance though, came against Liverpool away, when he scored all 4 goals for Arsenal in a thrilling 4-4 draw. His impact was so great that he finished second as Arsenal's Player of the Season despite having played only since January and being cup tied in Europe. Arshavin continued his good form into the next season, even filling in as a centre forward in a few games after the departure of Emmanuel Adebayor and injuries to Robin van Persie and Nicklas Bendtner. Despite his preference for playing behind the striker, Arshavin however continued to be deployed as a winger. Boasting an impressive assist tally, he was nevertheless often criticized for failing to track back to help Gael Clichy in defence. Arshavin's stock fell further with the appearance of Gervinho last season, culminating in him getting booed by his own supporters as he came on as a sub for Alex Oxlade-Chamberlain against Manchester United. Arshavin spent the second half of last season on loan at Zenit and his future at Arsenal continues to remain uncertain.
8. Samir Nasri – 7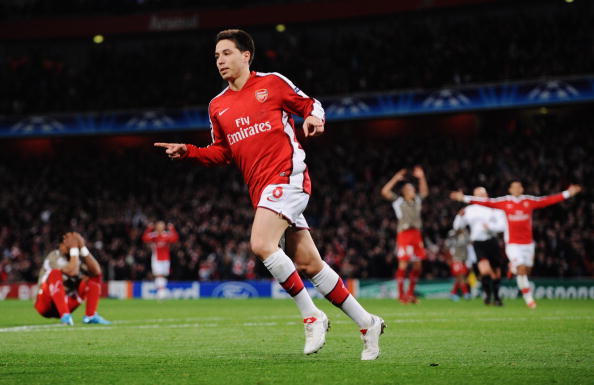 Every Arsenal fan's favourite villian. Samir Nasri was already being heralded as the next Zinedine Zidane when he signed for Arsenal from Marseille. A sparkling performance against Manchester United was the lone bright spot in a series of inconsistent performances as Nasri struggled to adapt to the pace of the Premier League. His acclimatization was further hampered next season when a broken leg in pre-season training ruled him out for a few months. However after being dropped for the 2010 World Cup by France, Nasri's performances improved dramatically and his performances in the first half of the 2010-11 season finally showed the promise that had led Wenger to sign him. After refusing to sign a new deal despite being in the last year of his contract, Nasri was sold to Manchester City last season to avoid him leaving on a free.
9. Aaron Ramsey – 6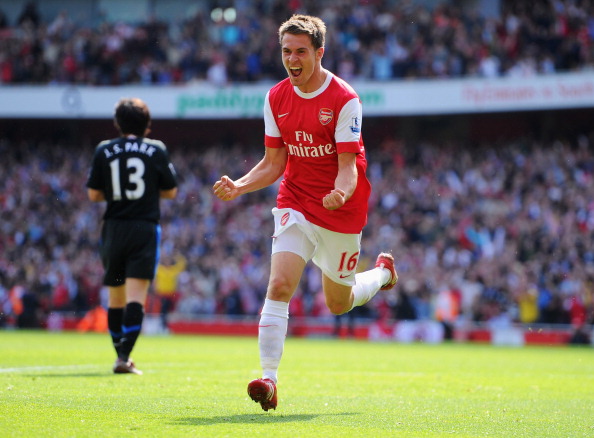 The Welshman was signed from Cardiff City in 2008 and chose to sign for Arsenal over Manchester United after being advised by Terry Burton who was the Cardiff Assistant Manager at the time. Ramsey turned in several promising appearances over the next season and half and was just establishing himself in the first team, when he suffered a double leg fracture against Stoke. His injury kept him out for nearly a year and in the meantime Jack Wilshere established himself in the first team. An injury to Wilshere last season resulted in more playing time for Ramsey and one hopes that he can continue his development this season.
10. Gervinho – 7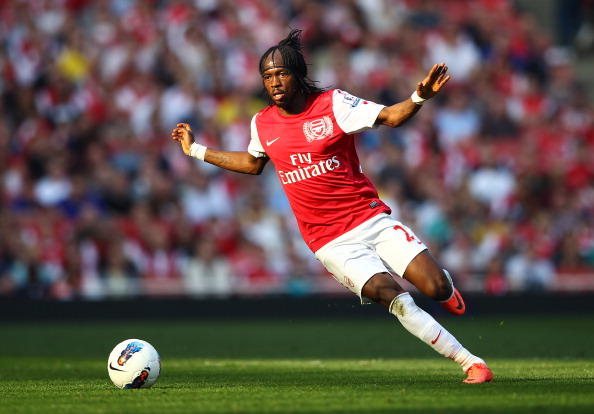 Gervinho was signed last season after a stellar couple of seasons for Lille and some eye-catching performances in the World Cup in 2010. Despite being sent off on debut against Newcastle, Gervinho impressed Arsenal fans with this dribbling skills and racked up a few assists for Robin van Persie over the course of the season. His participation in the African Cup of Nations, however, limited his contribution during the second half of the season. Though his composure in front of goal still leaves a lot to be desired, he is certainly an exciting prospect for the coming season.
11. Alex Oxlade-Chamberlain – 8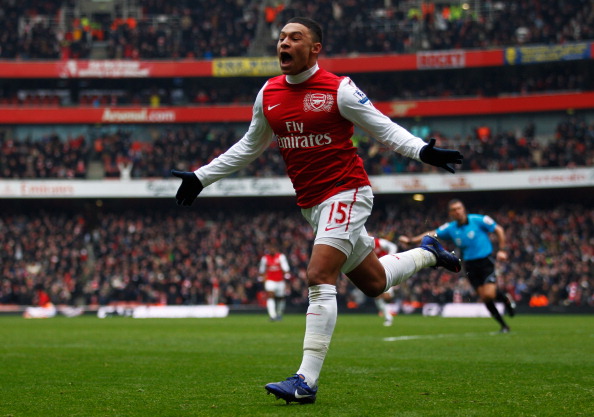 One of the most promising and exciting youngsters of his generation, his signing from Southampton was a great piece of business by Wenger. His confidence and ability to take on defenders has been one of the hallmarks of his Arsenal career so far. His impact on the team has been so great in the short span of time, that Arsenal fans and even captain Robin van Persie showed their displeasure after he was substituted against Manchester United. With a full England debut and a decent performance in the Euros, the following season looks extremely promising for Chamberlain.
12. Mikel Arteta – 9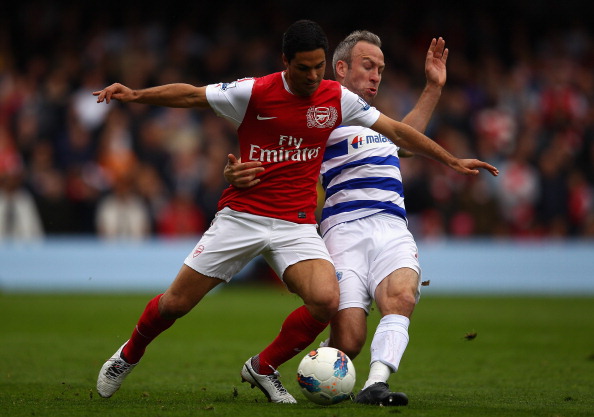 Probably the best signing from Wenger last season. Arteta was signed in that last crazy day of the transfer window last year after Cesc Fabregas left for Barcelona and was perhaps unkindly labelled as 'Fabregas-lite'. Arteta's calm presence in the centre of midfield was however crucial for Arsenal throughout the season. His ability to hold and calmly distribute the ball under pressure brought plaudits from fans and the manager. He also popped up with scintillating long range strikes against Manchester City, Aston Villa and Wigan. Infact Arteta's impact was so great on the team, that the only time Arsenal won a game in his absence, was on the last day of the season against West Brom. If he continues his consistent performances this season, it will be a real boost for Arsenal.
Signings such as Kyle Ebicilio, Samuel Galindo, Ryo Miyaichi and Thomas Eisfeld have not been evaluated as they are still yet to make a competitive appearance for Arsenal. Nevertheless Miyaichi has impressed in his loan spells at Feyenoord and Bolton and looks a tremendous prospect, while Eisfeld has impressed in this pre-season.
Another important signing not assessed is Yossi Benayoun since he was only a loan signing last season. However the fact he was in the starting 11 for every important game last season merely underlines his contribution to the team.
This gives an average rating of 6.25 for the midfielder signings since 2006-07. This is a phenomenal statistic. Nearly every midfield signing of Arsene's, barring a couple, has been a success. That is quite an achievement, considering that he has never paid above the odds in today's inflated transfer market. It just underlines Wenger's importance in developing Arsenal as a team.