The 2018/19 season is slowly but surely coming to a close, with most teams already looking ahead to the upcoming transfer window.
Players looking to secure a move in the summer will be keen to finish the season off on a positive note, while others still competing for trophies will be eager to help their side lift some silverware at the end of a gruelling campaign.
Performances now, more than ever, will go a long way in deciding the winner of the 2019 Ballon d'Or.
Last month's ranking featured the likes of Jadon Sancho, Paul Pogba and other surprising entrants. Will that be the case this time as well?
Meanwhile, Lionel Messi was comfortably placed at the top in last month's ranking, followed by Cristiano Ronaldo and Kylian Mbappe. However, this month sees a major change near the top.
On that note, let's dive in and take a look at the May 2019 edition of the Ballon d'Or Power Rankings.
#10 Marc-Andre ter Stegen
Goalkeepers aren't usually in contention to win the Ballon d'Or, but the fact that Marc-Andre ter Stegen makes this list goes to show what kind of a season the Barcelona shot-stopper has had.
Ter Stegen's rise has been dramatic and he is now considered on par - or even superior - with the likes of Manuel Neuer, David de Gea and Jan Oblak.
The German has kept 16 clean sheets in the league this season, with four of them coming in the month of April, against the likes of Atletico Madrid, Huesca, Alaves and Levante.
Ter Stegen also starred for Barcelona in the Champions League, shutting out Manchester United in both legs of the quarterfinal and following it up with a world-class performance against Liverpool as well.
If he continues in this manner, ter Stegen could end up a lot higher on this list.
#9 Jadon Sancho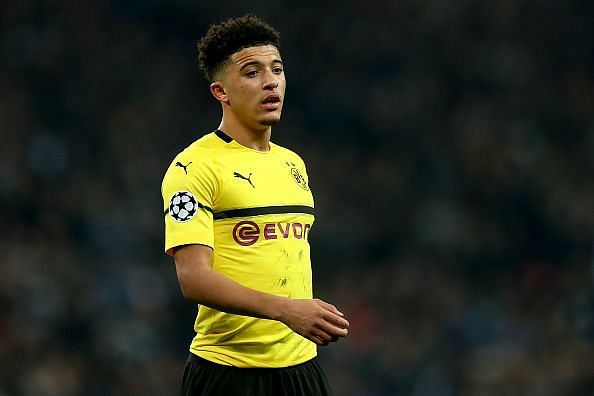 Jadon Sancho has proven to be the assist king of Europe and he added credibility to that statement with an assist in Borussia Dortmund's defeat to Schalke.
Sancho now has 14 assists in the Bundesliga which is no mean feat for a 19-year-old. He has also added goals to his arsenal, netting twice against Mainz and once against Freiburg to take his tally for the season to 11, proving he is one of the best all-round talents in the game.
While Sancho has enjoyed immense success from a personal point of view, Dortmund's reign at the top of the Bundesliga was short-lived as they yielded the top spot to Bayern Munich with a disappointing string of results.
However, Sancho's quick rise has continued and he moves up 1 spot to #9 on this list.
#8 Eden Hazard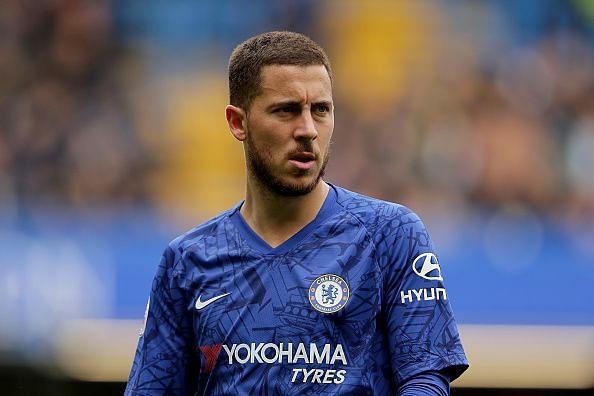 Chelsea continued to drop points in the race to secure a top-four berth in the Premier League despite Eden Hazard's best efforts.
Hazard continued from where he had left off last month, scoring and assisting a goal against Brighton before netting twice against West Ham.
However, he failed to find the back of the net in big games against Manchester United and Liverpool. He provided another assist against Burnley which drew him closer to Jadon Sancho's tally of 13 (at the time), which he would eventually go on to breach.
The Belgian's services weren't really required in the Europa League as Chelsea cruised past Slavia Prague, but he will have an important role to play in the second leg of their semifinal tie against Eintracht Frankfurt.
Hazard is all set for a move to Real Madrid in the summer and he will looking to end his Chelsea stint on a high.
#7 Mohamed Salah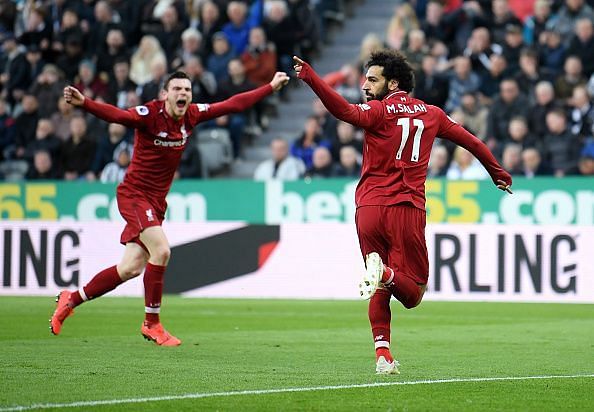 Mohamed Salah has climbed two spots to #7 on this list after a goal-laden April.
Salah netted four times in the Premier League to take his tally to 22. He is now the leading goalscorer in the league, overtaking Manchester City's Sergio Aguero, and well on course to winning his second consecutive Golden Boot award.
Salah has proved that he's no one season wonder, stepping up at important moments for the Reds. While he has certainly not been as consistent as last season, he has remained one of Liverpool's best players.
Salah scored in victories against Southampton, Chelsea and Huddersfield in the league, extending the Reds' win streak and helping them maintain their title challenge.
He also netted against Porto in the second leg of their Champions League quarterfinal tie. However, he is unlikely to move any further up this list considering the injury he picked up against Newcastle which could rule him out for the rest of the season.
#6 Sergio Aguero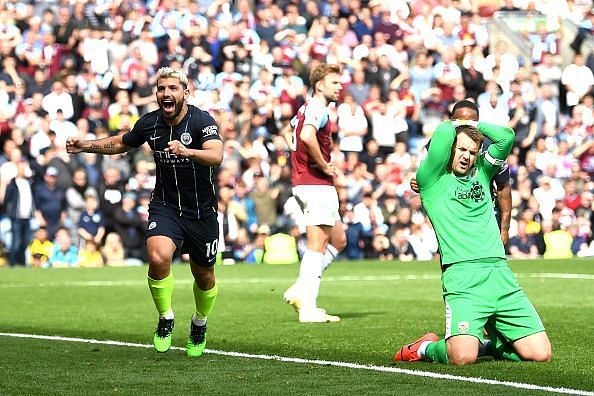 Sergio Aguero has had a fantastic season for Manchester City, but he went off the boil slightly in April.
Aguero netted just once in the Premier League, taking his tally for the season to 20, and was usurped by Mohamed Salah in the race for the Golden Boot. The goal was, however, a crucial one as it came in a 1-0 win at Burnley, keeping City at the top of the table.
He also played a starring role in the Champions League despite City's eventual exit. Aguero scored and assisted during Spurs' visit to the Etihad in the second leg of their Champions League quarterfinal tie.
He turned from hero to zero though after straying offside during the build-up to Raheem Sterling's stoppage-time goal which was eventually disallowed after consulting VAR, leading to City's exit.
As a result, Aguero drops from #4 to #6 in this list, a slide of two spots. However, with an FA Cup final on the horizon as well as two important Premier League fixtures, Aguero has a great opportunity to move back into the top 5.
#5 Kylian Mbappe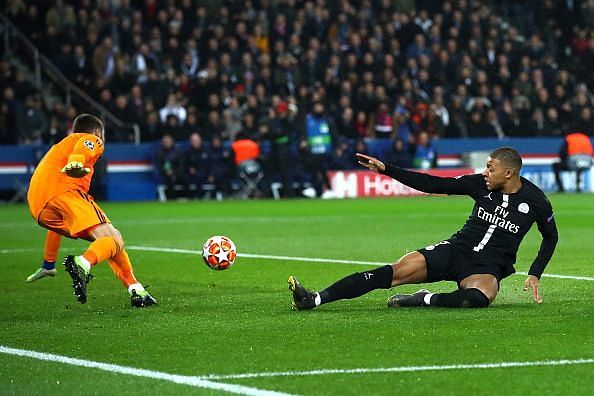 Kylian Mbappe's rise has been meteoric and he's shined in France for Paris Saint-Germain. The prodigiously talented Frenchman is potentially Lionel Messi's only real contender for the Golden Shoe award with 30 goals in Ligue 1.
However, only three of those came in what was a barren April for the youngster.
Mbappe was a part of the PSG side that blew a 2-0 lead in the French Cup final against Rennes. He was in fact sent off late in the game which potentially cost the Parisians the trophy.
The suspension meant he missed his side's games against Nice and Montpellier, but he is all set to return and finish the season on a positive note.
However, a disappointing month means he slides 2 spots to #5 on this list and well out of contention for the Ballon d'Or.
#4 Virgil van Dijk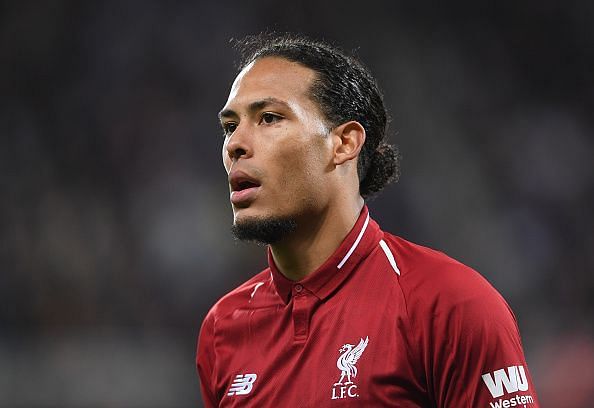 Virgil Van Dijk has cemented his reputation as one of the best centre-backs in the world with his world-class displays for Liverpool this season.
The Dutchman's commanding presence in the backline helped Liverpool keep three successive clean sheets in the league in April, against Chelsea, Huddersfield and Cardiff.
Another clean sheet against Porto in the first leg of their Champions League quarterfinal tie meant Liverpool had one foot in the semifinal, and Van Dijk followed it up by netting a goal of his own in the return leg to secure their progression.
While he met his match against Barcelona and Lionel Messi in the semifinal, it was arguably one of his only poor displays all season.
Van Dijk was rewarded for his consistently brilliant performances with the PFA Player of the Year award and if he can help Liverpool to a historic Premier League title, he will surely be able to crack the top two in this list.
#3 Raheem Sterling
Raheem Sterling has inarguably been one of the most improved players this season. The Manchester City winger has played a starring role for his side all season, chipping in with crucial goals throughout the campaign.
Sterling's performances have led City to the top of the table as well as the FA Cup final and they are well on their way to securing a domestic treble.
Sterling scored twice in City's 4-3 victory against Spurs in the second leg of their quarterfinal clash. He had a third goal ruled out controversially by VAR which meant City crashed out of the competition on away goals.
He also netted twice against Crystal Palace in the league, taking his tally for the season to 17, and provided a crucial assist in the Sky Blues' victory against Manchester United which kept them at the top of the table.
Sterling was recently named the PFA Young Player of the Year which has earned him a rise of 2 spots to #3 on this list.
#2 Cristiano Ronaldo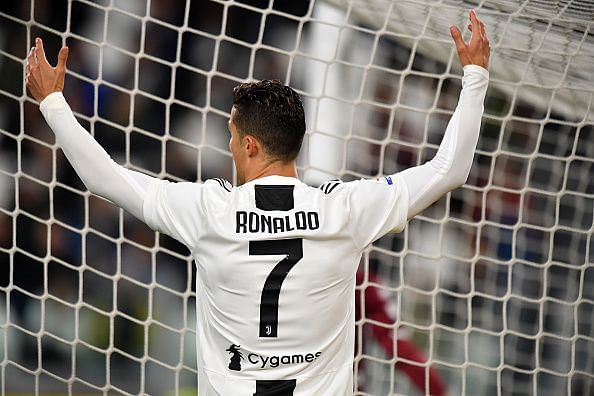 Cristiano Ronaldo has carried an uninspiring Juventus side on his back this season. While he has struggled to replicate the feats he performed at Real Madrid, Ronaldo has nonetheless been one of the best players this season.
The Portuguese continued to showcase his mastery of the Champions League, netting both of Juventus' goals against Ajax in the quarterfinals.
However, in what was arguably the biggest upset of this past decade, Ajax produced a remarkable performance to knock Mr. Champions League and his Juventus side out of the competition.
Ronaldo also netted the 600th goal of his club career - he beat Lionel Messi to the milestone - in the 1-1 draw against Inter in the Serie A. He is now closing in on Pele's record of 619 club goals and will comfortably eclipse that number some time next season.
For now, he has to remain content with the #2 spot on this list.
#1 Lionel Messi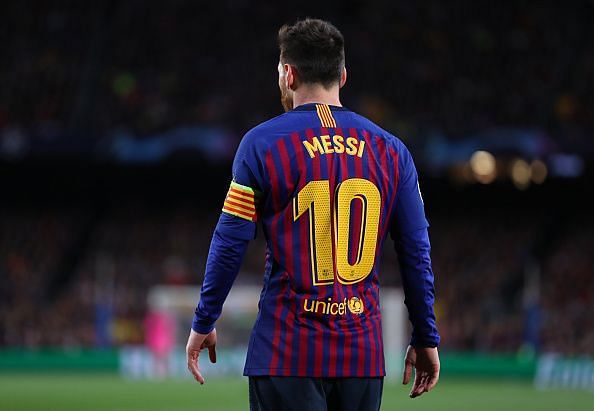 Lionel Messi surely has the 2019 Ballon d'Or award in the bag now. The Argentine ace had another stellar month in April, leading Barcelona to the semifinals of the Champions League and cementing their spot at the top of La Liga.
Messi was sublime in Barcelona's Champions League quarterfinal victory against Manchester United, netting twice in the second leg to lead the Catalans to a 4-0 aggregate win.
While he did not have as much of an impact in La Liga - he scored just 3 goals in 6 games - he still comfortably leads the race for the European Golden Shoe with 34 goals.
Messi shows no signs of slowing down and looks like a man possessed - especially in the Champions League - with a record sixth Ballon d'Or crown set to be his come December.