The Footy Mumble: The Manchester Chronicles
2.18K //
10 Dec 2012, 18:37 IST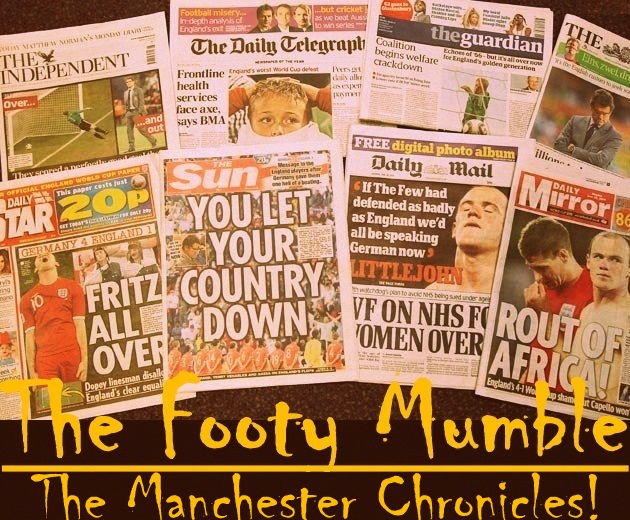 Rio Ferdinand gets hit, Nasri gets hurt
If you thought the missile throwing at Wayne Rooney was the most action the Manchester Derby would get, boy, were we in for a surprise.
Ferdinand drew blood after being hit just above the eye by a 2p copper coin. The defender later joked about it, wishing it was at least a £1 coin.
But the bigger joke was on Nasri, with Tweeps joking that the ex-Arsenal midfielder returned to the pitch after the match to collect the coins. Ouch!
Poor Nasri's bad day did not end there, with many 'pundits' calling him a coward for his reaction to Robin van Persie free kick.
Mancini said,"We made a mistake and only put three players there. Actually we had only had 2½ players there (in the wall), we didn't cover very well." The obvious half a man being referred here being Nasri of course! Ouch again!
Tevez up to his antics again 
After the banner incident in Man City's victory parade last season, Carlos Tevez continues to keep alive his row with Sir Alex Feguson after aiming a kick at Phil Jones with the Scot right in front of him.
With the ball well over the touchline, the Argentine striker kicked out in frustration, but luckily missed Jones' legs. The incident incensed Ferguson who immediately started pressurising the fourth official.
Looks like this is row isn't going to end any time soon.
Chelsea seem to be on the verge of signing Serbian teenage sensation Lazar Markovic for £8 million according to various reports. Liverpool, Arsenal and Inter are also reported as interested clubs but Chelsea, allegedly, are about to seal the deal.
Meanwhile, according to SoccerNews and Italian TV station Mediaset, Wesley Sneijder has already agreed to move to Paris Saint Germain in January. The midfielder has apparently been offered a €6 million a year deal, with only the transfer fee left to be agreed with Inter.
In today's Video of the Day, watch Leonardo Bonucci of Juventus put up a diving act that could give Bollywood actresses a run for their money. And then of course, Luis Suarez.