After the release of the much-awaited Free Fire MAX OB39 update on March 22, 2023, Garena incorporated many new features and inundated the game by incorporating tons of new and attractive items in the store. The developers have enhanced the selection of emotes, Gloo Wall skins, grenades, outfits, and more.
Players can directly access the store and spend diamonds to get a few attractive cosmetics. They also have the option to get discounts on items that are priced above a given threshold.
The following section provides a comprehensive overview of the items available in the Free Fire MAX store.
---
New Gloo Wall skins, bundles, and more available in Free Fire MAX store
Gloo Wall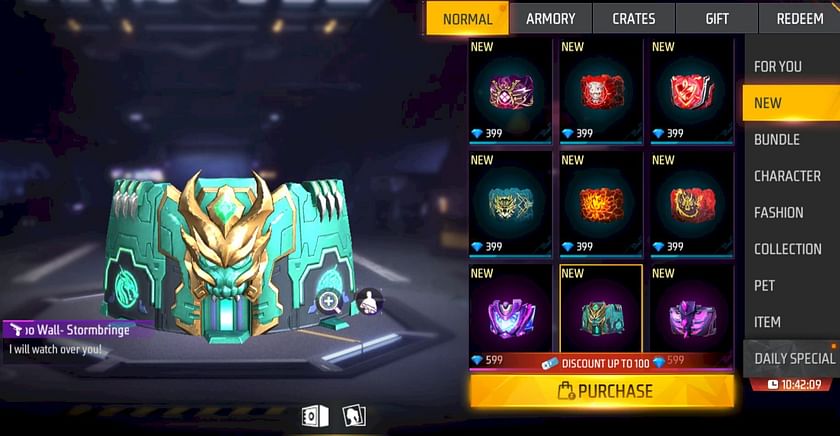 Gloo Walls are always in demand in Free Fire MAX, and players leave no stone unturned to get them for their collections. By refreshing the shop, they have now been provided an opportunity to acquire the following:
Gloo Wall – Swordsman Legend
Gloo Wall – Gate to Oblivion
Gloo Wall – Rebel Academy
Gloo Wall – Dragon Seal
Gloo Wall – Volcanic Fury
Gloo Wall – Aurous Dragon
Gloo Wall – Glo Technica
Gloo Wall – Stormbringer
Gloo Wall – Spikey Spine
Gloo Wall – Color Vibes
Gloo Wall – Angel with Horns
Gloo Wall – Pink Wink
Gloo Wall – Disco Fiasco
---
Melee weapon skins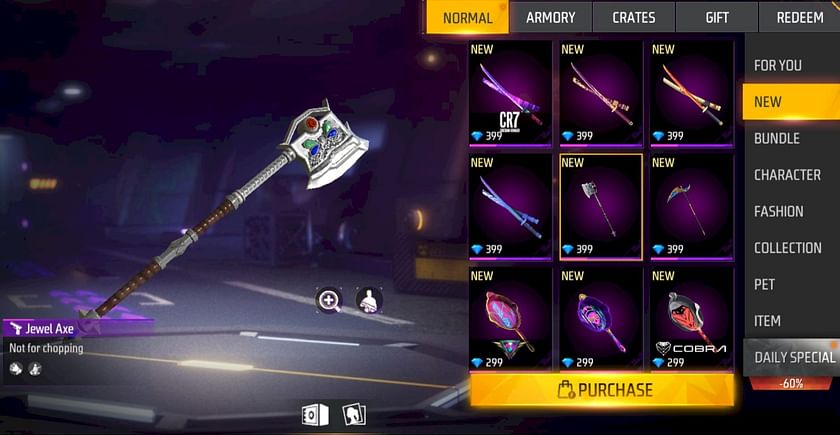 A total of 20 melee weapon skins are now part of the Free Fire MAX store and include skins for katana, pan, and scythe. Players can acquire the following items priced between 299 and 499 diamonds.
Katana – Deadly Fluid
Katana – Tranquil Torrent
Katana – Cyber Bounty
Katana – Swordsman Legends
Katana – Spirited Overseers
Katana – Indigo Burn
Jewel Axe
Night Scouter Scythe
Pan – Maroon Laser
Pan – Sauce Swagger
Pan – King Cobra
Pan – Watermelon
Cricket Master
Ducky Umbrella
Vibes Basher
Deadly Baguette
Death's Final Strike
Knockout Swing
Underworld Curl
Keyboard Slasher
---
Grenade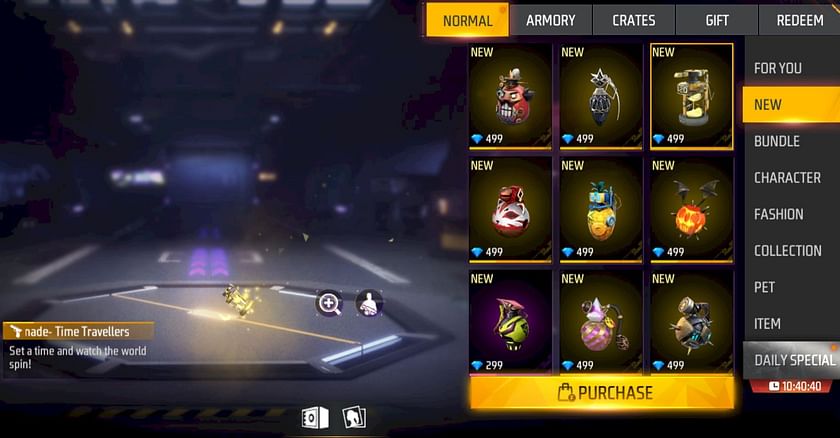 Like any other item within the game, players do not have a shortage of skins, even in the grenades section. However, these are priced at a higher price band, with most costing 499 diamonds. The new entrants are:
Grenade – Mr. Nutcracker
Grenade – Superstar
Grenade – Time Traveler
Grenade – Spirited Overseers
Grenade – Pineapple Fizz
Spiky Pumpkin
Grenade – Grim Rider
Grenade – Feral Fragrance
Wasteland Grenade
Skull Hunter Grenade
Angry Shark
High-end Controller
Grenade – Brassy Mic
---
Emotes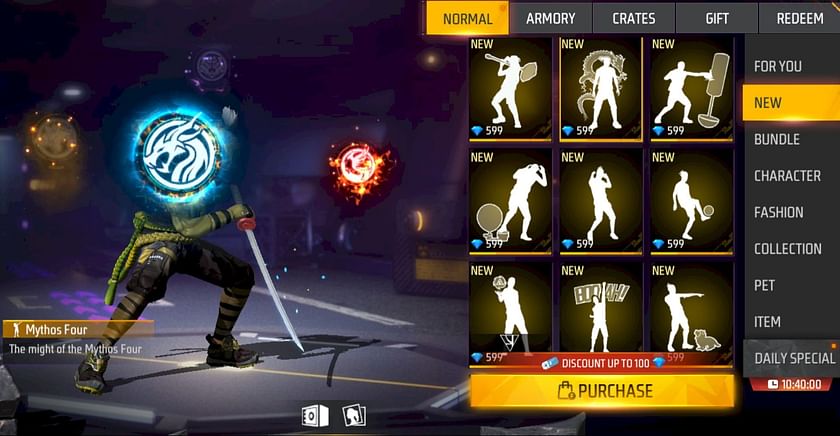 Emotes also have a great demand in Free Fire MAX, and the developers have not missed a beat in incorporating more choices in the store. While some of them cost only 199 diamonds, the more expensive are priced at 599 diamonds as well. The options available are as follows:
Waiter Walk
Crazy Guitar
Big Smash
Mythos Four
More Practice
Booyah Balloon
Stage Time
Top Scorer
Captain Booyah
Booyah!
Doggie
Power of Money
Kongfu
Top DJ
Eternal Descent
Bobble Dance
Victorious Eagle
The Victor
Bhangra
Shimmy
Challenge On!
Fancy Hands
Bring it On!
Death glare
Soul Shaking
Party Dance
Wiggle Walk
Moon Flip
Shake with Me
Threaten
Shuffling
Dangerous Game
Baby Shark
Arm Wave
The Swan
Shake it Up
---
Bundles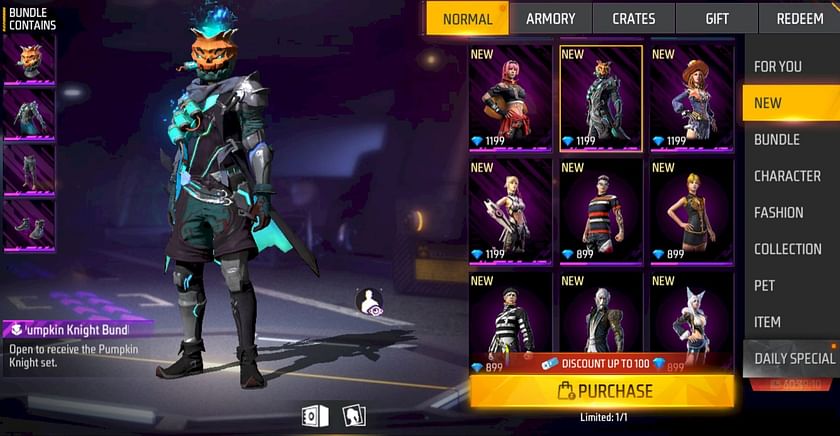 Garena has delivered 20+ attractive outfits to the store and the prices range from 899 to 1199 diamonds. The choices available in this Free Fire MAX section are as follows:
Metallic Swordmaster Bundle
Chrome Swordmaven Bundle
Pumpkin Knight Bundle
Spooky Witch Bundle
Battle Angel Bundle
MC Funk Bundle
Frenzy Junior Bundle
Monochrome Suspense Bundle
Griffin Bundle
Magical Fox Bundle
Trench Princess Bundle
Space Soldier Bundle
Space Ops Bundle
Airman Rouge Bundle
Aviator Rogue Bundle
Lucky Koi Bundle
Fortune Koi Bundle
Top Chef Bundle
Top Pastry Chef Bundle
Sea Dragon Bundle
In addition to the bundles, the developers have queued up a list of gun crates in the Free Fire MAX store. There are about 100 such loot boxes priced at 40 diamonds a piece.
Check out the latest Free Fire MAX redeem codes here.