Nick Diaz is a household name in MMA thanks to his pioneering efforts in popularizing his hometown of Stockton and enthralling fight fans for over two decades. However, the former Strikeforce welterweight champion admits he hasn't looked like his old self lately but insists he isn't to blame.
Hardcore fans still remember the American as one of the pivotal protagonists in modernizing MMA, despite the fact that Diaz's body of work and achievements inside the cage may be lost in the glory of the modern MMA landscape. The Stockton native was influential in integrating endurance training into a conventional MMA training regime, and he went unbeaten in 11 fights between 2008 and 2011.
Nick Diaz's MMA career has hardly been a smooth journey, and the American has had his share of problems outside of the octagon. Following his fight against Anderson Silva at UFC 183, the Nevada State Athletic Commission suspended Diaz for five years and penalized him $165,000 after his failed drug test for marijuana metabolites. In January 2016, four months after he filed an appeal, the suspension and penalties were lowered to 18 months and $100,000.
The 39-year-old took to Instagram to vent his frustration and accuse the UFC of hampering his chances of becoming the organization's champion. Diaz wrote:
"These motherf**kers are lucky.... I got fu**ked over my whole career. Otherwise, I [would] have had the UFC belt by now, maybe both of them."
Check out Nick Diaz's post below: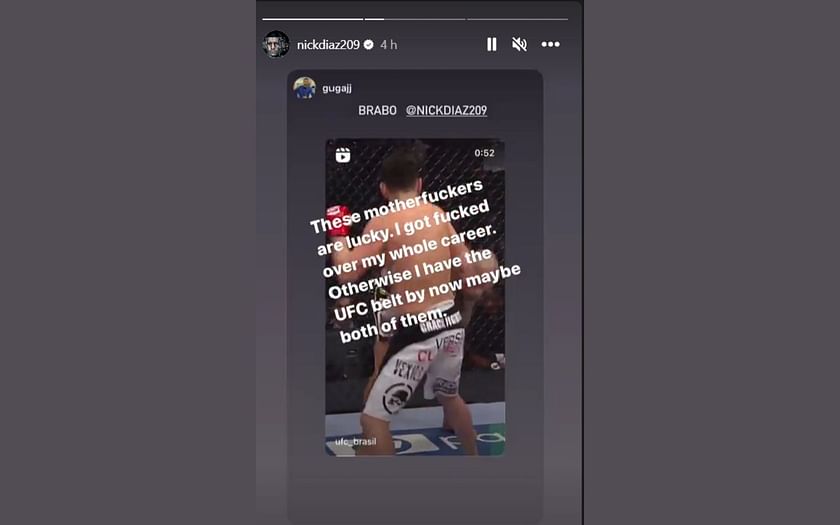 Nick Diaz returned for a rematch against Robbie Lawler at UFC 266 on September 25, 2021, after a lengthy absence from the sport. The American appeared to be a mere shadow of his former self, albeit showing flashes of the legendary Diaz pressure despite losing via TKO.
---
Joe Rogan once hailed former Strikeforce welterweight champion Nick Diaz as an "important part of the history of MMA"
Former Strikeforce welterweight champion Nick Diaz returned to the UFC for a second run in October 2011 against MMA legend B.J. Penn. 'The Prodigy' just couldn't keep up with Diaz's volume of strikes and lost the back-and-forth contest by unanimous decision.
Diaz delivered an iconic post-fight interview, and his quote, "Train by day, Joe Rogan podcast by night, all day" became the official intro of The Joe Rogan Experience (JRE) podcast.
During episode #122 of the JRE, Joe Rogan and Nick Diaz's longtime training partner Jake Shields discussed how the Stockton native's career helped influence fans' perceptions of MMA:
"The amount of love that guy gets is off the charts. He's a very important part of the history of MMA and people don't realize what a big part he is. You need to watch him in the Strikeforce days 'cause when he was Strikeforce champion, you watch the Frank Shamrock fight, you watch the Paul Daley fight."
Check out the video below: