Nick Diaz expressed interest in potential future fights against the Paul brothers following his younger brother Nate Diaz's loss to Jake Paul in a boxing bout.
Speaking on the post-fight broadcast, Diaz asserted his belief that he is superior to both Paul brothers and would be open to facing either of them if his younger sibling does chase the rematch.
In an intriguing post-fight moment that may have gone unnoticed by many, Ariel Helwani shed light on a brief but electrifying sequence during the in-ring post-fight interview. According to him, right after the interview concluded, Nick Diaz entered the ring unexpectedly, leading to an intense face-off involving the Diaz brothers and the Paul brothers.
While the brothers vs. brothers narrative is sure to captivate the audience, the idea elicited mixed reactions from several fans as they contemplated the potential clash.
Weighing in on how the fight would play out, one fan wrote:
"Nick or Nate chokes out jake or logan in the first round of an actual MMA fight. Amateur wrestling no matter how heavy someone is stands no chance against world-class black belt or even blue belt BJJ."
Meanwhile, as the idea of the clash took center stage, some fans engaged in deep contemplation, pondering how the fight would unfold, while others dismissed the WWE-esque idea, displaying their lack of interest in the matchup.
Check out some of the best reactions below: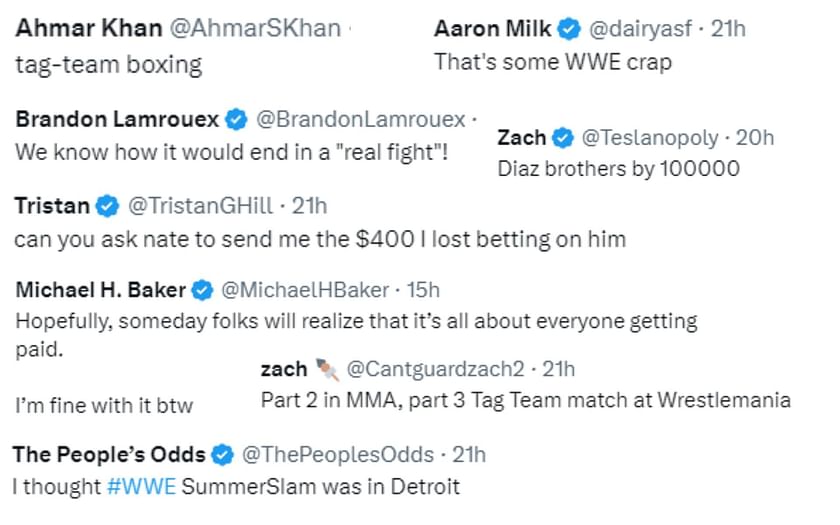 ---
Nick Diaz vs. Jake Paul: What did Nick Diaz say after his younger brother's loss to 'The Problem Child'?
Following his younger brother Nate Diaz's loss in his professional boxing debut against Jake Paul, Nick Diaz expressed his desire for redemption.
Speaking on the post-fight broadcast, Nick Diaz asserted that he believes he is far superior to both Jake and Logan Paul and is open to facing either of them.
Despite being inactive in MMA, having competed only once in eight years, Diaz remains determined to explore his options and potentially step back into the ring. Speaking about the Diaz vs. Paul clash, the 40-year-old stated:
"I think [Nate] needed a little more work. But let's cut to the chase, I'm a lot better than both of these guys that are out there. I'd love to entertain the idea of moving on to whoever they've got for me. So if they want to do round two [against Jake], if [Nate] ain't going to do it, I'll take it. [Jake's] got an older brother too, so don't forget about the one and only."