Sameera Khan, the 31-year-old former Miss New Jersey, created a Twitter Space on December 31, 2022, to supposedly discuss Andrew Tate's arrest with the Taliban. Tate is currently facing prosecution in Romania on charges of human trafficking and forcing women into pornography.
Sameera Khan created the Space on the last day of 2022, where she supposedly hosted a meeting with the Taliban - the ruling oppressors of Afghanistan.
Twitter Space is a feature of the micro-blogging site that allows users to have live conversations on a topic of their choice through an audio chatroom. Apart from the host and other speakers, listeners can also join in and if the host grants access, they can also speak during the sessions.
Khan wrote on Twitter that she was hosting a Space with the Taliban to discuss Tate's arrest, and said that the Taliban is "worried about Andrew Tate." She added that they wondered if Tate was freed as:
"They say Westerners need Andrew Tate because we are oppressed by feminists."
It is worth noting that it has yet to be confirmed if the Taliban were actually present during the Twitter Space.
Sameera Khan is quite active on social media, with over 139,000 followers on Twitter. However, she has been slammed by netizens for her questionable and controversial comments on other celebrities and prominent figures.
---
Khan used the hashtag 'Free TopG' demanding Andrew Tate's release
The self-proclaimed "anti-woke" journalist claimed that the Taliban is worried about Tate's detainment in Romania and wants him freed because feminists have oppressed Westerners. According to Khan, the Taliban has requested updates on Tate's arrest.
In response to Khan's Twitter Space on December 31, user @mrconfidentom condemned everyone who joined the space for giving the Taliban a platform.
Khan, however, mocked the person and called them a loser in a reply to their tweet.
In a separate tweet, Khan added the hashtag '#FREETOPG" asking law enforcement to free Tate from custody. 'TopG' is a nickname some of Tate's supporters use for him.
On January 1, 2022, Sameera Khan hosted two more Twitter Spaces titled, "Any Andrew Tate updates?" and "Chill new year space #FreeTopG".
Sameera Khan's Twitter account has been suspended quite a few times in the past due to her contentious posts. Addressing one such attempt by Twitter to suspend her account earlier in December, Khan made a tweet on December 14, 2022. She wrote that she would continue defending Tate, as she knew how much it "triggers leftists seeing women defend him."
In response to Khan's tweet, Tate retweeted her post and called her 'Wifey'.
Andrew Tate and his brother Tristan, along with two women whom the police believe to be their girlfriends, were arrested on December 29, 2022. They were arrested on allegations of r*pe, human trafficking, and organized crime.
On Friday, December 30, a court in Romania remanded Andrew Tate to 30-day custody.
Tate's arrest came right after his high-profile clash on Twitter with Swedish environmental activist Greta Thunberg.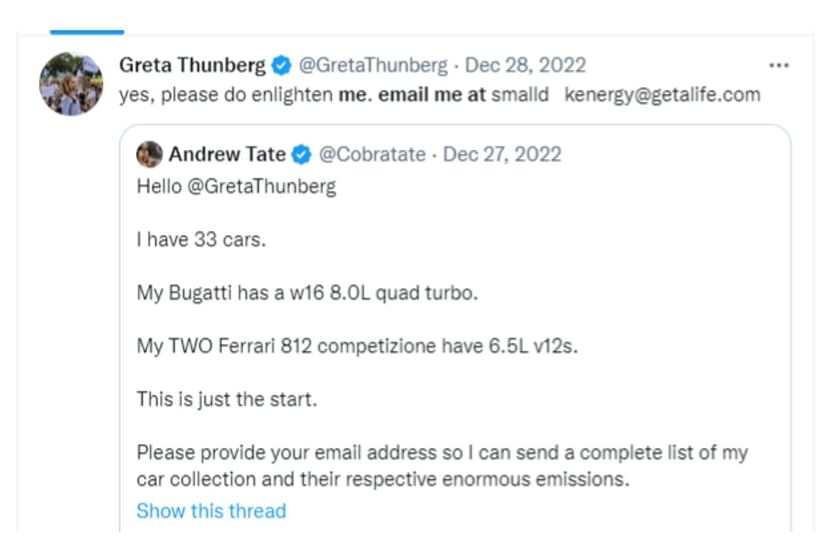 Tate, a former kickboxer who has also been a champion four times, rose to fame earlier in 2022. He has proved to be a divisive figure ever since. He is notorious for being misogynistic and having old-school values.
Because of his views and controversial comments, Andrew Tate has earned the title of the "king of toxic masculinity". He once made a comment about women where he said that women should shoulder some of the responsibility for getting r*ped.
---
Sameera Khan defended Russian dictator Joseph Stalin back in 2018
Khan, a former correspondent for Russia's RT TV network, is a resident of Washington, D.C. She worked for RT till October 2018. She also won the Miss New Jersey, USA crown in 2015 and was Bernie Sanders' presidential campaign surrogate in 2016.
Sameera Khan went to Rider University, New Jersey, where she pursued Foreign Policy Analysis & Conflict Resolution, and International Relations & Affairs. Khan graduated with a BA degree in 2014. While at Rider University, she was an active participant in the National MUN and was a member of the College Democrats.
Khan has previously been a writer for News Impulse, the American Herald Tribune, and Bibi Magazine.
Sameera Khan previously had to resign from her job at the RT TV network in 2018. This came after she made another controversial tweet where she defended the late dictator of Russia, Joseph Stalin, for running prison camps.