5-a-side tournament featuring Europe's top 5 leagues - Who wins?
27.27K //
Timeless
Aside from the regular games of football that pit 11 players against 11, the beautiful game can also beplayed with a lesser number of players. Its one of those things that make it so popular all over the world. Sometimes, its seven on each team or maybe six. The most widely played alternative form, however, is the five-a-side. Played indoors oron the street,beaches,rooftops and also on training pitches, the five-a-side is a fast-paced game with an emphasis on passing, control,technique and quick-thinking.Its interesting to wonder how the worlds best footballers would fare in a five-a-side game. There are numerous players at the top level, who have a particularskill-set that is exactly whats needed for a proper five-a-side. Based on an analysis of such players, we have decided to compile a list of the best five-a-side teams from the top European leagues one team each from England, Spain, Germany, France and Italy. All teams are set ina 1-2-1 diamond formation.Remember that this is not necessarily a list of the best 5 players in each league.Disagreements are expected,so feel free to post your own lists in the comments section!Disclaimer: This article is based on the views of theauthorand does notnecessarilyreflect the views of Sportskeeda.
#1 Italian Serie A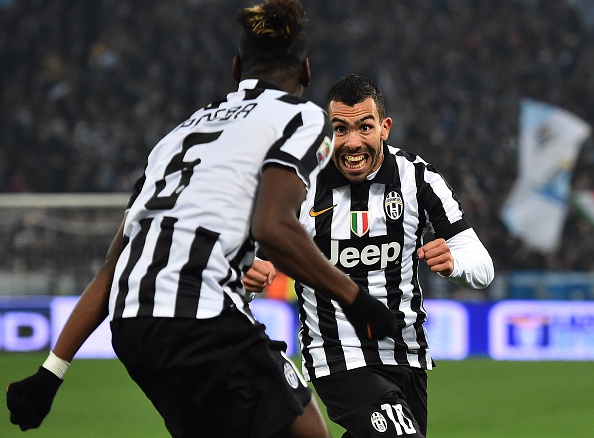 Back in the 1990s, what Milan was to fashion, the Serie A was to football. The good times came to an end in the 2000s and the league has been on a downward spiral ever since. However, hopes of a revival have been sparked by the recent continental success of Juventus and Fiorentina. It seems Italian football is not dead yet.
The Serie A team's goal is guarded by Genoa's Mattia Perin. The 22-year-old has attracted scouts from all over Europe with performances that belie his age. Unperturbed by the quality of the opposition, Perin has been a calming presence in goal.
In defence, we have Giorgio Chiellini. The Italian was at the end of an infamous Luis Suarez bite at the World Cup but hasn't let anything stop him since then. His composed performances have been key to Juventus having a chance of a treble.
The midfield dynamo is another Juventus player, Paul Pogba. The Best Young Player at the 2014 World Cup, Pogba has seen a meteoric rise to becoming one of the world's foremost box-to-box midfielders.
Partnering him is Miralem Pjanic, the Bosnian genius who can serve up some delicate passes and score delightful goals after dribbling through entire defences.
Up front, we have Carlos Tevez, who is a livewire that no defender would like to mark. Relentless and prolific, you can count on this Argentine to somehow get you goals.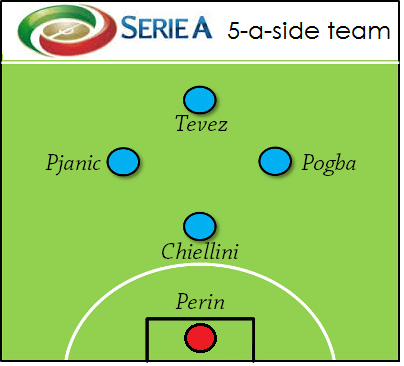 #2 French Ligue 1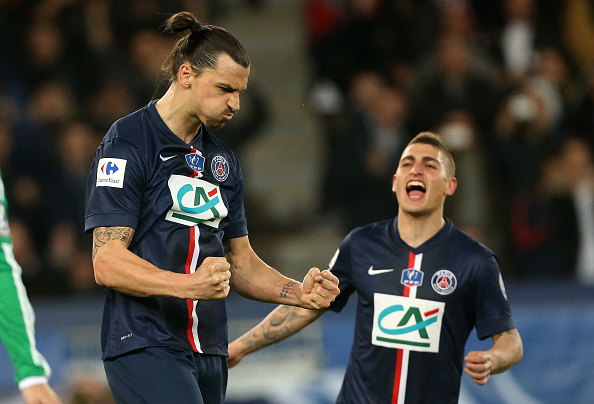 For a long time, France's Ligue 1 never was the league to be in. All that seems destined to change after the purchase of Paris Saint-Germain and AS Monaco by wealthy foreign owners. It has led to a new image for the league with more focus on it than ever before.
In goal is Lille keeper Vincent Enyeama who is 32 but still going strong with the gloves when most of his rivals are on the other side of 30. The Nigerian has had a fantastic record of clean sheets in Ligue 1.
The pick for the defender in this team is Thiago Silva, who is a brilliant ball-playing centre-back. Plus, if you a need a leader, Silva's the man. On one side of midfield, we have his PSG teammate Marco Verrati, the rising Italian youngster who can boss the battle in the middle.
The PSG man is joined by Marseille's Nabil Fekir, who is also an upcoming talent. He has been at the heart of the Lyon resurgence, contributing with a prolific goal-and-assist tally.
And finally, leading this attack is the incredible Zlatan Ibrahimovic. Exactly what he will do is unpredictable. But one thing you can predict is a YouTube video that will leave you open-mouthed.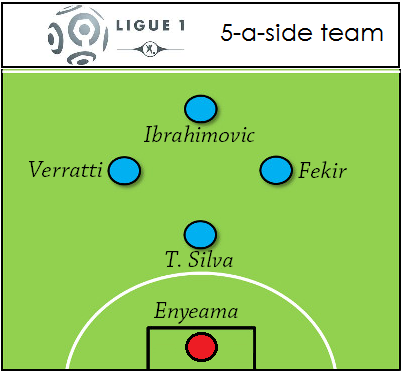 #3 German Bundesliga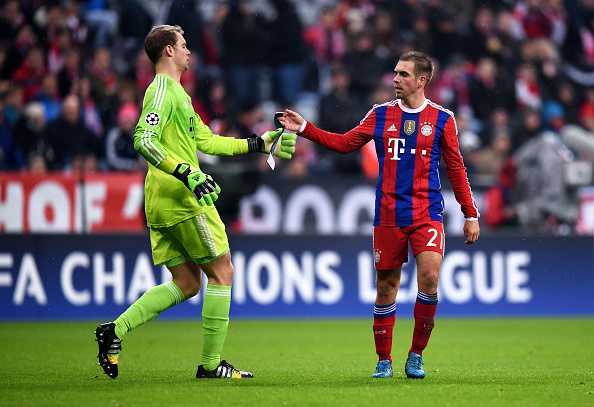 The Bundesliga may not have the kind of global audience that its English and Spanish counterparts can claim, but they sure do have the best league in Europe, according to UEFA. After all, this is where most of the German World Cup-winning team play. Although Bayern Munich clearly dominate the league, there is quite a lot of underrated talent in the other teams too.
No prizes for guessing who the goalkeeper is. Manuel 'The Sweeper Keeper' Neuer is now known more for his antics outside the box than inside it. Apart from being adjudged the world's best goalkeeper, this guy can probably play anywhere on the pitch in a 5-a-side. Five Neuers would just be amazing. Just because the rules call for four more players, we will move on.
The ever-versatile ex-German captain Philipp Lahm is in charge of defensive responsibilities and is sure to do a good job of it, with a calm and confident head. Capable of playing as a defender or a defensive midfielder, he has the right qualities to play in a 5-a-side.
On the left side of midfield, we have David Alaba, who takes versatility to a whole new level. The Bayern Munich utility man is partnered in the middle of the park by Kevin de Bruyne, the only non-Bayern player in this team. De Bruyne's talent has only come into the spotlight recently. Just ask Bayern themselves about what he did to them in January.
Leading the attack of the team is Thomas Muller, whose poacher's instincts remain almost unrivalled. Give him the ball and he will score, somehow.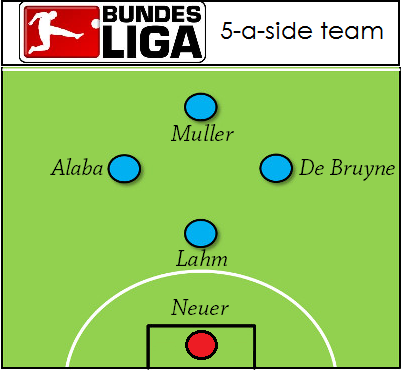 #4 English Premier League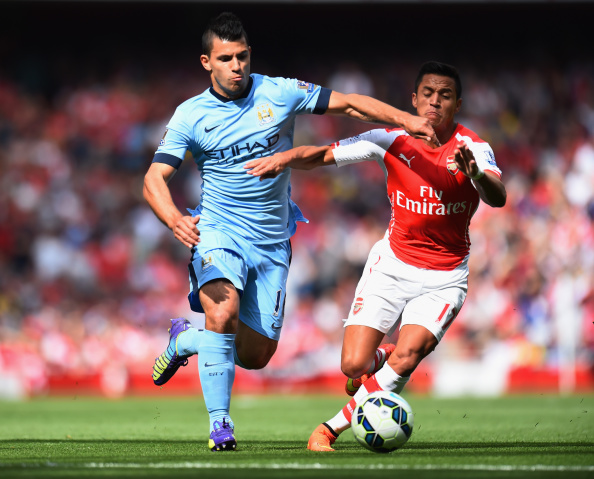 Arguably the most popular league in the world, the Premier League hosts a variety of talents that can spice up any five-a-side game. Over the years, the league has become renowned for its high-tempo physical game.
The goalkeeper for the Premier League team is Manchester United's David De Gea, who has been phenomenal between the sticks at Old Trafford recently. Having also shown his dribbling abilities, he is easily the best candidate for this position.
In defence is Chelsea's Cesar Azpilicueta. When his coach Jose Mourinho has gone on record saying he'd win the Champions League with 11 Azpilicuetas, there's nothing more to say, really. The Spaniard is a jack-of-all-trades for any five-a-side manager.
On the left side of midfield, we have newly crowned PFA Player of the Year Eden Hazard. The Chelsea winger's immaculate dribbling skills coupled with his good eye for goal makes him a no-brainer for selection.
Alongside him is Arsenal's Alexis Sanchez. The Chilean has had a very successful season at the North London club and has already scored 24 goals in all competitions for the Gunners, making him one of the signings of the season.
In front, is another City player, Sergio Aguero. Widely considered to be among the world's top finishers, the Argentine marksman can torment any defence and score from anywhere and is also the contender for the EPL Golden Boot with 22 goals so far.
Underestimate this team at your peril.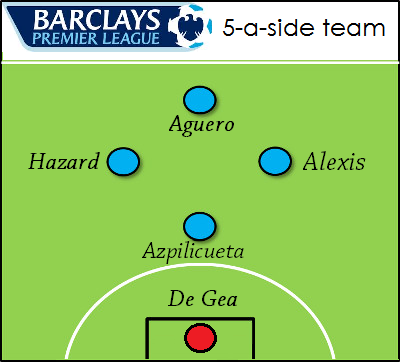 #5 Spanish La Liga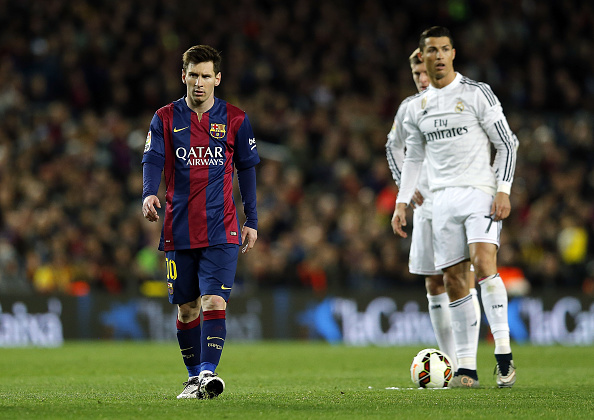 Blessed with two of the world's most popular teams, Spain's La Liga is another hotbed of talent fit for a quality 5-a-side team. The game in Spain may not be as fast as in England and is definitely less physical. But make no mistake, it has its own charm. The technical abilities of the players in La Liga are a treat for the eyes.
As expected, this team is made up completely of players from the big two. Barcelona's Chilean goalkeeper Claudio Bravo is the first on the list. Bravo was chosen as the replacement for Victor Valdes, for his experience, decision-making and quick reflexes. He had a great World Cup and has also kept 21 league clean sheets.
Aiding him in keeping the opposition out is teammate Gerard Pique. The Catalan has seen a resurgence in his career and he is selected in this team not just for his defensive prowess but also for his great 5-a-side skills as seen here.
In attack, we have three up front: Neymar and Lionel Messi on either wing and Cristiano Ronaldo as the striker. These three need no introduction or no justification of any kind for why they are in the team. They are simply that good. Combine Neymar's innate Brazilian talent, the genius of Messi and the sheer power of Ronaldo and you have a winner.
Expect goals to come in literally from left, right and centre.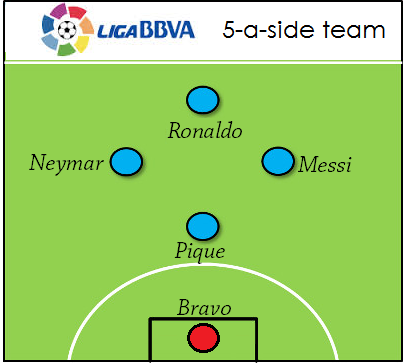 #6 The tournament: Who comes out on top?
Finally, it's time for the big question – who would win if these teams played each other in a mini tournament?
If all the teams played each other in a round-robin tournament, these are my predictions for how it would turn out:
| Position | Team |
| --- | --- |
| 1 | La Liga |
| 2 | Bundesliga |
| 3 | Premier League |
| 4 | Ligue 1 |
| 5 | Serie A |
Spain's La Liga would probably triumph with its superior firepower proving to be unstoppable, even though they have to face the wall called Manuel Neuer. The well-disciplined Bundesliga outfit will come a close second, after fighting off a tough Premier League team. Ligue 1 and Serie A will battle it out to avoid the wooden spoon, with the former more likely to do so.
All-star European 5-a-side team (1-2-1): Manuel Neuer, Gerard Pique, Lionel Messi, Neymar, Thomas Muller