| | |
| --- | --- |
| Founded | 1903 |
| Ground | Yankee Stadium |
| Owner(s) | Hal Steinbrenner |
| Nickname | Damn Yankees |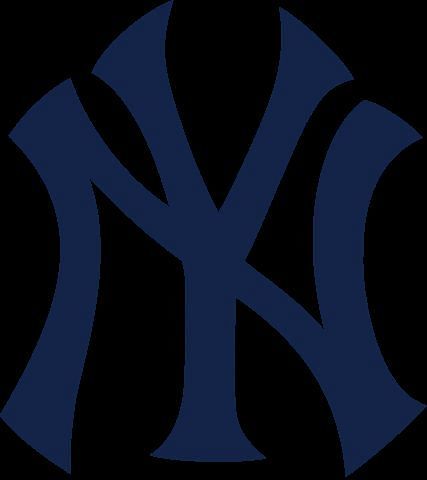 The New York Yankees are a baseball team based in the Bronx, New york. They are members of the East Division of the American League in Major League Baseball. Founded in 1901, the Yankees are one of the 2 major league clubs based in New York besides the New York Mets, who are a part of the national league. They are also known as the "Bronx Bombers" and "the Pinstripes"
The Bronx Bombers
1901
Yankee Stadium
New York Yankees: History
The Yankees are also the most successful organization in the MLB with 19 American League East Division titles, 40 American League Pennants, and 27 World Series Championships to their name, all MLB records. The team has more accolades than any other team among the 4 major North American sports leagues. The Yankees have had 40+ Players and 11 managers inducted into the National Baseball Hall of Fame. The Yankees are the second highest valued sports franchise in the world with an estimated value of $5 Billion.
New York Yankees in the Recent Years
From 1996 to 2007 the Yankees' success was built from a core of productive players and had a streak of nine straight American league East Division Titles.
Later in the year 2011, the Yankees became the first team to hit three grand slams in a single game. In 2012 they finished the season with the best record of 95-67 and had an injury-riddled season in 2013 and made a playoff run in the 2015 season
On 25 June 2019 they broke the record for the most home runs in consecutive games against the Toronto Blue Jays later that offseason they signed Gerrit Cole, and in the 2020 season, they entered ALDS by defeating the Cleveland Guardians.
New York Yankees Past 10 seasons MLB record
Year
Finish
Wins
Losses
Playoffs
2011

1st

97

65

Lost

ALDS

to

Detroit Tigers

, 3–2

2012

1st

95

67

Won

ALDS vs. Baltimore Orioles

, 3–2 Lost

ALCS

to

Detroit Tigers

, 4–0

2013

3rd

85

77

2014

2nd

84

78

—

2015

2nd

87

75

Lost

ALWC

to

Houston Astros
2016

4th

84

78

—

2017

2nd

91

71

Won

ALWC

vs.

Minnesota Twins

Won

ALDS

vs.

Cleveland Indians

, 3–2 Lost

ALCS

to

Houston Astros

, 4–3

2018

2nd

100

62

Won

ALWC

vs.

Oakland Athletics

Lost

ALDS

to

Boston Red Sox

, 3–1

2019

1st

103

59

Won

ALDS

vs.

Minnesota Twins

, 3–0 Lost

ALCS

to

Houston Astros

, 4–2

2020

2nd

33

27

Won

ALWC

vs.

Cleveland Indians

, 2–0 Lost

ALDS

to

Tampa Bay Rays

, 3–2

2021

3rd

92

70

Lost

ALWC

to

Boston Red Sox
New York Yankees' World Series Championships
The Yankees are the most successful organization and have 27 world championship titles. (Table form - along with the opponents, date, games, and stadium name)
| | | |
| --- | --- | --- |
| YEAR | OPPONENTS | GAMES |
| 1923 | New York Giants | 4-2 |
| 1927 | Pittsburgh Pirates | 4-0 |
| 1928 | St. Louis Cardinals | 4-0 |
| 1932 | Chicago Cubs | 4-0 |
| 1936 | New York Giants | 4-2 |
| 1937 | New York Giants | 4-1 |
| 1938 | Chicago Cubs | 4-0 |
| 1939 | Cincinnati Reds | 4-0 |
| 1941 | Brooklyn Dodgers | 4-1 |
| 1943 | St. Louis Cardinals | 4-1 |
| 1947 | Brooklyn Dodgers | 4-3 |
| 1949 | Brooklyn Dodgers | 4-1 |
| 1950 | Philadelphia Phillies | 4-0 |
| 1951 | New York Giants | 4-2 |
| 1952 | Brooklyn Dodgers | 4-3 |
| 1953 | Brooklyn Dodgers | 4-2 |
| 1956 | Brooklyn Dodgers | 4-3 |
| 1958 | Milwaukee Braves | 4–3 |
| 1961 | Cincinnati Reds | 4-1 |
| 1962 | San Francisco Giants | 4-3 |
| 1977 | Los Angeles Dodgers | 4-2 |
| 1978 | Los Angeles Dodgers | 4-2 |
| 1996 | Atlanta Braves | 4-2 |
| 1998 | San Diego Padres | 4-0 |
| 1999 | Atlanta Braves | 4-0 |
| 2000 | New York Mets | 4-1 |
| 2009 | Philadelphia Phillies | 4-2 |
Current New York Yankees Roster - MLB 2022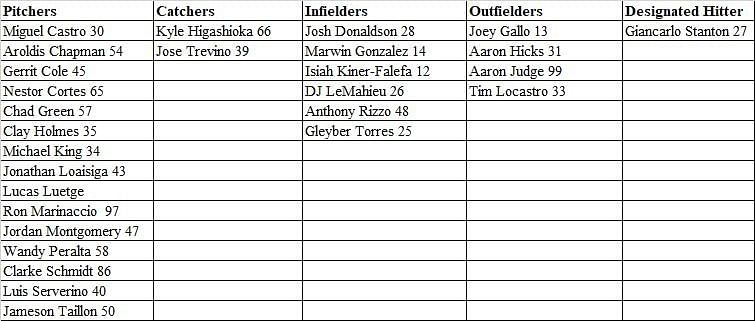 Owner: Hal Steinbrenner
Home Stadium: Yankee Stadium
Manager: Aaron Boone
Bench Coach: Carlos Mendoza
Pitching Coach: Matt Blake
Bullpen Coach: Mike Harvey
Asst. Pitching Coach: Desi Druschel
Hitting Coach: Dillon Lawson
Asst. Hitting Coaches: Eric Chavez & Casey Dykes
Third Base and Outfield Coach: Luis Rojas
First Base and Infield Coach: Travis Chapman
Quality Control and Catching Coach: Tanner Swanson