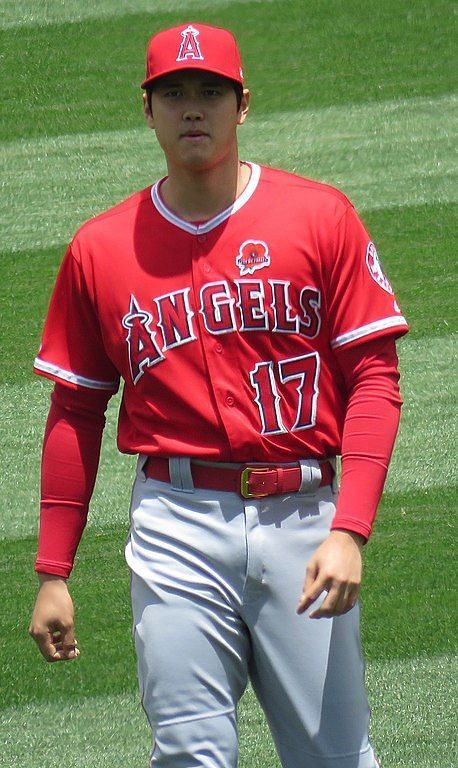 Shohei Ohtani is a Japanese professional baseballdesignated hitter, pitcher, and outfielder for the Los Angeles Angels of Major League Baseball. He previously played for the Hokkaido Nippon-Ham Fighters of Nippon Professional Baseball's (NPB) Pacific League. Shohei is nicknamed "Shotime" and his love for the sport is so immense that in Japan he is known as "yakyū shōnen"—a kid who lives, eats, and breathes baseball.
Shohei Ohtani's Early Life and Background.
Ohtani was born to Kayoko and Toru Otani on July 5, 1994 in Ōshū, Iwate, Japan to Kayoko and Toru Otani. His mother played badminton at the national level in high school. Meanwhile, his father was an amateur baseball player who played in the Japanese Industrial League. Shohei Ohtani went to Hanamaki Higashi High School in the Iwate Prefecture of Japan. He pitched a 160 km/h (99 mph) fastball as an 18-year-old high school pitcher during the Japanese national high school baseball championship tournament, also known as Summer Koshien. Ohtani had an 0–1 win-loss record with 16 strikeouts, eight walks, five hits, five runs, and a 4.35 earned run average in 10⅓ innings pitched during the 2012 18U Baseball World Championship.
Who drafted Shohei Ohtani ?
After expressing a desire to move directly to the major leagues after high school, Ohtani received interest from multiple teams. Ohtani later announced on October 21, 2022, that he would pursue a career in MLB rather than play professionally in Japan. The Hokkaido Nippon-Ham Fighters decided to draft him anyway as a first-round pick in 2012, knowing that there was a high likelihood he would not play for them but after exclusive negotiating he finally announced that he will be signing with the fighters and spending some time in the Japanese league before a possible move to MLB. He had several All-Star selections in NPB and has also won the rookie of the year award and has also been the league's most valuable player in 2016. He wore the number #11 when he played with the FIghters and later chose to wear #17 when he joined the Los Angeles Angels in 2018.
Shohei Ohtani's MLB Journey
On December 8, 2017, Ohtani agreed to a deal with the Los Angeles Angels and has since been playing with them. The Angels announced before the season that they would continue to use Ohtani as both a pitcher and a hitter. On Opening Day, March 29, Ohtani started as the designated hitter against the Oakland Athletics. He made his pitching debut on April 1, striking out six hitters in six innings while allowing only three runs, and registered his first MLB win. Ohtani hit his first MLB home run days later on April 3rd. A 397-foot three-run homer against pitcher Josh Tomlin. However, Ohtani was placed on the disabled list for the first time in his MLB career due to a Grade 2 UCL sprain in his right elbow on June 8. To treat his injury, Ohtani received stem-cell and platelet-rich plasma injections to treat the injury. He later broke the MLB home run record by a Japanese rookie On September 7 after hitting his 19th homer for the season.
Ohtani registered a batting average of .285, a .361 on-base percentage, 22 home runs, 61 RBIs, and 10 stolen bases in his first MLB season. He became the second-fastest Angels rookie to reach 20 home runs, and he joined Babe Ruth as the only MLB player with 10 pitching appearances and 20 homers in a season. He won the American League Rookie of the Year title on November 12.
On May 7, 2019, Ohtani played in his first game since undergoing Tommy John surgery, batting as a designated hitter against the Detroit Tigers. In a game against the Tampa Bay Rays in June, he became the first Japanese-born player to hit for the cycle in MLB history. In July 2020, it was revealed that he had a flexor strain in his right elbow after undergoing an MRI. Post which Angels skipper Joe Maddon stated that Ohtani would not pitch for the rest of the season.
Post the 2019 and 2020 MLB seasons, he spent the offseason working on himself. Ohtani adjusted his diet and started squatting heavily again, focusing on strengthening his lower half and bulking up. He threw a bullpen and took batting practice against live pitching. Ohtani also embraced data and technology to optimize his training and recovery by visiting Driveline Baseball, a popular player-development destination. In the 2021 season, Ohtani was also allowed to play without any limitations or restrictions which was a major decision as he is a two-way player.
MLB introduced a new rule on March 22, 2022, that allows a pitcher in the batting order to remain in the game as a designated hitter after they are pulled from the pitching mound. The rule was unofficially named the "Ohtani rule" because of his brilliance as a two-way player. This rule enables Ohtani to remain in the game after pitching at his customary DH spot instead of being switched to a defensive position like the outfield, something that he did seven times in 2021.
Shohei Ohtani's Awards and Honors.
Alongside these accolades Shohei has multiple other media awards and honours to his name
Shohei Ohtani's Records
First player in MLB history to be selected as an ALL STAR Pitcher and Hitter.

The first pitcher out of high school to record a 1-0 shutout victory in Japan.

First hitter out of high school to notch 2 shutout victories in his first 2 years in the NPB.

In July 2014, he threw a 162 km/hr fastball in the 1st inning setting a new record for the fastest official pitch thrown by a Japanese Pitcher.

First Japanese player to reach double digits in both home runs and wins.

Broke the home run record for a Japanese rookie.

Joined Babe Ruth as the only player with 10 pitching appearances and 20 homers in a season.

First Japanese player in MLB history to hit for a cycle.