There was a point in the Slam race when Roger Federer had 16 Grand Slam titles to his name while Rafael Nadal had six and Novak Djokovic just one. Federer won the 2010 Australian Open to lift his 16th, and Nadal won the remaining three that year to take his tally up to nine.
Djokovic, on the other hand, only had the 2008 Australian Open title in his bag back then. Today, however, he and Nadal have left Federer behind, taking the joint-lead in the race.
Federer, retired from professional tennis as of last year, has ended his career with 20 Grand Slams. Nadal, currently injured, has 22, with his most recent title being the 2022 French Open.
Djokovic, still fit and hungry as ever, has become the frontrunner in the Slam race for the first time in his career. He won the 2023 Australian Open with a performance that was as unbelievable as it was dominant.
Battling the demons of last year's deportation and an abdomen injury that would have reportedly been enough for '97%' of players to withdraw, the 35-year-old blitzed his way past opponents at Melbourne Park to win his 10th title at the event.
Now, the question is not IF Novak Djokovic can become the sole leader of this much-awaited Slam race. Rather, it is how far ahead he can go.
Nick Kyrgios, one of the few men on the planet to have a positive head-to-head against Djokovic and one of his most ardent supporters in the GOAT race, reckons 28 should be easy enough for the Serb to reach.
Patrick Mouratoglou, Serena Williams' former coach, shares a similar opinion. Mouratoglou recently predicted that the World No. 1 could win as many as 30 Slams by the time he hangs up his racquet.
But with the French Open coming up next, many expect a close fight between Nadal and Djokovic; the Spaniard continues to be the favorite in Paris. Having won 14 titles at Roland Garros, Nadal could well return to the podium once more despite his poor run of form at the moment.
Even Novak Djokovic's coach, Goran Ivanisevic, is not fully convinced that his protege can take Nadal out if they meet in Paris this year. After all, clay is the one surface where Nadal has a clear superiority over the World No. 1.
From there on, however, things look a lot brighter for Djokovic. Wimbledon is as much of a home for the Serb as the Australian Open is, especially since Roger Federer is no longer in the picture. As of this moment, there is not a single player in the entire tennis-playing world who looks capable of troubling Djokovic on grass.
Not Matteo Berrettini. Not Nick Kyrgios. Not Marin Cilic. These are the three players who can come closest to matching Djokovic's prowess on the surface, but even they are light years behind.
If the French Open doesn't become his, it feels almost inevitable that the Wimbledon trophy will be. And with No. 23 all but guaranteed, the World No. 1 will set his sights on the US Open, a tournament he has surprisingly won only thrice so far.
The US Open, in recent years, has become something of an anomaly in men's tennis. Not since Federer won his fifth straight title in 2008 has anyone managed to defend their title at Flushing Meadows. The closest was Nadal winning two in three years between 2017 and 2019.
Djokovic himself has lost six times in the final in New York. On one occasion, he got himself defaulted from the tournament. And last year he couldn't even make it to the event due to the vaccine mandates in the US -- something that is set to change this year.
The defending champion this year is Carlos Alcaraz, who is currently recovering from injury and whose fast-paced, aggressive playstyle is well-suited to the surface.
Alcaraz is also among a handful of players who can take the fight to the Serb, unlike most others who have a passive approach. But can he beat Djokovic in a best-of-five contest? That remains to be seen.
The worst case for Djokovic is that he will finish 2023 with 23 Grand Slam titles to his name. And at best he could have 25, as he has a shot at every single Major in his current form.
Rafael Nadal's retirement could be a key factor in Novak Djokovic's final Slam count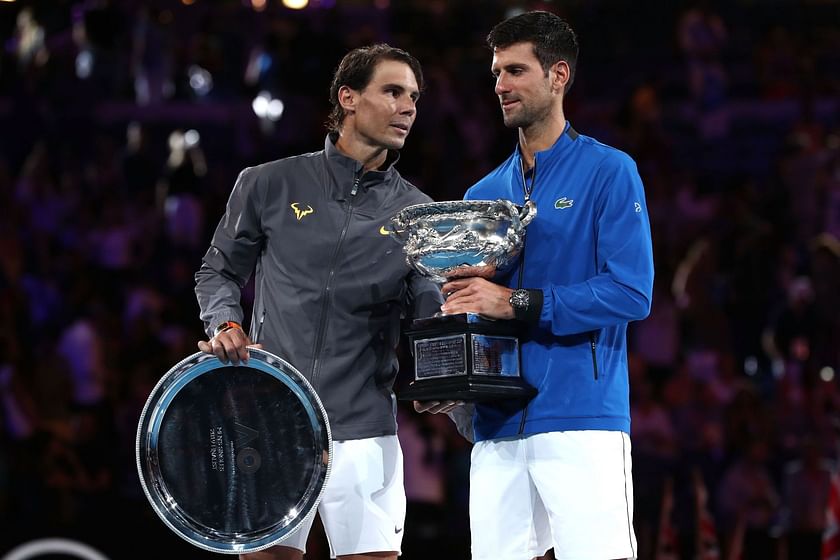 What about next year? That might well come down to something Novak Djokovic cannot control - Rafael Nadal's retirement. This is not to insinuate that the Spaniard "should" retire soon. However, all the signs point to the fact that he is nearing the end of his career.
While Nadal has maintained time and again that he is not hanging up his racquet just yet, the World No. 6 has also made it clear that these are his twilight years. He might not retire in 2023, but things would not be so certain when the conversation switches to next season.
Having just become a father for the first time, Nadal could very well call it a day with one final hurrah in the coming months, leaving the French Open up for grabs.
Who then can beat Djokovic at Roland Garros, possibly the second-greatest claycourter of his generation? There are a handful of players who like the surface, from Carlos Alcaraz and Dominic Thiem to the plethora of Spaniards on tour. But as discussed above, can they really beat the Serb across five sets right now?
With the Australian Open and Wimbledon already his own domain, the opening up of the French Open could make Djokovic's Grand Slam tally swell that much quicker. His Major count could very easily become 25-27 next year, and considering that many expect him to play at least two or three more years, the idea of him winning 30 Majors is suddenly not that far-fetched.
The more thought you put into this, the more apparent it becomes that Nick Kyrgios was not exaggerating when he said 28 should be easy for the 35-year-old. In fact, 28 Grand Slam titles could very well be the minimum for him.
Of course, in tennis - as in every other sport - there is no such thing as a guaranteed win. Djokovic might have survived an injury scare to win one Slam, but he cannot be expected to do the same every single time. New unknown players could rise up to challenge his authority soon, as is the law of nature. Unexpected losses could puncture his campaigns, even as time and age catch up with him -- as it did for Nadal and Federer.
Regardless, one thing is for certain: the Slam race is Novak Djokovic's to lose now. How high a bar he sets by the time he leaves the sport might well be the only concern for him and his fans going forward.