In light of Novak Djokovic's dominant head-to-head record against Stefanos Tsitsipas, tennis journalist Steve Flink recently claimed that Tsitsipas winning two of their first three matches has cost him dearly.
Djokovic and Tsitsipas have squared off against each other 13 times on the tour, with the former emerging victorious in 11 of the clashes. Their latest meeting came in the 2023 Australian Open final on January 29, where the 35-year-old won in straight sets to become a 10-time title-holder in Melbourne.
In their first-ever clash at the 2018 Canadian Open, Tsitsipas beat Djokovic in three sets. While Djokovic won their next encounter at the Madrid Masters in 2019, Tsitsipas defeated him again in their third meeting, at the 2019 Shanghai Masters.
Since then, the 22-time Grand Slam champion has won 10 consecutive matches against Tsitsipas.
In that context, Flink suggested that Djokovic always brings out his best against the 24-year-old given how their rivalry started.
"I feel like maybe the biggest mistake that Stefanos Tsitsipas ever made was beating Novak Djokovic two of the first three times they met because he was on his radar," Flink said. "I think Djokovic respected what Stefanos did against him in those early meetings. We can get to the obvious point being that he is a better player and Stefanos knows he is a better player."
The American journalist added that the Serb has a better backhand and that he manages to nullify Tsitsipas' strong forehand.
"We can get to the fact that Djokovic's backhand is far superior with his two-hander, even as beautiful a stroke as Stefanos has on his one-handed top-spin backhand. The other thing is Novak takes away Stefanos' greatest strength, his forehand which is so dominant against other players."
---
"Novak is a player that pushes you to your limits" - Stefanos Tsitsipas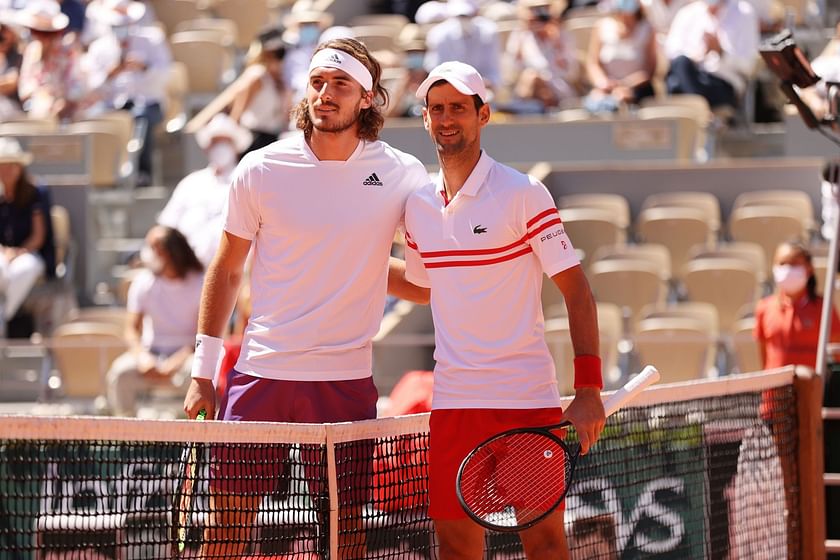 Stefanos Tsitsipas lost 6-3, 7-6(4), 7-6(5) to Novak Djokovic in the 2023 Australian Open final. It was only the second Grand Slam final of Tsitsipas' career; he had lost to the Serb in the 2021 French Open title clash as well.
After his loss in Melbourne, the World No. 3 lauded his opponent, stating that having competitors like Djokovic was good for the sport.
"Novak is a player that pushes you to your limits," he said. "I don't see this as a curse. I don't see this as annoying. This is very good for the sport, to have competitors like him, to have champions like him. He has made me a much better player. He has made my level of concentration higher and higher every single time I get to play him. You have to be really involved and you have to be dedicated to the game when you play against him."