Several WWE Superstars have dated their co-workers in the past few years. Some of these couples kicked off their romances with great first dates. Brie Bella, for example, described her first date with her now-husband Bryan Danielson as "her best." The former WWE Champion took Brie to the Isabella Stewart Gardner Museum.
Meanwhile, a few other WWE couples were not as lucky. Their first dates went rather horribly wrong. One superstar took his now-wife out to an adult shop. Another kicked off his relationship with his current wife by telling her he was not the one for her.
Here are four real-life WWE couples who kicked off their relationship with disastrous first dates.
---
#4 Former SmackDown Women's Champion Sasha Banks - Sarath Ton
Sasha Banks and Sarath Ton (FKA Mikaze) first met while competing on the independent circuit. As they worked together, the duo developed feelings for each other. Ton then took Banks out on a date at the Pho Mai restaurant in Boston, Massachusetts.
In an interview with Charly Caruso, the former SmackDown Women's Champion disclosed how her first date with Ton went wrong.
"His nose was running and I was like 'oh my god, your nose is running' because the soup was so hot. And I think I had like a hair on my chest, and he grabbed it and I was like 'dude, you are a little too forward. I don't know what I feel about you' and he was like 'I'm sorry, I'm just so nervous,'" she said. [0:25 - 0:40]
Despite this, things worked out between the two wrestlers. They dated for a while before tying the knot in 2016.
Ton retired from in-ring action in 2015 due to injury. He is currently a customer designer in WWE. Meanwhile, his wife continued wrestling in WWE until earlier this year when she walked out on the May 16 edition of RAW. The company reportedly released her from her contract a few days ago, ending her 10-year tenure.
---
#3 Former Women's Tag Team Champion Cassie Lee and Shawn Spears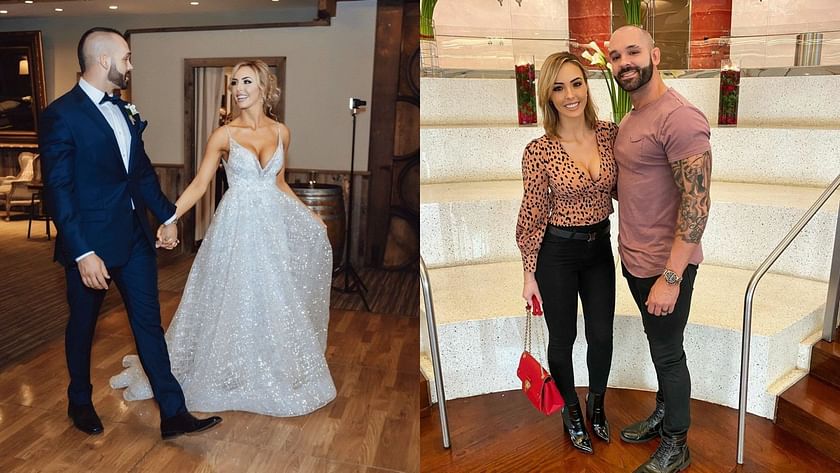 After joining Vince McMahon's company in 2015, Cassie Lee (FKA Peyton Royce) met Shawn Spears (FKA Tye Dillinger). In an interview with Chris Van Vliet, Royce stated that she was immediately attracted to the 41-year-old. Spears also liked the former Women's Tag Team Champion. Hence, he asked her on a date.
During an Instagram Q&A session, Lee revealed that Spears made a shocking confession to her on their first date.
"He said to me that he's not going to be the one for me," she explained.
Although many women would believe things had ended at that point, Lee did not. Instead, the former Women's Tag Team Champion took it up as a challenge. Fortunately for her, things later worked out between the duo. The couple tied the knot in 2019.
While Spears is currently active in AEW, his wife recently stepped away from professional wrestling to pursue other options.
---
#2 Former WWE Champion The Miz and former Divas Champion Maryse
In 2006, The Miz hosted the Diva Search competition, in which Maryse participated. Although the former Divas Champion initially thought The Miz was mean to her during the contest, the duo later developed a good relationship. The Awesome One then took The French-Canadian Beauty out on a date.
In an interview with Oral Sessions, Maryse revealed that the location Miz chose for their first date surprised her and left her with several questions.
"So I pull over in the parking lot and we park and it's a p*rn shop. Full-on p*rn shop in the middle of nowhere. Like a full-on, like you walk in and there's swings and red balls and then there's all these things that I really don't know what you do with," she said. [H/T: Wrestling World]
The Miz also disclosed in an interview with KFC Radio that he felt Maryse's discomfort during their date.
"There's like swings and a mask with a ball and I'm like 'are you into that?' She's getting more and more weirded out," he said. [H/T: The Sun]
Despite this, the couple later headed to the parking lot, where they talked for hours and hit it off. They dated for a few years before tying the knot in 2014. They now have two children together.
---
#1 Former WWE Champion Jon Moxley and Renee Paquette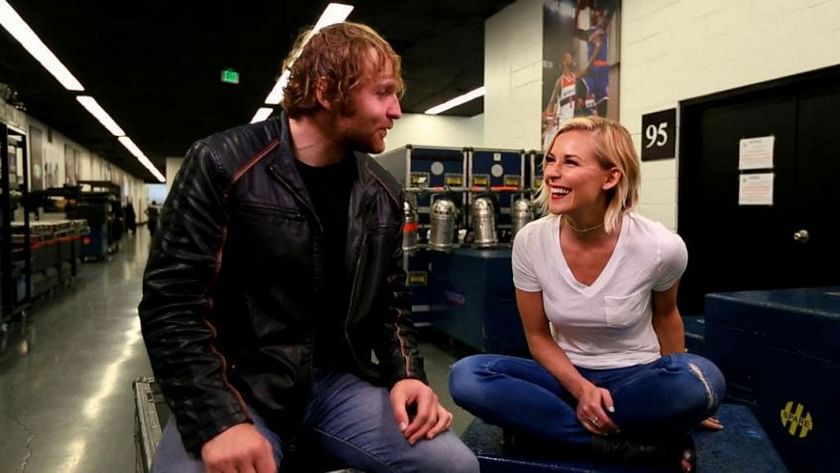 In 2012, Renee Paquette (FKA Renee Young) signed with Vince McMahon's company. Shortly after, she started dating former WWE Champion and Shield member Jon Moxley (FKA Dean Ambrose).
In an interview with Chris Van Vliet, Paquette spoke about how the couple kicked off their relationship.
"I remember Jon came up to me like by talent viewing, which is backstage, everyone's sitting there watching the monitor, watching the shows (...) and Jon doesn't talk to anybody, he's like really keeps to himself. Little did I know. And I'm like standing by like the water cooler thing, he's like 'hey, we got TV in Vegas in a couple weeks, you want to hang out?' and I was like, I got so red because I was like did you like ask me on a date in front of everybody? what a psychopath! So I remember being like embarrassed. I was like 'yeah, okay, fine, well like 'okay, we'll go hang out'. So, I'm thinking he's asking me on a date and so I'm like 'okay, I'm gonna hang out with him' we had been like talking a lot leading up to this like just like on our phones," she explained. [1:12 - 1:53]
However, Paquette's date with the 36-year-old did not turn out as she had imagined.
"So I went to go hang out with him and I was, I remember like being at my hotel just like changing and unchanging and 'what do I wear?' Am I just like casual? Just like 'what am I doing?' and I go to hang out with him and I was like 'okay, we have like a one-on-one date and we'll like see what's up' I walk into this bar, I run into Seth [Rollins] right away. I'm like 'oh my God! what are you doing here?' he's like 'what are you doing here Canada?' I'm like 'I don't know I though I was coming on a date' but it was like him with like five or six of his buddies so I'm like hanging out and feeling like such a like fifth, sixth, wheel, like 'what am I doing here, oh my God!'" Paquette added. [1:58 - 2:35]
Although she thought her first date with Moxley went totally wrong, Paquette and the former WWE Champion later hit it off and dated for a few years. They married in 2017 and now have a child together.
The couple are no longer working in WWE. While Paquette currently hosts her own podcast, her husband is an active performer in AEW.
Braun Strowman reveals the greatest talker in history here