Despite only having 25 matches in her wrestling career, Stephanie McMahon has gone head-to-head with some of the toughest superstars in WWE history.
Stephanie McMahon has played many roles in WWE since her teenage years, mostly outside the ring. However, The Billion Dollar Princess did not make her in-ring debut until late 1999.
In her 25 matches, Stephanie McMahon has held herself well against legends and Hall of Famers despite having much less wrestling experience. She also showed no fear in mixing it up in the ring with both male and female superstars.
Stephanie has not wrestled in over three years. Her last match came at WrestleMania 34 when she teamed up with her husband Triple H to suffer defeat against Ronda Rousey and Kurt Angle.
Ronda and Angle are the latest superstars to be added to Stephanie McMahon's list of opponents in her WWE career. Here are her five toughest.
---
#5. Stephanie McMahon vs Vince McMahon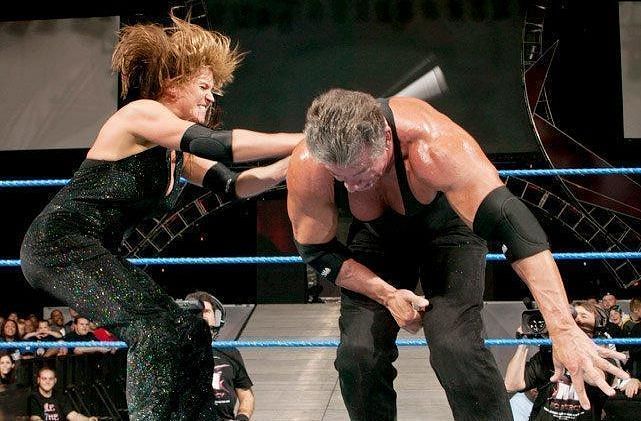 Stephanie McMahon has had heated feuds with her father, Vince McMahon, over the years and sometimes had to settle their differences inside the squared circle.
Stephanie had two matches against her father. The first was a tag team match in which she teamed up with William Regal against Vince and Trish Stratus. However, the match ended up becoming a humiliating ambush on Trish as the other three joined forces to attack her. The bout officially ended in no contest.
Nonetheless, Stephanie had to go one-on-one against her father in a No-Holds-Barred I Quit match at No Mercy 2003 to end their feud back then.
While Vince dominated the match at first, Stephanie soon turned the tables using a steel pipe. However, the pipe was not enough for Stephanie to defeat her father. Vince got hold of the weapon and used it to torture his daughter before choking her until she quit.
Years later, Stephanie spoke about her I Quit match against her father, which came only six days before her real-life wedding to Triple H, in an interview with FS1, calling it "an interesting moment.
"Oh my God. Well, I had to fight my father, in which it was the first fight father against daughter, six days before my wedding. It was a really interesting moment. My mom was so mad at my dad. Said, 'If you give her a black eye, if you give her a black eye before her wedding, I'm going to kill you'. It was a very interesting moment."
Following that match, Stephanie stayed away from in-ring competition for 11 years before facing Vickie Guerrero in a Mud Match in August 2014.
#4. Stephanie McMahon vs The Rock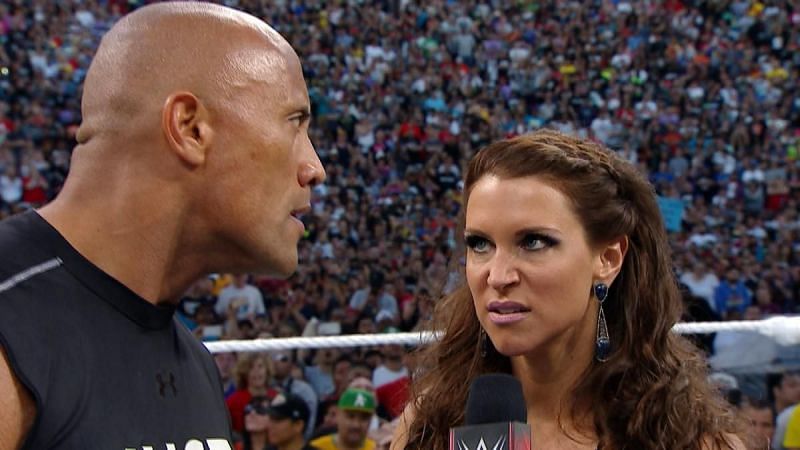 Stephanie McMahon has shared the ring with The Rock several times. Their first encounter came in August 2002 in an intergender tag team match. The Rock teamed up with Lita to defeat Stephanie McMahon and Kurt Angle by disqualification.
The match saw Stephanie slap The Rock before suffering an injury. Her husband Triple H rushed to help his wife and carry her backstage before returning to attack The Rock and Lita. He also punched the referee.
On September 10, 2001, Stephanie teamed up with Test to take on The Rock in a handicap match on Monday Night RAW.
The Billion Dollar Princess sat by the announcing table for most of the match. However, Stephanie had to interfere and distract The Brahma Bull before he hit Test with The People's Elbow.
The distraction gave her partner the chance to regain control of the match before Stephanie tagged herself in. The Rock turned the tables again and attempted to hit Stephanie with the Rock Bottom. Test returned to the ring at the right moment to rescue his partner but paid the price as he received a Rock Bottom himself to lose the match.
A week later, Stephanie and Test had a rematch against The Rock. This time it ended differently. The People's Champ hit the referee with a Rock Bottom following a heated verbal exchange between them.
Booker T and Shane McMahon took advantage and ran down to the ring to help Test take out The Brahma Bull, giving Stephanie the chance to pin him for the victory.
#3. Stephanie McMahon vs Brock Lesnar
In September 2003, Stephanie McMahon had to go one-on-one with The Beast Incarnate Brock Lesnar.
Stephanie was then SmackDown's general manager and in a feud with her father, Vince McMahon. On the September 9 episode of the blue brand, Lesnar challenged her to a match, and Vince saw it as an opportunity to punish his daughter. He gave her a choice between accepting Lesnar's challenge or stepping down from her SmackDown general manager position.
Stephanie accepted Lesnar's challenge. However, she tried to escape the ring as soon as the bell rang. The Beast had to chase her backstage and bring her back on his shoulders to ringside.
Luckily for Stephanie, Kurt Angle interfered and rescued her from Lesnar. The match ended in no contest, and The Billion Dollar Princess kept her job.
Brock Lesnar has been absent from WWE since WrestleMania 36 when he lost his WWE Championship to Drew McIntyre. However, he could be back soon.
According to Sean Ross Sapp of Fightful Select, WWE and Brock Lesnar are currently negotiating a possible return to the company.
#2. Stephanie McMahon vs Triple H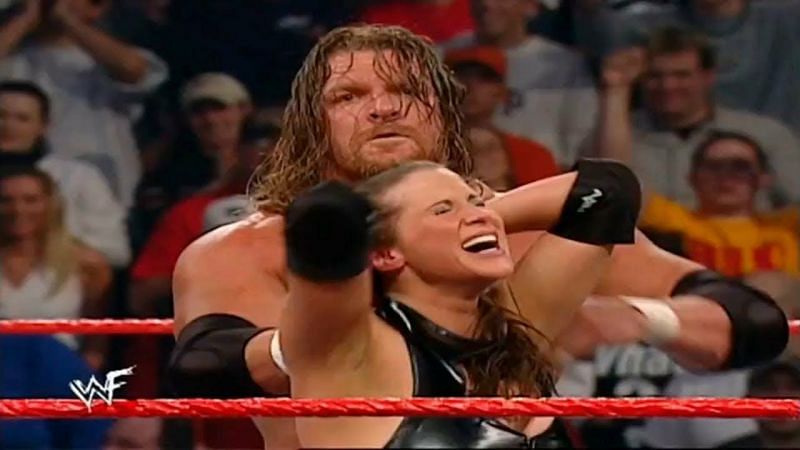 Stephanie McMahon has had many tough opponents over the years, but perhaps one of the toughest was her husband Triple H.
Triple H and Stephanie have shared the ring many times as partners. However, they faced each other only once. In March 2002, Triple H had to defend his WWE Undisputed Championship against Chris Jericho and Stephanie McMahon in a triple threat match on RAW.
The match came as part of a feud between Triple H and Chris Jericho heading into WrestleMania X8. In the storyline, Stephanie took Jericho's side and referred to themselves as "business associates."
Although the bout was supposed to be a triple threat, it was clear that it was more of a handicap match as Jericho and Stephanie worked together. However, they turned on each other mid-match after The Billion Dollar Princess attempted to pin Y2J. Stephanie and Jericho's miscommunication did not play in their favor. Triple H threw Jericho out of the ring before hitting his wife with a vicious spinebuster for the pin.
Triple H and Jericho headlined WrestleMania X8 as they battled for the Undisputed Championship with Stephanie standing in Jericho's corner. Once again, The Game successfully defended his title.
#1. Stephanie McMahon vs Ronda Rousey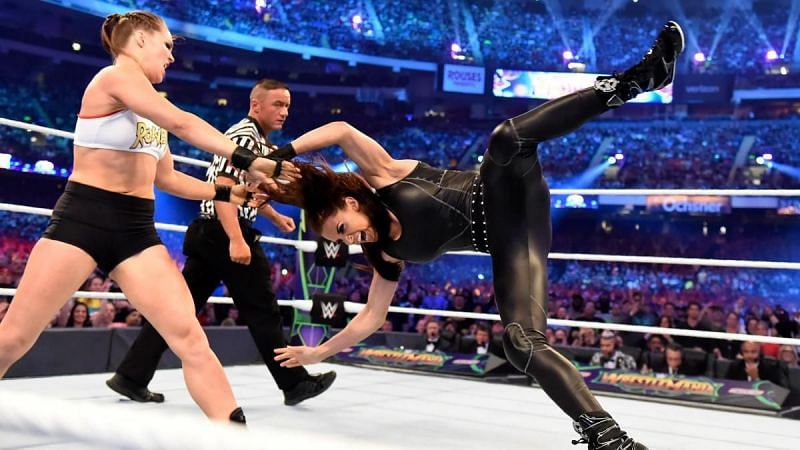 In her first match at WrestleMania 34, Ronda Rousey teamed up with Kurt Angle to take on Stephanie McMahon and her husband Triple H.
Ronda, who is dubbed The Baddest Woman on the Planet, is one of the toughest athletes in history. She was a former Judo champion and UFC legend before even setting foot inside WWE.
During the match, Ronda gave Stephanie a real beating despite Stephanie's attempts to fight back. The UFC legend even stood strong against Triple H. Ronda earned victory for her team after forcing Stephanie McMahon to tap out to the Armbar as Angle threw Triple H out of the ring.
Stephanie recently revealed that facing Ronda was the biggest challenge she has ever faced in her WWE career.
"I grew up in WWE, so my perspective and my struggles are quite different from other women. My biggest challenge was facing Ronda Rousey at WrestleMania. She was so amazing that I had to really train to even showcase her. She was the first woman champion in UFC, so she was tough," Stephanie told Cosmopolitan magazine
Following her match against Stephanie McMahon and Triple H, Ronda Rousey went on to win the RAW Women's Championship from Alexa Bliss. She held the title for nearly eight months before losing to Becky Lynch in a triple threat match at WrestleMania 35.
The 34-year-old has since left WWE to start a family. She is now pregnant with her first child with her husband, Travis Browne.
Did we miss someone? If so, who do you think should've been on this list? Let us know in the comments below.
Braun Strowman reveals the greatest talker in history here