WWE legend John Cena recently broke character to disclose why he is working with Austin Theory.
After several months of absence, The Cenation Leader returned to Monday night RAW last week in Boston, Massachusetts. As soon as he made it into the ring, however, he was interrupted by Austin Theory. The current United States Champion challenged Cena to a title match at WrestleMania 39. Although the 16-time world champion initially rejected the challenge, he later accepted.
In a recent interview with AP News, Cena noted that he focuses more on delivering a memorable performance than choosing the ideal opponent.
"You would be surprised at my answer. Because that's what I was told would happen. I don't do that. I don't say, 'I want to do this. I want to work with that person.' I don't ever do that. I've never done that. I just try and do what I'm told to do and do it to the best of my abilities. Instead of dictating my terms, I often just try to make the performance the best it can be. What I don't do and what I've never done is curate the direction of the narrative. I don't pick opponents, but I love to tell stories. I didn't pick Austin Theory but I certainly spoke from the heart [on RAW]."
John Cena had legit backstage heat with a top WWE star after "violating" him on live TV. Check out the story here.
---
John Cena will compete at WWE WrestleMania for the first time since 2020
The Cenation Leader has not competed at WrestleMania in the past two years. He last wrestled on The Grandest Stage of Them All in 2020 when he went head-to-head against Bray Wyatt in a Firefly Fun House Match at WrestleMania 36.
Despite this, the 45-year-old legend has competed in a few matches over the past two years. His latest came in December 2022 when he teamed up with Kevin Owens to defeat Sami Zayn and the Undisputed WWE Universal Champion Roman Reigns on SmackDown.
A current WWE star once accused his fiancée of cheating on him with John Cena. Check out the story here.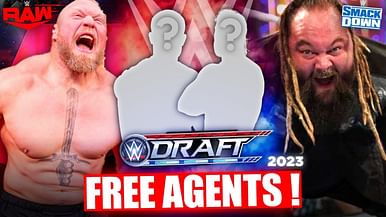 Brock Lesnar and 10 WWE stasr who are FREE AGENTS