Last month, ahead of their monumental Slammiversary debut, we revealed how The Good Brothers - Karl Anderson and 'The Big LG' Doc Gallows - had signed with IMPACT Wrestling, but would also be able to work with NJPW as part of their deal.
Well, I was lucky enough to interview The Good Brothers last week to chat all things IMPACT and get the lowdown on just how it all came to fruition!
Sportskeeda meets The Good Brothers
Doc Gallows and Karl Anderson, AKA The Good Brothers, would open up to Sportskeeda having debuted at IMPACT Wrestling's Slammiversary and made their in-ring debut just ten days later.
You can watch our the entire interview with The Good Brothers below, or read on for more!
---
So, I need to address the elephant in the room before we get into the interview. I'm nothing if I'm not transparent so, full disclosure, I wrote an article last month confirming that you guys had signed with IMPACT was a done deal. That evidently didn't ruin any surprises because, when IMPACT broke the news of your signing, the tweet of The Good Brothers' signing became THE best performing tweet in the company's history!
Now, I was going to ask how lucky I am to be far enough away from you guys not to be on the receiving end of a Magic Killer - but a better question would be, whose idea was it to announce your debut ahead of time, and would you guys have actually preferred it to be kept a secret?
Gallows: I thought leaking it was a good idea. Why not? Let's get some buzz. Let's get some eyes on this thing and I think that us and IMPACT did a good job of using our Countdown to F***town thing that we were promoting on social media because we were going to announce our pay-per-view, Talk N' Shop A-Mania, but also we needed a big announcement of where we were going so the clock strikes 12 and the clip can be shown of us in the IMPACT Zone making that announcement, and IMPACT putting that out on their social media and it ended up being the best performing tweet in IMPACT Wrestling history so I think it all worked great. It was a good idea.
Anderson: Yeah, I think, in this environment, I thought it made it more fun to announce it ahead of time. I would say, if this was in front of a live crowd and may be there are ways to have a surprise and you get that reaction from the surprise that maybe you could have held off but I think in this Covid-19 environment and with there not being a crowd, I think us announcing that we were coming to IMPACT actually got a lot more eyes on the pay-per-view, and that's what made it so cool. And with the Magic Killer, you're lucky... You're not that lucky, because it's probably the safest move in wrestling.
---
Yep, so the one thing that is unquestionable is the tweet worked, it did the trick. I mentioned it there, it's the best performing tweet in IMPACT history. Everyone is talking about the Good Brothers and IMPACT, so I don't think there is any question it worked.
But my favourite thing, Big LG, you led everyone on a wild goose chase, which was great. From the photo in Jacksonville with a Bullet Club beer coozie and the Aces and Eights vest. I think you'll forgive me for saying it was a hoot and no-one can ever accuse you guys of leaving money on the table! How much fun was it to toy with the fans a little bit there?
Oh! Very fun! That's all part of the fun. I'm loving doing that. We were down there filming the BTE bit with the Bucks and what better way...? I happened to have some Bullet Club and Aces and Eights merch in the bag anyway, so it was a good thing to do to keep people talking.
---
Next: The Good Brothers discuss IMPACT's new signings
Sportskeeda meets The Good Brothers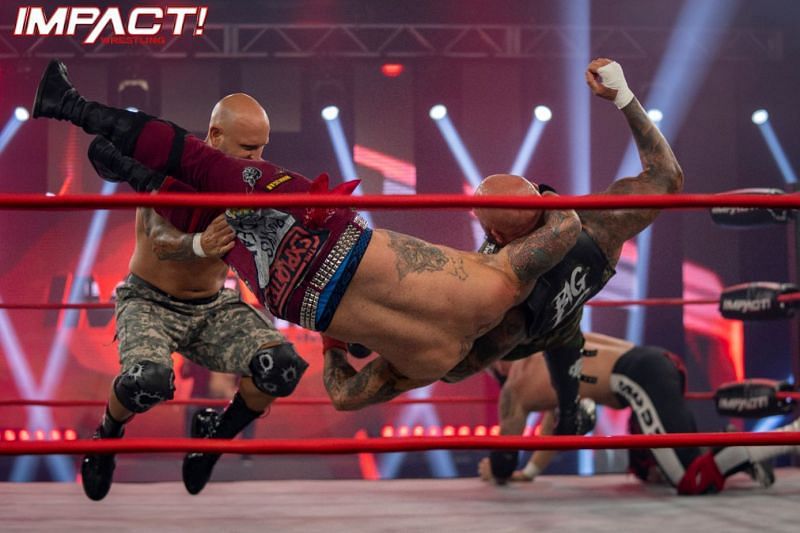 Like I said, you've most definitely made an immediate impression and got EVERYONE talking! I keep referring to you guys as "needle-shifting" talents, someone who brings eyes to the product. I spoke to World Champion Eddie Edwards last week, he very much echoed that sentiment.
But the one thing I need to ask, you guys aren't the only new arrivals in IMPACT. Of course, there's Eric Young, Heath, EC3 and Brian Myers. Do you know personally if you guys were the first to sign out of that group and, if so, did any of them ask you any advice - or was it the other way around?
Gallows: Well, yeah, we were all talking. We're all friends. We were all talking leading up into this and I think it came off beautifully. Like you said, EC3, EY, Brian Myers, Heath. It came off great. But yeah, we were talking a lot. Karl and I have had success outside of WWE, so a lot of times, people come to us to ask. Especially someone like Heath who was in that system for 14 years. They don't necessarily know what it's like outside, so we don't mind helping our brothers along when they need it but I think we were a huge part of that.
---
Definitely, and that's the one thing that I think so many of you turning up, obviously you guys I mentioned being a huge name but there's people that have never been outside of WWE. The one thing that I need to ask before we get into everything that's going on in IMPACT right now and how fun it is. There's one man that you guys are very good friends with who is somewhat of a legend in IMPACT and TNA in AJ Styles. Did you guys ask him for any advice before you signed, and what was his reaction to you signing?
Gallows: He called when he knew that it was actually confirmed but, you know, he's busy doing his schedule in WWE and we were busier than we've ever been. Putting together all the stuff we're working on so he called and said he was happy once it was done but I don't think we ever actually went to AJ for advice on whether we should do it or not.
Anderson: Ultimately, we're going to talk AJ Styles into coming back to IMPACT. That's what we're doing every single day. We're texting him and telling him to come back.
---
That would be incredible! We keep mentioning yourselves and the other new arrivals. I'm going to assume that if I ask you, "Which new arrivals will have the biggest, pardon the pun, impact in IMPACT?" you will say yourselves so let's take you guys out of the equation. Which of the other guys do you think is going to be like a rejuvenated talent in IMPACT and someone the world has to see?
Anderson: I thought... Gallows said this earlier that Heath... What Heath can do when he comes back and just being able to stand out, show what he can physically do is going to be awesome, man. And Brian Myers. People really haven't gotten a chance to see what Brian Myers can do. He's a talented brother. And of course EC3 has had a main event run in IMPACT before, and then Eric Young was obviously the World Champion. There are so many things that got picked up at Slammiversary and the TV after, and it's an exciting time for impact.
Gallows: Yeah, I mean, you throw that in there and you've got the Motor City Machine Guns, one of the greatest tag teams in IMPACT history. They are making a surprise return, too, which I almost felt the most bad for them because I loved how that was positioned to open the pay-per-view but if we had had a live audience, they would have got one hell of a pop when that music hits.
I loved that that you guys were like a decoy for them turning up because everyone expected you to answer the open challenge. Those guys come out and it's double as exciting because we know we still get you guys later on the night and the Motor City Machine Guns at the start, it was absolutely great.
---
Next: The Good Brothers discuss the IMPACT locker room
Sportskeeda meets The Good Brothers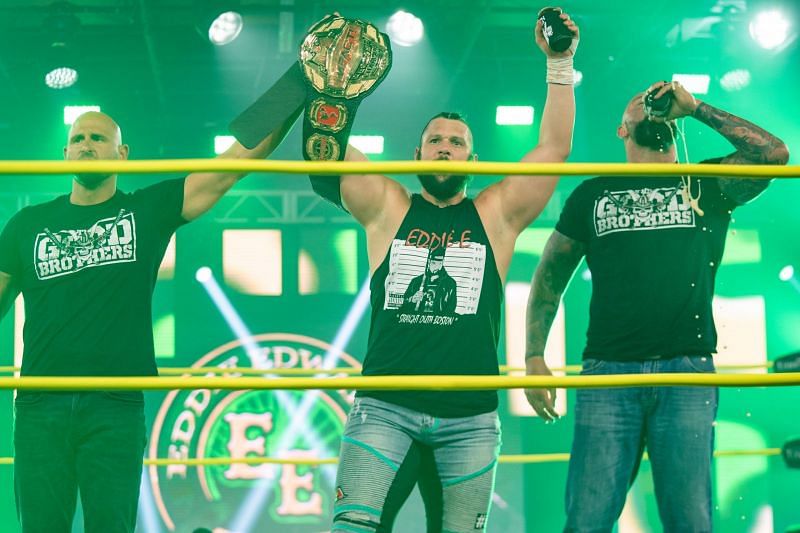 You've kind of bridged into my next question there, which was, on the opposite end of that scale, are there any talents you have been in IMPACT for a while that new fans may not know about but have particularly impressed you guys since you've signed?
Anderson: Yeah, I've brought up Ace Austin a couple of times. He's 23 years old and, as talented as he is, as young as he is, what an opportunity he has. And Fulton, you've got the huge guy. You've got Willie Mack who people might have heard, might not have heard of.
The eyes are on IMPACT right now and I'm glad that Eddie Edwards was able to be seen in the main event winning the championship like that. Right now, with all these new guys coming here, and the Good Brothers coming to IMPACT, there's going to be some eyes on IMPACT right now, these next couple months of television are important because you're going to get new eyes watching and these new guys need to deliver, and I think they did, and that's why it's so exciting to be a part of IMPACT right now.
---
And names have been in IMPACT for a while. You've got Ace Austin on the younger end of the scale, 23 years old and a guy taking the world by storm, and there's also people like Ken Shamrock, Tommy Dreamer, RVD, Rhino.
A lot of big names, big veteran names in the locker room. I've been told you guys are the best in the business at popping the boys backstage so I would have to assume that the locker room has taken to you well. How do you feel like you're fitting into the IMPACT locker room?
Gallows: Oh, it's been really fun. A lot of old faces that have known from different times in our career and a lot of young guys that haven't been around us and don't understand how nuts we can be. I think that's what we bring to the locker room. We're big locker room guys, we like to have fun, but what we also want to do is get more eyes on the IMPACT product.
---
Definitely. There's a lot of chat... We mentioned earlier about some Aces and Eights merchandise sitting around unused. There's been a lot of talk online about a potential reunion. Is that something guys feel like you'd like to be involved in, and who would you want to be involved with if so?
Gallows: Oh, you know, I couldn't be in any faction that didn't have the Machine Gun. No matter what it's called, whether it's called Aces and Eights, the Bullet Club. We made each other. I would also want to bring in Rocky Romero, Tama Tonga and Heath, and I don't know if we can get some attitude then Ace Austin than and I'll take Madman Fulton as well. I can chill and drink more beer, he can handle the action for me.
---
Next: The Good Brothers discuss returning to NJPW
Sportskeeda meets The Good Brothers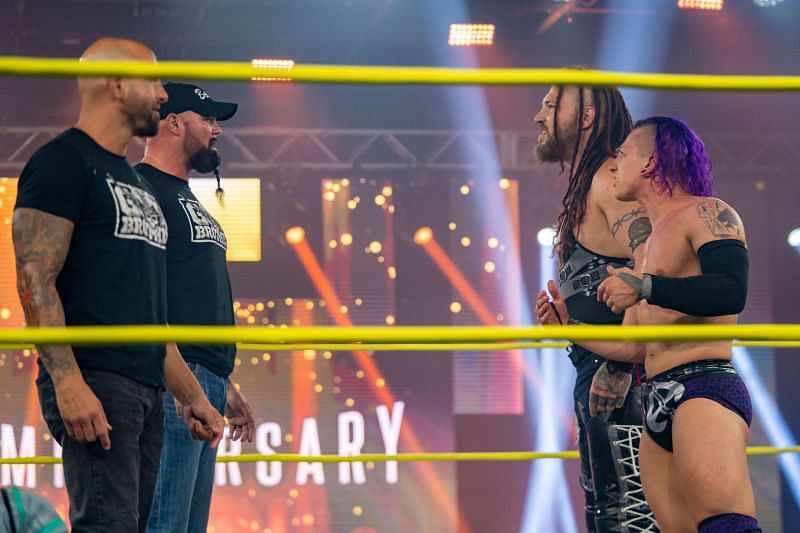 We've mentioned a load of names that IMPACT have picked up, so I need to chuck in a little cheeky one. Is there anyone out there that you would like to join the company who has not yet signed?
Gallows: Oh, yeah. I want "Big Poppa Pump" Scott Steiner to be one of our managers. I want Kevin Nash in the picture. Hulk Hogan recently called us the greatest tag team to ever do it, so I want him to be one of our managers. I'd like to recruit Finn Balor and AJ Styles to IMPACT. The list goes on and on.
Anderson: Yeah, I want all the New Japan boys to come over. I want IMPACT to work with New Japan Pro Wrestling. I want us to take IMPACT Wrestling as high and as big as we can possibly get it, man. And we have a lot of friends in this business, man. We are very charming and persuasive brothers and we are going to work our a**es off to get people to come to IMPACT Wrestling, no matter what. Constantly recruiting.
---
You kind of already answered my next question which I love when that happens because I'm going to ask it anyway just to clarify. One of the things that I had been told and you've kind of teased that there I guess is that the rumour was that while you guys are contracted to IMPACT, you're also going to be able to work in New Japan when travel restrictions are lifted. Is that true and would you like to see a future relationship between the two?
Anderson: That is 100% true and we would 100% like to see a mutual relationship between the two. There's nothing but benefit for everybody. We can't wait until the world is open so we can return to Japan.
Gallows: IMPACT has grown and they have a different management right now, smart management, and a management that is interested ingrowing the product, and with New Japan Pro Wrestling and IMPACT together, however they work - maybe we sort out just us working with them or however we do it - it would be awesome to see Tanahashi come down to that ring and have a main event match against Eddie Edwards. Someway, somehow, something like that will happen.
---
Next: The Good Brothers reveal whether IMPACT are paying them enough
Sportskeeda meets The Good Brothers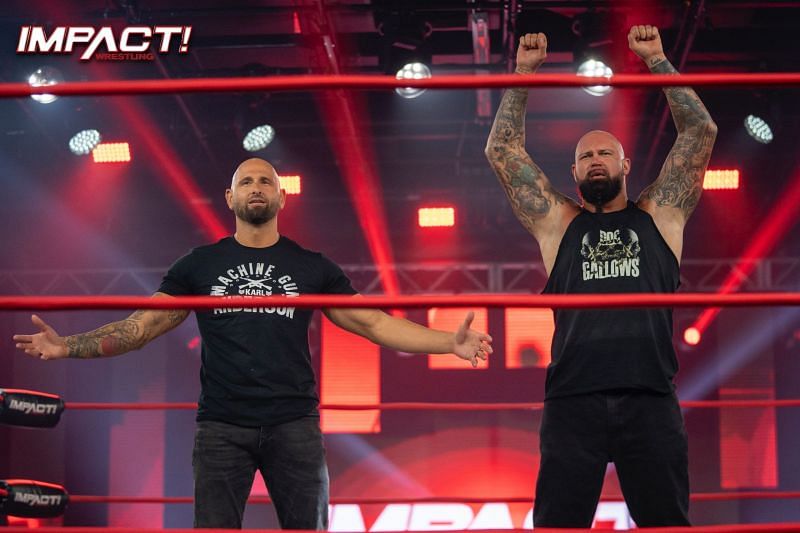 We've mentioned a load of names but IMPACT opens up a LOT of possibilities for you guys in terms of people you might not have worked with before or not for a while at least. Who do you guys want to work with the most? Who's the one, the one team you guys want to get in the ring with in IMPACT?
Anderson: Well, yeah, I want to get in there with Eddie Edwards at some point because I want to challenge for the World Heavyweight Championship and I think Gallows would say the same for that.
I want to get in there with The North as a tag team because they've had an awesome... They had an awesome title reign with IMPACT but I don't think a lot of people have gotten eyes on them yet.
They're great, they're a great team, they are both individually good professional wrestlers and if people can start getting eyes on those guys and we can wrestle the Motor City Machine Guns, and get more eyes and make an even higher and bigger, and to get in there with Motor City Machine Guns, man. That is a dream match at some point and there's just so much talent there that we're looking forward to getting in the ring with.
Gallows: I couldn't have said that better.
---
The one final question I need to ask. Back when I stuck out that article, I saw that, Karl, you retweeted someone who had sourced my article and added a little comment to it saying that you guys didn't seem like you were divas about money - which I thought was great for anyone who has listened to Talk N' Shop.
The one thing I need to ask, all this hype is, about you guys, about IMPACT recently, obviously we mentioned that the best performing tweet in IMPACT history, Slammiversary became one of the greatest IMPACT wrestling events in recent times. I think you guys have a lot to claim for your own success there as being part of that. Are you being paid enough?
Anderson: Yeah.
Gallows: Yeah.
Anderson: Yeah.
Gallows: Oh, yeah.
Anderson: Totally. That's part of it, man. We love to do what we do and we will probably do this until the day we die but we also have families and we also are businessmen so you're not going to play around with bulls***. IMPACT didn't come with any kind of bulls***. They came strong with an offer on every single front and it was something that we literally could not... We couldn't turn it down, we couldn't refuse it. There was no way we were going to walk away from it. IMPACT took care of us in every way in that sense.
Gallows: Absolutely.
---
You can check out The Good Brothers every Tuesday on both AXS TV and Twitch. You can also follow IMPACT here, 'The Big LG' Doc Gallows here, and Karl Anderson here.