The season of Christmas is a time for families coming together, charitable giving, and holiday nostalgia. If we're really being honest, however, it's also a time for maddening repetitive carols, people trampling over one another in stores, massive credit card debt, and ruined diets. The holidays are supposed to be everyone's favorite time of year, but for many of us Scrooges who live in the absence of a wish-granting angel like Clarence, they often fall well short of It's A Wonderful Life.
For many of us, the holidays are more like Santa With Muscles, a disaster of a Christmas film starring none other than the 'Immortal' Hulk Hogan, but more on that later.
The world of professional wrestling has provided fans with (at least) five of the most cringeworthy Christmas films in cinematic history. For every holiday classic like Miracle on 34th Street, there's a dozen Christmas Bountys. Nobody does Christmas quite like professional wrestling. These five films are so mind-numbingly awful, they might have you switch your allegiance from Santa to Krampus, or simply swear off the holiday altogether. Or, you might just laugh your way into the Christmas spirit.
In the spirit of the holiday season, I took the time to watch all five, so that we could gather around the proverbial Sportskeeda fire and spin yuletide tales. Why else? Because I'm a glutton for punishment and there is no better way to spend the holiday season than by commiserating over terrible wrestling films.
So, without any further ado, pour yourself a cup of cocoa and take the cookies out of the oven, if you dare. Here are the five most cringeworthy wrestling movies of Christmas.
---
#5. Jingle All The Way 2 - featuring Santino Marella
Jingle All the Way was no Polar Express, but it was a memorable film starring 1983 Star Search runner-up Sinbad, the late Phil Hartman, and someone wrestling fans are probably a little more familiar with - Arnold Schwarzenneger.
The film featured the Arnold and Sinbad hilariously doing battle and bringing each other to the brink of death just to get their spoiled offspring the "it" toy of the Holiday Season. In the end, everyone makes up and the holiday spirit reigns supreme. There's no cliffhanger and definitely no need for a sequel, especially without Schwarzenneger and the star of my favorite Mandela Effect classic Shazaam.
It also has it's own WWE connection, as it features a young Big Show, fighting Arnold while dressed as Santa.
Vince McMahon, however, can't resist resurrecting something that absolutely no one has ever asked for (see the XFL). Enter WWE Films and with a sprinkle of Christmas magic and a $5 million budget, Jingle All The Way 2 was conceived.
Since Arnold Schwarzenneger makes what amounts to roughly $4,000 per second of screen time, Vince McMahon replaced the chiseled action hero with the most obvious choice for male lead: Larry The Cable Guy. Larry (who coincidentally plays a guy named Larry in the film) is a camouflage wearin', cheeto eatin', deep fried food lovin', divorcee whose ex-wife suddenly and inexplicably develops a love for classical music and the finer things in life, promptly leaving our lovable lead for a rich guy.
Larry is also the father of Noel, a charming young girl, who is the object of dissension between her poor trailer park livin' biological father and her rich business mogul stepdad named Victor. When Larry intercepts a letter Noel writes to Santa, he believes it reads, "I want my family to get herasone," which he infers as Herason, the hot talking teddy bear toy of Christmas that every kid wants.
When her sorry excuse for a human being stepdad finds the same, he employs an unscrupulous security guard to purchase every Hearason Bear around, so that Larry can't buy one for his daughter. Then ensues an original Jingle All The Way-like adventure where Larry is nearly tarred and feathered by angry church goers, beaten by a Christmas elf, and annihilated by two old ladies who happen to be martial arts experts.
Larry attempts to thwart Victor's evil plot, following him to the warehouse where all the Hearason Bears have been stashed. The two scuffle a bit, but soon find that they are locked inside the warehouse with no way out. Larry and Victor find a way to work together and thanks to Larry's quick thinking (and ability to drive a bulldozer) they escape to give away each and every Hearason Bear to any child who wants one.
When the two families come together for Christmas (inside Larry's trailer), Noel informs them that they've both misinterpreted her letter to Santa. She never wanted a Hearason Bear, only Her family "together as one."
The movie comes to its merciful conclusion with Larry burning the Christmas turkey and both dads arguing once again.
Inspirational Quote: "When the elf flipped me, I pooped my pants a little." - Larry the Cable Guy
Why It's Worth Watching: Santino Marella recreates his epic fail at the 2009 Royal Rumble when he attempts to ride a mechanical reindeer while wearing a Santa suit.
Score: 2 candy canes out of 5
---
#4. Santa's Little Helper - featuring Paige, The Miz, & Maryse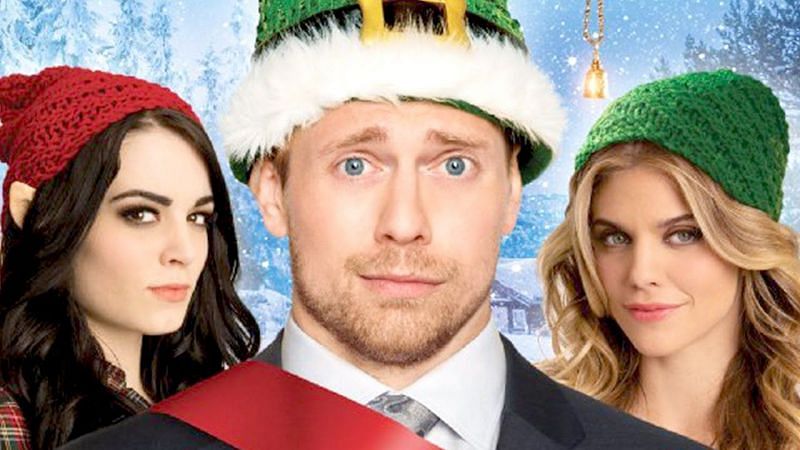 WWE Superstar The Miz stars as Dax Ardweck, a superficial businessman that has one goal in mind: to close down the Hope Springs Youth Center. This is due to the fact that when he was a young child, he was falsely accused of stealing from the center, which he loved, and told to leave and never return again. The false accusation set him on a course of life-long selfishness with virtually no redeeming character traits.
We soon find out that this modern day Mr. Potter (no relation to Harry - ask your parents) is living outside his means, and things really come to a head when he is fired from his lucrative job. He loses his girlfriend, his car, and his home. But, never fear, for Santa Claus is here!
Santa is looking for a new "HOHOHO," which is basically a North Pole word for executive vice president. Santa employs a scantily clad personal trainer elf with rounded ears (a rare genetic defect) named Billie. Billie is obsessed with Santa's cholesterol, but Santa's wife is an enabler and, despite Billie's best efforts, she can't stop the gluttonous Jolly Old Saint Nicholas from obsessively eating Christmas cookies.
Santa eventually sends Billie to the land of the "normies" to look for someone with the 5 Sugarplum Virtues. They are: 1. A cool head, 2. Humility, 3. A Cooperative nature, 4. An inspirational spirit, and 5. A Kind Soul.
Santa skips right over the obvious choice, John Cena, and sends Billie to The Miz's doorstep. Billie is in charge of putting Dax through rigorous testing and while things don't go well at first - he is knocked out at a biker bar, dunks a birthday boy's face in cake while sporting a monkey suit, and made to strip at an elderly home - he eventually passes.
Just before Dax is about to become the new HOHOHO, he is provoked by an evil elf played by fellow WWE Superstar Paige. Paige challenges Dax to an obstacle course and absolutely annihilates him, presumably stealing the HOHOHO position, but Santa later reveals that she was disqualified for bad sportsmanship.
At the end of the film, a changed Dax saves the youth center and Santa reveals that the person who has the Sugarplum Virtues isn't The Miz after all, nor is it John Cena, but the cholesterol obsessed Billie. The movie ends with both Billie and The Miz falling in love and using their combined powers to bring North-Pole inspired goodness to the world.
Inspirational Quote: "I can live without the girlfriend, but the car? The car and I are in love!" - The Miz as his car is repossessed
Why It's Worth Watching: The Miz gets knocked out by his own real-life wife, Maryse.
Score: 2 candy canes out of 5
---
#3. Christmas Bounty - starring The Miz
Fair warning here: there isn't much Christmas to WWE Films' Christmas Bounty except for the title and the season in which the movie takes place. Also, a bounty hunter wears a Santa hat while staking out a local mall and occasionally gives shoppers a bellowing, "Ho! Ho! Ho!" That's it.
Tori Bell comes from a family of New Jersey native bounty hunters, but she is embarrassed about her roots. Having fallen in love with James Oswald Valentine III (real name), Bell decides to hide everything from her nauseatingly perfect new boyfriend who strangely resembles Saints QB Drew Brees.
Bell is forced to get honest with herself and Valentine III when Mr. Menucci, a notorious criminal, is released from prison. Menucci has a bone to pick with Tori Bell, since she helped put him away as a teenager. In order to lure her, Menucci kidnaps the helpless Valentine III, who has no survival skills whatsoever and plays the role of Princess Peach to perfection.
Tori Bell seeks assistance from a peculiar cast of characters that include a woman named "Lizzy The Legs" and WWE Superstar Mike 'The Miz' Mizanin, who also happens to be Bell's ex-boyfriend. While working together to get Valentine III out of harms way, Bell comes to an awakening and realizes that she hasn't been true to her New Jersey bounty hunting roots. After freeing her fiance from Menucci's evil grasp, she delivers a Skull Crushing Finale of her own and promptly leaves the Manhattan socialite to make a life with "Mike Muscles" instead - just in time for Christmas.
Why It's Worth Watching: The Miz goes in and out of his Jersey accent throughout the film.
Inspirational Quote: "It's not your fault! He's the one who poked his head out from behind the tree. Who does that? 'Hey, bad guy with a gun, come shoot me!'" - Jersey Miz
Score: 1.5 Candy Canes out of 5
---
#2. Santa's Slay - starring Goldberg, with a cameo from Tiny 'Zeus' Lister
First, forget about everything you know regarding the legend of Santa Claus. Director Brett Ratner and Lionsgate Films have re-defined the Christmas story to include none other than WWE Hall of Famer Bill Golderg as Santa Claus.
In this twisted re-telling, Santa Claus is the evil son of Satan and the product of an immaculate conception. Every Christmas Day Jolly Old Saint Nicholas goes on a rabid killing spree. This is all stopped when a Christmas angel shows up disguised as a harmless old man. He challenges Santa to an ancient game of shuffleboard and when Santa loses, he is forced to retire to hell for the next thousand years.
1,000 years later and Santa is back with a vengeance. The whole debacle begins over a sordid Christmas dinner with the most unlikable family in movie history. As actors Fran Drescher, Rebecca Gayheart, and Chris Kattan conversed with head of the table James Caan of Godfather fame, an unhealthy dose of sexism, homophobia, racism, and classicism ensue, but never fear Goldberg is here.
Santa Claus burst out of the family fireplace and kicked a yelping pomeranian into the ceiling fan above before making short work of the entire dysfunctional family. To his credit, each of Santa Claus' many acts of violence were festive in nature. He stabbed a thief in the eye with a candy cane, choked a man to death with a wreath, and cleverly utilized exploding presents and ornaments. Santa isn't one to gloss over the real threat germs possess either. He takes a moment to disinfect a stripper pole before using that as a weapon. No murder was more effective, however, than when Santa drowned Fran Drescher in a large bowl of Christmas eggnog.
While Santa enjoys killing, his ultimate goal is to avenge his thousand year imprisonment. Enter the Yuleson Family. Young Nicholas Yuleson is the grandson of the Christmas angel that sent Santa back to hell and the target of the big man in red's (no, not Kane) fury. After running over Grandpa with a reindeer (as opposed to Grandma) that looks more like a Dwayne 'The Rock' Johnson tattoo come to life, Nicholas must contend with the satanic Santa Claus without his gaseous (yes, he farts) and angelic grandfather.
Santa's efforts to destroy the Yuleson Family are to no avail, however, as Christmas eventually ends, causing Jolly Old Saint Nicholas to leave town and ponder his fury for another day.
Why It's Worth Watching: Summoning his inner Ricky Steamboat, Goldberg spits fire, which might bring he and Matt Riddle closer together, if the NXT Superstar were to ever need a light.
Inspirational Quote: "Who's your daddy? Father Christmas!" - Santa Claus as portrayed by Bill Goldberg
Score: 1 Candy Cane out of 5
---
#1. Santa With Muscles - starring WWE legend Hulk Hogan with a Brutus Beefcake cameo
Hulk Hogan once uttered the words, "What's that smell... Dookie?!" in No Holds Barred, but not even that embarrassment can compare to Santa with Muscles, which is so awful it might make me lose my hair, if it wasn't all gone already. Don't believe me? Film critic Chris Hicks said that Hogan's performance "makes Arnold Schwarzenegger seem like Laurence Olivier."
'The Immortal One' plays Blake Thorne, a privileged health foods guru with a penchant for playing war games (not the WCW/NXT kind) in his backyard. When one of those games gets out of control, Thorne finds himself chased by police on a high speed pursuit. Does he stop? Not a chance, brother!
Thorne jumps out of the car and hides inside of a local mall, where he finds a Santa suit. After putting the suit on, Thorne ends up bumping his head and developing a case of amnesia, forgetting who he is entirely. Santa Hogan wakes up to an unscrupulous pick-pocketing mall elf named Lenny. Lenny cajoles Thorne into believing that he is the real Santa and due to a shortage of mall Santas, immediately gets him out there to pose with children.
Hogan's Santa suit is peculiar in that his shirt is sleeveless and made to show off his enormous 36" pythons. Also, oddly enough, he wears black latex gloves more befitting of an S&M enthusiast or a kinky proctologist, but to each their own.
Eventually Santa Hogan finds his way to the local orphanage. Despite the odd outfit, some of the children inexplicably believe Thorne is the actual Santa and take an instant liking to him. It is eventually revealed that the orphanage is being shut down by an evil germaphobic businessman (definitely not Vince McMahon) who employs a bizarre group of ice cream truck driving henchmen. This leads to a classic fight scene between Hogan and a mad scientist, who uses his stethoscope like nunchucks. Of course, Thorne Hulks up and saves the day, but not before taking a few good licks (ice cream pun intended) from Dr. Ninja.
Eventually, it is discovered that the orphanage is sitting atop a crystal cave worth millions, but Thorne isn't able to protect the crystals or the kids, after being thrown off a building and onto a garbage truck. With Thorne out of the picture, the children are forced into child labor and made to mine the cave. Thorne eventually remembers who he actually is, but goes against his own character to continue doing the right thing by protecting the children against the germaphobe.
Due to the crystals emitting a strange unexplained electricity the orphanage eventually blows up. All the bad men are eventually arrested and Santa Hogan takes the orphaned children to live with him in his mansion, presumably to train them in the art of war games.
The film's lone saving grace is that it happens to be the very first movie Mila Kunis ever starred in. The fact that her career survived this is nothing less than miraculous and demonstrates resurrection power that would even make The Undertaker envious.
Why It's Worth Watching: Hulk Hogan sings & angels lose their wings
Inspirational Quote: "I love to eat a lot of reindeer meat." - Santa Hogan
Score: No candy canes, but a stocking full of coal
What are some other... *ahem*... "classic" Christmas movies starring pro wrestlers? Share your findings in the comments below and HAPPY HOLIDAYS!
Check here: Some of the Most Popular Movies of Hulk Hogan
Edited by Kevin C. Sullivan