The RAW after Payback kicked off with Randy Orton in the ring and we learned that Drew McIntyre's injuries from last week would keep him from competing until Clash of Champions. Rey Mysterio was also injured last night at Payback and Dominik will have to compete alone tonight.
Randy showed us a picture of all the people he had kicked in the skull and Keith Lee came out to confront him. Lee said Orton was trying to forget about last night's loss before claiming that beating Randy should have gotten him a championship match.
Dolph Ziggler attacked Lee from behind but was taken down the first time. Ziggler attacked Lee a second time as we headed for commercials.
---
Keith Lee vs. Dolph Ziggler on RAW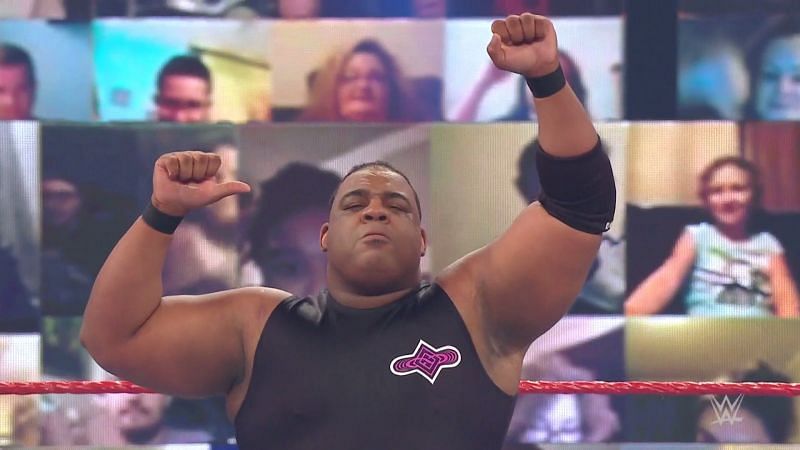 Back on RAW, Lee tossed Dolph around before lifting him but Ziggler got out. Lee catapulted Ziggler into the turnbuckle face first, before Ziggler rolled out of the ring. After a break, Ziggler hit a Famouser but couldn't get the pin.
Keith Lee flipped Ziggler off his back and hit him with several strikes before hitting a Flapjack. Lee caught him and hit the Swinging Powerslam. Ziggler hit the ZigZag but Lee kicked out yet again. Keith Lee picked up the win with a Spirit Bomb.
Result: Keith Lee def. Dolph Ziggler
Match rating: B
---
Nia Jax and Shayna Baszler were backstage on RAW and they still weren't on the same page. Asuka walked in on the interview and after Shayna got in her face, she pushed her away before staring Jax down.
---
Adam Pierce was backstage on RAW and told security to keep RETRIBUTION out of the arena.
---
Asuka was out next and Mickie James was the first to ask for a title shot. Natalya and Lana came out to interrupt.
Asuka got fed up with the arguing and said she was ready for all three of them. Lana and Natalya attacked Mickie and Asuka but the champ and James took them out on RAW.
---
The Viking Raiders and Cedric Alexander were backstage on RAW with Demi Burnett and Garza was stalking them.
---
Lana vs. Mickie James on RAW
Lana had Mickie struggling for a bit early on and Asuka was on commentary, yelling in Japanese. Mickie took her down and threw Lana against the ropes. Lana told Mickie to back off before hitting a cheap shot.
Mickie hit the Mick Kick out of nowhere and got the quick three-count on RAW.
Result: Mickie James def. Lana
Match rating: C
---
Randy Orton was backstage on RAW, coming out of Aleister's locker room.
---
The IIconics were backstage to talk about their journey to and in the WWE. They said that the Ruby Riott and Liv Morgan were in the way of them and the tag titles and so they will take them both down.
---
Randy Orton vs. Kevin Owens on RAW
Aleister Black attacked Kevin Owens while he was making his entrance. He hit the Black Mass and tossed him in the ring.
Randy Orton vs. Kevin Owens on RAW (contd...)
Owens forced the referee to start the match on RAW but Randy hit an immediate RKO to take him down within seconds. Looks like Orton has managed to somehow gain a new ally.
Result: Randy Orton def. Kevin Owens
Match rating: C
---
Backstage on RAW, Rey Mysterio was with his family and said that he was out due to an injury and he wanted Dominik in his place. Dom was confident and said that he had a 619 with Rollins' name on it.
---
MVP, Shelton Benjamin & Bobby Lashley were out to celebrate Lashley's title win from last night. Lashley said he was coming for Apollo since he attacked them last night on Payback. MVP then started talking about Cedric Alexander who interrupted him.
MVP asked if Cedric being out alone meant he had a change of heart, but Cedric crushed his dreams and brought out the Viking Raiders who took out Lashley and Benjamin before a break. We were undoubtedly heading for a six man tag match when we return to RAW.
---
The Viking Raiders & Cedric Alexander vs. MVP, Bobby Laslhey & Shelton Benjamin on RAW
We returned to RAW to see a match was underway and Lashley was tossing Erik around. MVP was tagged in and took Erik to their corner before tagging in Benjamin. Ivar was tagged in and took Benjamin down before tagging in Cedric.
Laslhey and Benjamin were double teaming Cedric before MVP got a hold of him and Lashley and Benjamin took out the Viking Raiders leaving Cedric no one to tag in. Cedric somehow rolled up MVP and picked up the win on RAW.
Result: The Viking Raiders & Cedric Alexander def. MVP, Bobby Laslhey & Shelton Benjamin
Match rating: B
---
Backstage on RAW, The Hurt Business took out Cedric and Apollo Crews and Ricochet had to rescue him.
---
The IIconics vs. The Riott Squad on RAW
Kay unloaded on Riott as the match began and Royce came in for a double team move. Morgan was tagged in and she hit a dropkick on Peyton and gained some momentum but Kay was tagged in and she got a near fall off a suplex.
The IIconics vs. The Riott Squad on RAW (contd...)
Liv hit a big kick to the face and tagged in Riott. Riott took Kay into the corner but Royce ran at her. Morgan took out Royce before Riott and Kay were left in the ring. The two traded roll ups before Riott got the win for her team on RAW.
Result: The Riott Squad def. The IIconics
Match rating: B
---
Seth Rollins vs. Dominik Mysterio on RAW
Rollins was furious at Murphy after he kicked him last night which led to their loss and sent him backstage before the match started. Dominik came running from behind and took Murphy down on the ramp before heading to the ring.
Rollins was in trouble and left the ring where he sent Dom into the announce desk getting some momentum. Dom set up for the 619 in the ring but Rollins got out in time.
We returned to RAW after commercials to see Dominik caught in a bearhug by Rollins and was struggling to stay on his feet. Dom got a near fall after a DDT and a standing moonsault before hitting a top rope crossbody on Rollins to the outside.
Seth Rollins vs. Dominik Mysterio on RAW (contd...)
Rollins was caught in the ropes and Dominik hit the 619 before missing the Frog Splash. Rollins hit a stomp and got the win on RAW.
Result: Seth Rollins def. Dominik Mysterio
Rollins hit a second stomp on Dominik before walking out.
Match rating: A
---
RAW Underground time and Titus O'Neil was decimating guys one after the other. Riddick Moss stepped up and gave Titus quite the fight but was tossed out of the ring. Moss got back in it and picked up the win before we returned to RAW.
The Street Profits were backstage and were making jokes about Garza, Andrade and Vega.
---
Akira Tozawa drove up to the Thunderdome but wasn't allowed in. He went to speak to the parking attendant and he turned out to be a referee and R-Truth pinned him for the 24/7 Championship.
---
The Street Profits vs. Andrade & Angel Garza on RAW
All four men were in the ring for the tornado tag match and team Andrade took control early but Dawkins wiped both of them out from the middle rope while they had Ford in a superplex position.
The Street Profits vs. Andrade & Angel Garza on RAW (contd...)
We returned to RAW after a break and Ford was sent into the ringpost by Andrade and Garza. Dawkins came in and took a superkick from Garza in the corner after a nearfall. Dawkins managed to counter a double team move and took out Andrade before being kicked in the head by Garza.
Andrade hit the double stomp on Dawkins and got nearfall before Ford came back to take him out. The lights were malfunctioning and RETRIBUTION showed up when Garza took Demi and ran away.
Result: DNF
Match rating: B
---
RETRIBUTION wiped out Vega at ringside and then The Street Profits and Andrade in the ring before heading backstage.
---
The IIconics were visiting RAW Underground and Avery Taylor was facing off with Jessamyn Duke in the ring. Duke came out with the win. Marina Shafir came in and faced off against Avery Taylor's friend. Shafir hit a rolling headlock slam and then the kneebar to get the win.
Shane wanted Billie Kay and Peyton Royce to fight them but Royce backstabbed her friend and put her into the ring. Duke and Shafir finished off Billie Kay quickly by kicking her in the head twice for a knockout.
Backstage, Ricochet, Cedric and Apollo Crews were ready to set foot in RAW Underground.
---
Apollo Crews and Shelton Benjamin were going at it at RAW Underground and they ended up out of the ring when MVP, Lashley, Ricochet and Cedric got involved. The Hurt Business came out on top yet again before we returned to RAW for out main event.
---
Garza was backstage on RAW with Burnett and they came face-to-face with RETRIBUTION. He ran away, leaving Burnett who fled as well.
---
Randy Orton vs. Keith Lee vs. Seth Rollins - No.1 Contender's match for the WWE Championship on RAW
Rollins was trying to get Orton to ally with him but Randy refused before Lee took him down in the ran after dragging him into the ring by his hair. Orton attacked Lee while he was distracted and Lee managed to wipe out both superstars.
We returned to RAW after a break and Lee was tossed into the announce desk by Orton and then into the steel steps. The Viper took out Rollins after Lee was down but Rollins countered the RKO into the Falcon Arrow.
Keith Lee came back in and tossed Rollins into Orton before wiping out Randy outside and tossing Rollins over the announce table. Lee hit the Spirit Bomb on Rollins but Orton took him out and hit the RKO. Orton then pinned Rollins to pick up the win and was crowned as the new No.1 Contender to the WWE Championship.
Result: Randy Orton won the match and is the No.1 Contender for the WWE Championship
Match rating: A
---
Episode rating: B
The IIconics had a tough loss while Keith Lee faced off two of RAW's best in the main event. RETRIBUTION made another violent appearance while RAW Underground had some very interesting matches.
Braun Strowman reveals the greatest talker in history here